Ram Trucks Keeps its Promise, Preps 2021 Ram 1500 TRX VIN 001 for Charity Auction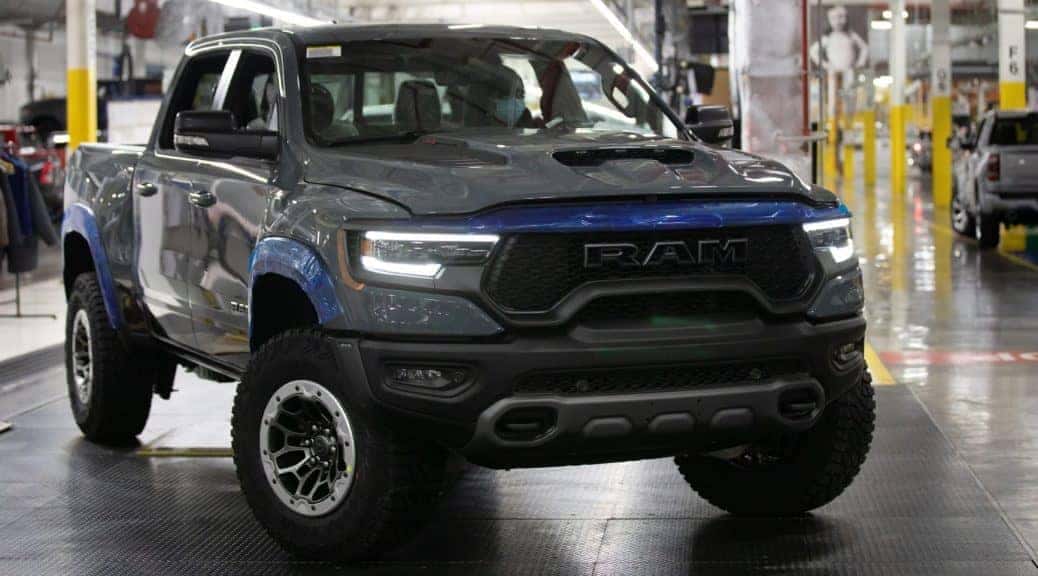 True to its word, the Ram Truck brand will be auctioning the very first (VIN 001) all-new 2021 Ram 1500 TRX Launch Edition for charity on March 26 (2021). The philanthropic motion is scheduled to take place during the Barrett-Jackson Scottsdale Auction, with profits benefiting the United Way for Southeastern Michigan's 2-1-1 helpline that provides much needed services to veterans and their families. Those interested in the auction can bid in person, via the phone, or online by simply going to Barrett-Jackson.com and clicking on the "Bid" link.
The 2021 Ram 1500 TRX that's slated to be auctioned off is just one of the 702 Ram 1500 TRX Launch Edition vehicles manufactured by Ram. Given that the world's most powerful pickup comes with 702 horsepower straight from the factory, Ram Trucks decided to limit the Ram 1500 TRX Launch Edition to 702 units. Ram sold out all orders within their first three hours of availability.
"The award-winning 2021 Ram 1500 TRX bolsters the brand's strong history of high-performance trucks while expanding the light-duty lineup with the segment's best combination of performance, capability, luxury and technology. When Ram 1500 TRX VIN 001 rolled off the assembly line last month, it instantly became an incredibly exciting one-of-a-kind collectible truck that enthusiasts will clamor for — especially when it goes through the Barrett-Jackson auction lane in March. More importantly, we expect this first production Ram 1500 TRX to raise significant funds that will go directly to the United Way for Southeastern Michigan's 2-1-1 helpline to provide services to veterans and their families. At Ram, we offer unique 'Built to Serve' editions of our Ram 1500 pickup as a way to honor all those who serve or have served in the U.S. armed forces with distinction. This is an important mission at Ram, and this auction is another way we can honor our veterans," said Mike Koval Jr., Head of Ram Brand.
Ram Trucks will have the Ram 1500 TRX Launch Edition VIN 001 vehicle on display at the Barrett-Jackson Scottsdale auction from March 20-27 (2021). The auction package does not only just bring the pickup truck, it includes a unique authentication kit complete with a presentation box that features a bound book custom-developed by the Ram brand team as well. Exclusive photos and video, highlights of the pickup's development, a Ram truck cover completed by the vehicle's design team and a speed-form model can all be found within the bound pages of the exclusive book.
The 2021 Ram 1500 TRX entered the pickup world and took it by storm as the pickup quickly earned top accolades such as being deemed the 2021 MotorTrend Truck of the Year, a Car and Driver 10Best winner, and even earned the title of Truck of Texas voted by the Texas Auto Writers Association. Production of the world's most capable pickup truck began in December of 2020 at the truck maker's Sterling Heights Assembly Plant in Sterling Heights, Michigan. Barrett-Jackson Scottsdale Auction is waiving 100 percent of fees so that the entire hammer price will go to the 2-1-1 helpline, which currently answers more than 700 calls per diem.
"Ram is giving Barrett-Jackson bidders the unbelievable chance to win VIN 001 of its highly coveted TRX Launch Edition. Only 702 of these muscle trucks were made available, and all were sold within three hours. Our Scottsdale Auction will be the only place to still get your hands on one of these extreme performance trucks," said Craig Jackson, chairman and CEO of Barrett-Jackson.
Follow Miami Lakes Ram on social media to not only stay up to date with the latest Ram news, but to also be the first to find out when the all-new 2021 Ram 1500 TRX arrives at our dealer lot. In the meantime, experience the Ram Trucks lineup here atMiami Lakes Automall. See the trucks that inspired the Ram 1500 TRX, explore the latest Ram Trucks inventory at Miami Lakes AutoMall and schedule your test drive today!
Photo Source/Copyright: Ram Trucks
Previous Post The 2021 Ram Truck Lineup in Review Next Post Ram Truck Launches All-new Ram 1500 Tradesman HFE EcoDiesel