Ram to Release 'Built to Serve' Trucks, Inspired by First Responders – Miami Lakes Automall Ram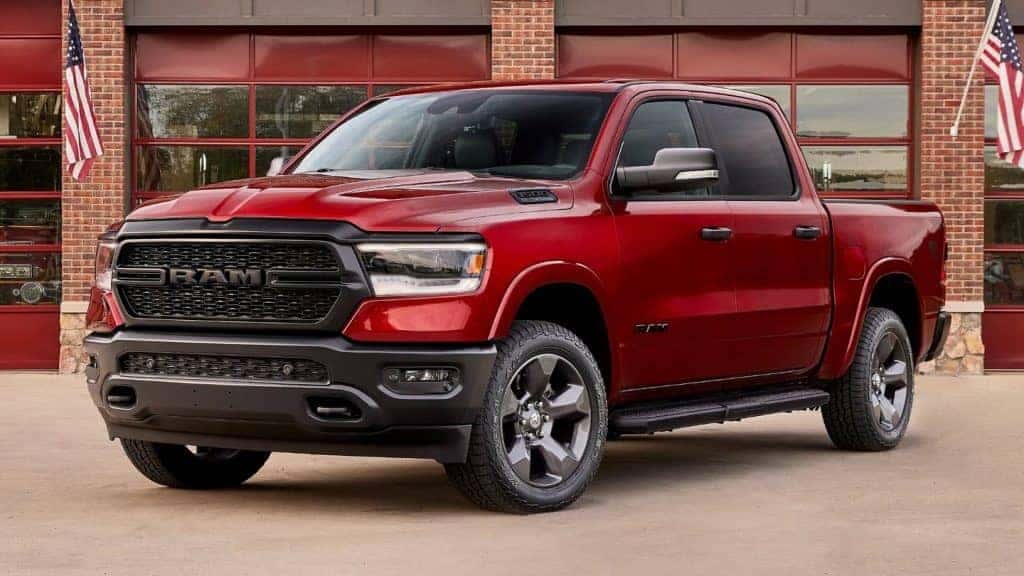 Ram will be launching the second phase of its 'Built to Serve' pickup truck lineup . Inspired by first responders, these trucks will honor those who put their lives on the line to save and rescue others. First responders like police officers, firefighters, and emergency medical personnel will be honored with this new lineup of pickups. They will come custom-made with exterior cues, interior upholstery, and profession-aiding features that all honor first responders. The Ram 1500 has served as a powerful and fully capable pickup capable of getting almost any job done. Now Ram will use its powerful pickup to help out those who give so much. We'll dive in and see what first responders can expect from these pickups, but this is great recognition on Ram's part.
Ram 'Built to Serve' Lineup Announced
Ram will be rolling out its all-new 'Built to Serve' lineup inspired by first responders. The pickup trucks will consist of materials and features that aid first responders like police officers, firefighters, and emergency medical personnel. Ram has decided to honor those individuals who are always giving to others. These trucks will recognize their hard work and sacrifice to keep the general public safe and protected. About the new 'Built to Serve' lineup, Ram brand CEO Mike Koval Jr. said,
"After honoring each branch of the U.S. Armed Forces with our initial Built to Serve models, we felt it would be equally important to also extend our gratitude to all first responders who serve or have served our communities," said Mike Koval Jr. "Whether a first responder or civilian, Ram truck owners are very familiar with this adage as it's something we strive to build into every truck and van we produce."
Each truck in the 'Built to Serve' lineup will consist of a specialized trim geared toward the corresponding first responder department. They will come equipped with unique low-volume exterior paint colors that represent the MO and history of the pertaining department. The firefighter-inspired Ram 1500 Built to Serve edition will come available in Redline and Diamond Black exterior colors with a black interior and orange accent stitching.
'Built to Serve' Interior
Ram's Built to Serve lineup will consist of unique exterior and interior features that represent each individual first responder department. The Ram 1500 Built to Serve trucks will feature a United States flag and a Built to Serve decal on each of the rear quarter panels. The truck's exterior will also consist of an all-black grille with black bumpers, black-bezel premium lightning, and 20-inch aluminum wheels with a unique Technical Gray finish.
Inside the Built to Serve trucks, first responders will note unique color stitching that matches the pertaining emergency service. The first installment will feature orange accent stitching but the following will match the particular department. The trucks will also feature Built to Serve-embroidered velcro panels on the front seats. There's also velcro on the front seat inboard shoulder panel. This is for patches, tapes, and any special memorabilia special to the corresponding first responders. The front seat-back panels will also be covered with Pouch Attachment Laddy System/Modular Lightweight Load-bearing Equipment webbing to allow for special equipment.
Ram's 'Built to Serve' lineup will start at an MSRP of $46,625 (plus destination fee). The first installment will be the firefighter-inspired Ram 1500. These Built to Serve trucks will honor the three main emergency services for all their work. They will recognize and honor police officers, firefighters, and emergency medical service providers.
Come Test Drive a Brand-New Ram at Miami Lakes Automall!
Are you excited about getting a new Ram ? So are we! At * Miami Lakes Automall *, we're more than excited to help our customers find what they're looking for. Check out our new vehicle inventory or browse our quality pre-owned vehicles . We offer suggestions like auto financing to help make paying for a vehicle easier.
If you're in need of service, schedule an online service appointment with our expert technicians. Allow our professional techs to get started on all repairs or maintenance work. Stop by today and see what we can do for you right now.
Photo Credit: Ram
Previous Post Ram To Announce Ram Revolution Insider Program Next Post Ram 1500 EV to Feature a Range Extender