Ram Rebel TRX Debut is Imminent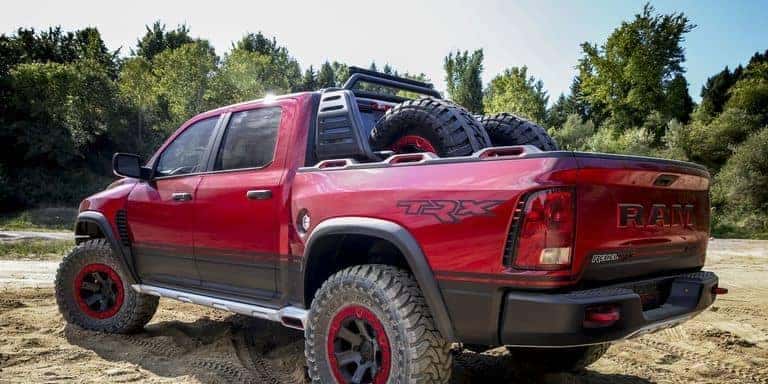 Ram made it official — the truck maker will officially pull the covers off the hotly-anticipated 2021 Ram 1500 TRX on Monday, August 17 (2020). Ram Trucks will stream one of the year's most hotly anticipated automotive debuts online across its social media channels. The presentation will be accessible for public viewing as well, meaning both the press and the public will experience the unveiling at the same time. Designed as a response to Ford's desert-jumping F-150 Raptor model, the Ram TRX is rumored to have a hefty Hellcat V8 engine under its hood, rather than a standard turbo V6. Here's what else we know before the TRX's big debut:
Given the fact that the Hellcat engine will be front and center, the Ram Rebel TRX will at least generate 707 horsepower from the supercharged 6.2-liter. In contrast, the Ram Rebel TRX concept that this upcoming pickup is based on offered only 575 horsepower — talk about an improvement! 707 horsepower would put the TRX in the same territory as the Dodge Charger and Dodge Challenger. As for the exterior design of the pickup, the TRX will have a dual-vented hood and flared arches, making it wider and more aggressive.
Another aspect of the Ram Rebel TRX to look forward to? It's rumored to feature extended versions of the aluminum paddle shifters from the Alfa Romeo Stelvio Quadrifoglio. Additionally, the TRX will also feature the same eight-speed ZF automatic transmission that's found on numerous European luxury vehicles. It appears that Ram has spared no expense when it comes to the TRX, although luxury isn't what enthusiasts would expect from a hefty off-roader.
Speaking of luxury, Mopar Insiders reports that the Rebel 1500 TRX will also offer plenty of advanced tech for consumers. The base price is rumored to be at around $70,000, but no official figures exist as of yet — and probably won't for some time even after the official debut. Ram is expected to take a page from its very successful revamp of the Ram 1500 model. Added luxury touches and impressive tech features such as a massive 12-inch touchscreen display, trailer cameras, and more are sure to be included.
In the meantime, as we wait on the arrival of the Rebel TRX, feel free to explore the existing Ram lineup atMiami Lakes Automall. Whether you're looking for an entry-level or fleet-oriented pickup like the Ram 1500 Classic , or something more modern like the revamped Ram 1500 , Miami Lakes Ram has got your back. Schedule your test drive today! Follow Miami Lakes on social media to stay up to date with the latest Ram news, including the upcoming debut of the TRX.
Photo Source/Copyright: FCA
Previous Post The Ram 1500 Classic Returns for the 2021 Model Year Next Post Revealed: All-New 2021 Ram 1500 TRX