Ram Heavy-Duty: A Refined Workhorse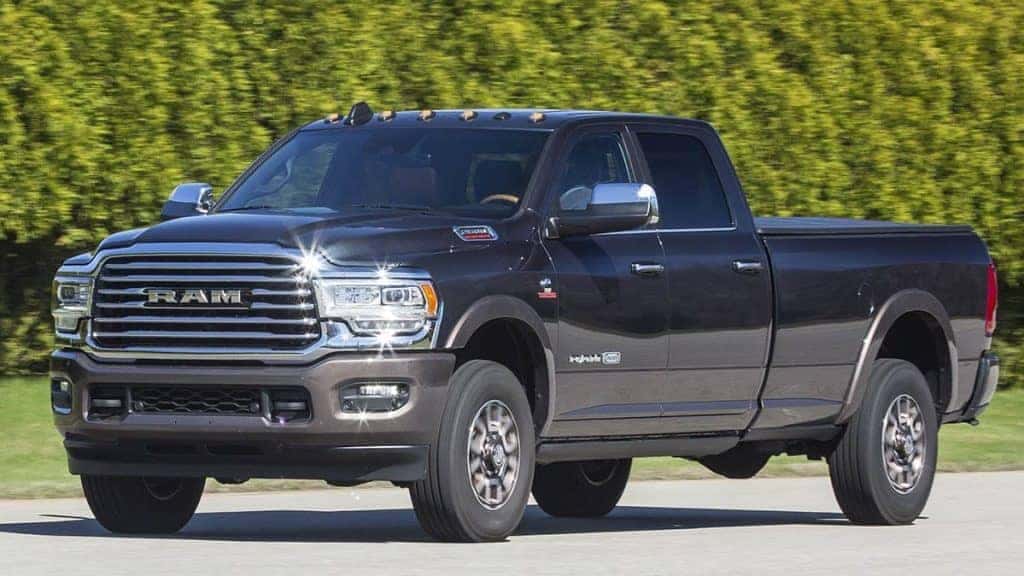 Ram revised their 2500 and 3500 heavy-duty pickup trucks for the 2019 model year. The brand's special focus was on making the trucks quieter, more luxurious with smoother riding and handling. Additionally, the Ram Heavy-Duty lineup also offers increased towing and hauling abilities. Traditionally manufactured as extra robust pickups whose main functions are expected to be towing and hauling, the heavy-duty trucks normally use a 2500/3500 or 250/350 nomenclature. The main target client base for these type of trucks are commercial contractors, farmers, ranchers, and on weekends by people who rely on them recreationally – either to haul horses, RV trailers, or even big boats.
When properly equipped, a 2019 Ram 3500 has the capability to tow an impressive 35,100 pounds and haul a massive 7,680-pound payload, counting the weight of the passengers and the weight of the cargo in the bed. These heavy-duty Ram trucks are a lot of truck and they often sit so high off the ground that optional running boards become less of an option and more of a need so passengers can get in and out. Despite its notorious size and challenging maneuverability, the Ram heavy-duty lineup consists of nothing less than sophisticated machines.
Advanced Safety features such as forward collision warning, blind spot warning, automatic emergency braking and rear cross traffic warnings come standard on the 2019 Ram heavy-duty models. The Ram is notorious for combining its burly looks and big attitude with a refined driving experience and what's now a luxurious cabin. Under the hood, Ram heavy-duty models come standard with a 410-horsepower, 6.4-liter HEMI V8 engine, but if in need of more towing power buyers can opt for the 6.7-liter Cummins turbo diesel engine.
Additionally, the Ram 2500/3500 also features a spring rear suspension, similar to the suspension of an SUV, that gives both trucks a smooth ride. Many other heavy-duty trucks rely on leaf springs that nearly date back to the good ole' horse-and-carriage days. There's also another optional rear air suspension that functions so intelligently it even has a bed-lowering mode. At any given moment the height of the pickup's tow hitch is matched to the height of the trailer.
On the inside, the cabin is rather nice and quiet thanks to the very little wind or road noise while on the highway. If equipped with the diesel engine, riders can enjoy a restrained and pleasant hum from the engine. One special feature of the Ream heavy-duty lineup includes an exhaust brake that the driver can turn on just to kick in extra engine braking power while slowing down. Such a feature is particularly useful when drivers are hauling heavy loads while on steep downhill slopes, effectively keeping the brakes from overheating as the truck can be additionally slowed down at any time.
In need of your own workhorse? Let Miami Lakes AutoMall help you out. Check out the 2019 Ram heavy-duty lineup at Miami Lakes Ram and schedule your test drive today! Have questions about the latest Ram features? Reach out to us via Miami Lakes Ram social media.
Photo Source/Copyright: consumerreports.org
Previous Post Ram is Changing Pickup Segment Expectations Next Post EcoDiesel is Back and Better Than Ever on the 2020 Ram 1500