Ram Announces The 2018 Mojave Sand Package And Hints At A New Midsize Pickup Truck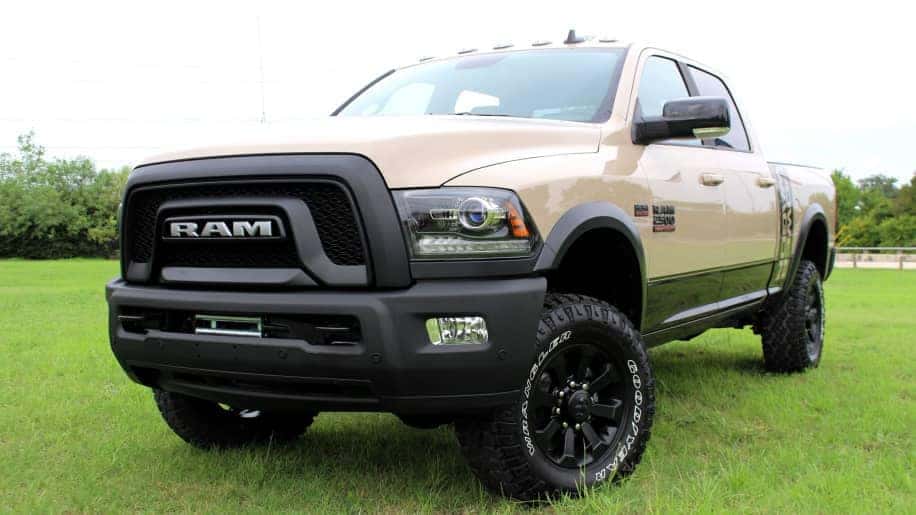 Photo Credit/Copyright: autoblog.com
Just last week, Ram announced its all-new Ram 1500 Harvest Edition Chassis Cab pickup truck. For the 2018 model year, Ram has announced that the "tough and capable" Ram 2500 Power Wagon will gain an extra option package consumers can now pick from – the Mojave Sand Package. Not only that, but Fiat Chrysler Automobiles also hinted at their plans to design an all-new Ram midsize pickup truck named the Scrambler.
2018 Ram Power Wagon Mojave Sand Package
While avoiding the Power Wagon's mechanical specs for this special edition, the new Mojave Sand option package features an entirely black version of the Power Wagon's 17-inch wheels, instead of the typical polished aluminum rims. Additionally, the Ram Power Wagon's Heavy Duty Luxury package includes black upholstery throughout the interior cabin, heated power folding mirrors, LED lighting in the cargo bed, an overhead console, and a universal garage door opener. The Power Wagon will maintain the same 6.4-liter V8 engine that produces 410 horsepower and 429 lb-ft of torque. Six-speed automatic transmission with four-wheel-drive (FWD) is matched to the 6.4-liter engine, along with, locking differentials at the front and rear that assist in traction.
In the event of unexpected rough road conditions, the Ram Power Wagon has an electronic disconnecting sway bar that provides up to 26-inches of wheel travel. Sway bars are designed to maintain your vehicle leveled and prevent rolling, which isn't ideal for off-roading. While disconnecting the sway bars isn't difficult, it can become a hassle when having to do it manually. This is where an electronic disconnect comes in handy.
The Power Wagon also has 14.3-inches of ground clearance and 30-inches of wading depth, specifically for off-roading through the water. Even with the 12,000-pound Warn brand winch, drivers can get out of pretty much any sticky situation. Lastly, on top of the Power Wagon's starting price of $52,795 (plus destination fee), the Mojave Sand Option Package will be an additional $795. Said to be released during the fourth quarter of 2018 with limited availability, interested consumers are urged to act fast!
All-New Ram Midsize Pickup Truck
Since stepping away from the mid-size truck market in 2011, Fiat Chrysler Automobiles (FCA) has decided to make a comeback. This announcement comes as no surprise due to the recent return of the Ford Ranger and the Chevrolet Colorado, that is gaining an all-new diesel engine. _ Automotive News _ has recently stated that suppliers are hinting that the new Ram midsize pickup truck will be joining the new Jeep Wrangler truck platform, currently in production. Due to take place at Fiat-Chrysler's Toledo, Ohio production facility, the all-new Ram will likely be a body-on-frame pickup truck, not to be confused with the Ram unibody Latin American 700 model or Fiat's Toro. Also, once the rumored Ram midsize pickup truck and Jeep Wrangler pickup variant go on sale, the components shared within each vehicle will assist in keeping FCA costs inline.
According to _ Automotive News _ , it is believed that the Jeep pickup truck alone won't sell enough units initially, so adding an additional truck to the lineup will assist in closing the gap and make sure that the Toledo plant is running at full capacity. Oh! By the way, ever heard of something called Chicken Tax? Imposed in 1964, the Chicken Tax is a ruling that places a 25 percent tariff on small trucks that aren't built here in the United States. So, to avoid this, FCA will develop the midsize Ram Truck here in the U.S. Aside from Mike Manley's Capital Markets Day presentation that confirms a midsize or metric ton pickup by 2022, there is no additional information about the supposed Ram.
From an all-new option package to a midsize pickup truck, Ram definitely has their hands full for the years ahead. Interested in test driving the all-new 2019 Ram 1500? Stop by the Miami Lakes Automall located in Miami Lakes, FL or visit our website for more information on our entire new car inventory selection . Stay updated on the all-new Ram midsize pickup truck by following us on social media .
Previous Post Ram Introduces New 2018 Harvest Edition Chassis Cab Trucks Next Post The 2018 Longhorn Ram Rodeo Edition Is Ready For The State Fair!