Ram 1500 EcoDiesel Wins Ward's Best Engine for 2016 – Miami Lakes Automall Ram
There are certain names in the automotive industry that stand out as experts in the field. Ward's is one of those names. Extensively covering the automotive world for over eighty years, Ward's offers consumers their take on the automotive marketplace through several annual publications. Two of the most widely known publications from the organization are Ward's AutoWorld, and Ward's Dealer Business. Aside from these two publications, Ward's also releases a list every year of their "10 Best Engines." The best engine list started back in 1994, and has been become an annual report for the organization ever since. On the most recent 10 Best Engines list, Ward's named awarded the 2016 Ram 1500 in Miami with the prestigious honor.
Criteria for Ward's 10 Best Engine Winners
To even be considered for this honor, engines must be available on vehicles for sale in the United States, and that are in regular production. The engine that is being considered must be available only on a vehicle that has a list price of $60,000 or less. Once these criteria are met, Ward's editors carefully evaluate each qualified engine through a series of vigorous tests. The editors test for torque output, horsepower, vibration, noise levels, and hardness. From there, each engine in the running is compared with other like it. Once the testing has been completed, the winners are announced at the end of every year.
2016 Ram 1500 EcoDiesel Makes the List

The latest Ram 1500 EcoDiesel is quickly becoming known for its leadership in this category of engines. Not only is the Ram 1500 EcoDiesel equipped with the most fuel efficient diesel engine, it also proved to be superior to others that it was tested against – most notably, the Jeep Grand Cherokee EcoDiesel.
For the 2016 model year, the Ram 1500 EcoDiesel engine received some important updates that helped it beat out the Grand Cherokee. The fuel delivery system on the 2016 Ram 1500 model was altered in order to allow for improved combustion, while throttle controls were tweaked for an enhanced driving experience. The improvements made to the 2016 Ram 1500 EcoDiesel model also allow for better acceleration from both a stand still, and from mid range speeds. This change is especially helpful when passing a vehicle on the highway, when responsive acceleration is a necessity.
As Functional as it is Efficient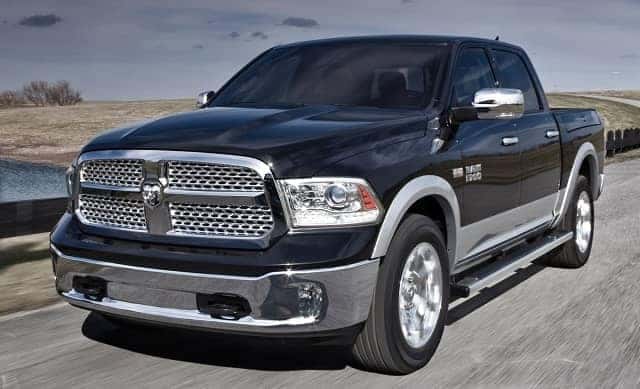 The latest Ram 1500 pickup does a lot more than simply offer great fuel economy. While the Ram 1500 EcoDiesel model does offer best – in – class fuel economy, the pickup does so much more to impress. The powerful truck sheds new light on the light-duty pickup segment, by offering drivers a whole new level of performance.
The 2016 Ram 1500 EcoDiesel model starts at just $37,685, and offers impressive 29 miles per gallon on the highway. Standard grille shutters and a standard tri-fold Tonneau cover both help with the fuel efficiency rating on the new Ram 1500. The Tradesman EcoDiesel HFE model also comes standard with 20-inch aluminum wheels, wheel – to – wheel side steps, and of course – the 3.0-liter EcoDiesel V6 engine.
Drivers can count on a max towing capacity of nearly 8,000 pounds, and a maximum payload rating of 1,510 pounds. This Ram 1500 model doesn't offer these high numbers without the performance to back them up. With an available class-exclusive Active-Level Four-Corner Air Suspension system, the 2016 Ram 1500 will keep heavy loads perfectly level, even at high speeds. Trailer Sway Control, Hill Start Assist, and Electronic Stability Control, are all available to help you take better advantage of the power the Ram 1500 offers.
No Other Truck Like It
The 2016 Ram 1500 EcoDiesel is one unique pickup truck. No other truck on the market can offer the same efficiency, power, and performance, that the Ram 1500 is capable of. Come down to Miami Lakes Ram to take the 2016 Ram 1500 for a test drive. See for yourself why it is a true award winner.
Previous Post New Ram 1500 Earns Four-Star Safety Rating Next Post Everything You Need to Know About the Newest Ram 2500