Ram 1500 Celebrated as Fleet Truck of the Year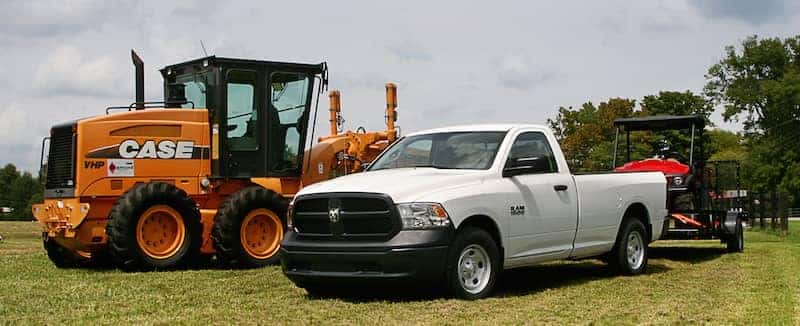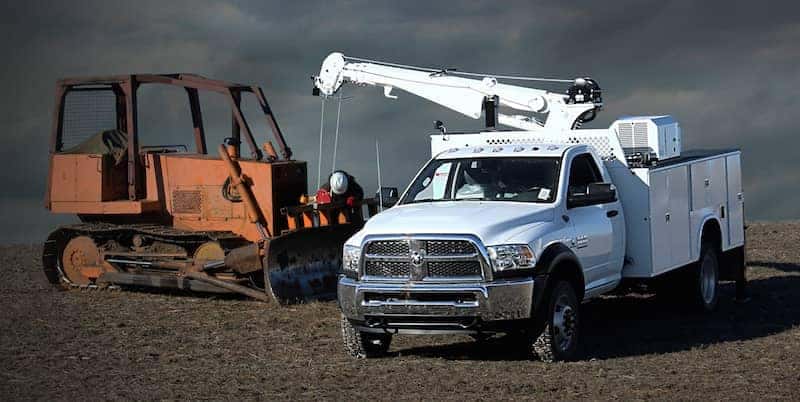 Understanding it's not always easy to find exactly what it is your business needs to complete day to day tasks, the 2016 Ram 1500 in Miami has made it easy for you. Marking the second time in three years that Ram trucks have earned this genuine honor, the 1500 truck was once again named Fleet Truck of the Year by Automotive Fleet and Business Fleet.
Competition in this segment is very tough, but Ram beat out the others by delivering higher standards of capabilities that fleet owners need for their day to day operations. While forty different trucks qualified for this year's Fleet Truck of the Year ballot, only Ram had everything that owners and drivers of commercial trucks felt were most compatible to their needs.
Who Voted?
The voting occurred by Automotive Fleet's readers who make up more than 20,000 truck fleet owners and operators. Voters were asked to consider which models best fit their fleet requirements. Knowing their vote plays a powerful role in letting brands know which one truly represents them, they were explicitly honest when choosing their answers. Judging criteria was based on application, effectiveness, durability, quality and maintenance/life-cycle costs.
"There was little doubt looking at the ballots that the Ram 1500 is resonating with our readers, commercial fleet managers of the largest fleets in (the) nation," said Sherb Brown, vice president and group publisher of Automotive Fleet magazine.
Genuine Validation

Because this winner of this award is determined by the readers of Automotive Fleet, and no electing council that could possibly be persuaded or manipulated, the win is that extra amount of validation that Ram is continuing to produce trucks that are vital and necessary parts of a moving and growing economy.
"This award validates the pieces that we put in place and resonates with the commercial fleets and it cascades all the way down to the end user," says Bob Hegbloom, head of Ram Truck brand. He further goes on to say that the award serves as "recognition of what we have accomplished as we continue to develop the Ram Commercial brand. Receiving an award based on such an experienced audience truly gives Ram Truck more momentum and confirms we are delivering the features most important to business owners."
Automotive Fleet Magazine
More often referred to as the "Bible" for medium to large-size fleet market, Automotive Fleet magazine has been in publication since 1961 and has served all fleet segments operating 15 or more vehicles. Published by Bobit Business Media, they also publish seven dedicated fleet titles covering the entire market from Class 1 to Class 8, making it the world's largest fleet publisher.
Ram 1500 Tradesman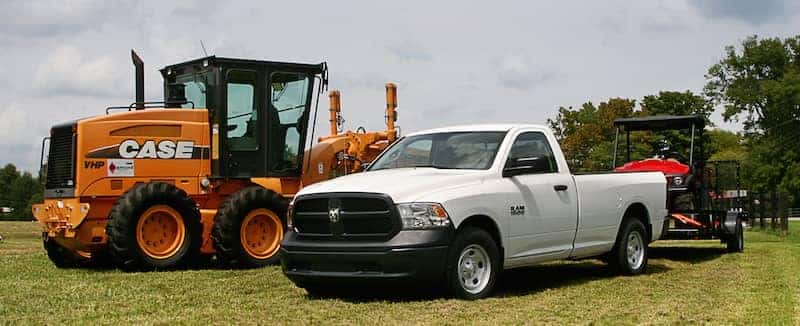 When you're looking for a fleet of trucks that need to provide the best in power, torque, and hauling capabilities, Ram is clearly the brand to choose, so says Automotive Fleet Magazine. The 1500 Tradesman starts with a Pentastar V6 that delivers an impressive 305 horsepower with precision and efficiency. From there, a Class-Exclusive standard TorqueFlite 8-speed automatic transmission provides more gears and more efficiency. With a fuel economy that gets 17 mpg city driving and 25 mpg highway driving, the Tradesman also offers a maximum towing capacity of 10,650 lbs and also offers a max payload of 1,880 lbs. There's nothing left to wonder why so many fans voted to make Ram their first and only pick.
ProMaster and ProMaster City

Sadly, 2015 marks the last year of production for the C/V Tradesman. While the C/V Tradesman finally retires after a long and respected career helping local business worldwide, the addition of the ProMaster and ProMaster City cargo vans and wagons were added to the Ram Commercial truck brand in 2015. Their addition has helped with the exposure of their brand and brand's capabilities. The ProMaster and ProMaster City cargo offer a wide range of products designed to meet the needs of small business owners with work trucks fleets and commercial vehicles.
Regardless of what you're transporting, precious cargo or torrid passengers, Ram ProMaster City guarantees to deliver, literally, whatever your business needs. Designed for durability and maneuverability through narrow city streets, the ProMaster City is unsurpassed in towing and features best-in-class payload.
Ram's Award Winning Commercial Brand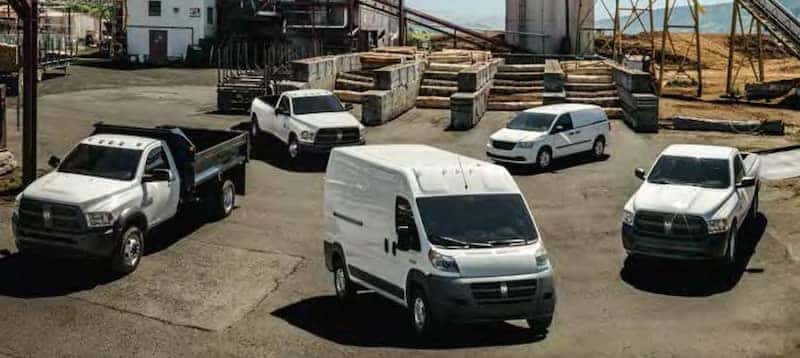 Ram Commercial which operates within the Ram brand is dedicated to expanding the brand's presence in the vocation truck segment. By establishing a network of commercially focused dealers and expanding commercial and vocational marketing efforts which support commercial trucks and vans in North America, Ram is enhancing the capabilities of their Tradesman series of trucks from half-ton to Class 5.
Focusing on the demanding needs of commercial customers, Ram's Commercial division integrated the growing network of Ram BusinessLink dealers. To offset the cost of doing business with Ram's best-in-class programs, Ram Commercial created Total Cost of Ownership and "On the Job" incentives, which are designed to lower the expense of commercial upfits for business owners.
Business Link
Understanding that business is more than just the fleet you own and drive, Ram offers a free program that connects business owners with a network of Chrysler Group dealers who specialize in working with small businesses. Chrysler Group's BusinessLink dealers offer, nationwide, the convenience of one-stop sales and service essentials which specifically aid commercial and small businesses to stay on the road and in good economic health.
There are no dues, taxes or fees to join. The benefits of belonging to Chrysler and Ram's BusinessLink are numerous and almost too good to be true. You're guaranteed to work with service personnel who specialize in commercial and small business sales and who are experts in commercial financing and offer unique business variable incentives. Extended service and repair hours are always especially helpful when you need a van fixed overnight ready for morning deliveries. This makes their priority next-available-bay service priceless and with the free shuttle service, 24/7 towing as well as offering free loaners for select vehicles, customers satisfaction is absolutely guaranteed.
Total Cost of Ownership
Yet another way Ram is staying on top of their award-winning 1500 Fleet trucks is to offer best-in-class Total Cost of Ownership, or TCO, for commercial truck owners. All business owners know that it's more than just about what you pay upfront, but about what you pay annually that really affects your bottom line. In a continued effort to look out for your annual costs, Ram is proud to deliver the best vehicle possible while trying to save your money annually.
The already celebrated Ram 1500 features a standard V8 engine that at entry level provides best-in-class capability as well as an impressive resale value. This allows the owners to recover more of their upfront costs. All of the Cummins diesel-powered Ram trucks feature a 15K mile oil change interval which cuts down on annual service costs. They also include best-in-class diesel exhaust brakes which increase frictional brake life by three times the market average further stretching your dollar.
Ram trucks have the most upfitter-friendly solutions in the industry by reducing the initial costs for specialty trucks such as a crane, roll-back or dump bed upfits. They also offer an unsurpassed five-year/100,000-mile powertrain warranty as proof of the quality they build into each truck.
Ram "On the Job"
By providing a variety of incentives and discounts which assist commercial and small business owners in purchasing their fleet as well as servicing and customizing their vehicles to specifically address their unique professional needs, is Ram's "On the Job" program. This program also offers other options that include custom upfit or vehicle graphic allowances, service contracts or selecting from a variety of Bosch tools.
Previous Post Ram Hunts Hunger in New Ad Campaign Next Post Exploring the 2016 Ram 2500's Interior