Miami Lakes Automall and FCA Dealers Shining Bright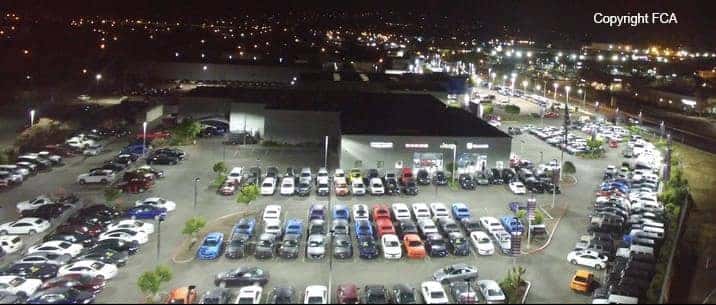 Miami Lakes Automall and other FCA dealerships will be shining bright like a diamond with new lighting in the showrooms, service bays and parking lots. Announced in the beginning of January, FCA has a new initiative to replace dealership lights with brighter and more energy and cost efficient LED lighting.
FCA has already replaced lights at 40 dealerships across the nation and when complete, more than 2,600 dealerships in the U.S. will have new lights. The lighting at the new Miami Lakes Chrysler Jeep Dodge Ram building is not the same LED lighting that FCA is using in other dealerships. We made a choice to install brighter lights that are more efficient than the LED lighting.
Benefits
There are many benefits to having the dealership lights shining bright (especially at night). For example, brighter lights allow for a safer environment. Both customers and employees will benefit from added safety. Issues like theft, dock bay injuries, and other problems you may find in a dark dealership environment can be almost eliminated with these lights. Plus, the new car inventory looks amazing under bright lights!
As previously mentioned, a huge benefit to the LED lighting is the energy saved, and costs on energy. In fact, these lights are so efficient that it actually cut the electric costs at dealerships in half.
We just opened our the new Miami Lakes Chrysler Jeep Dodge Ram dealership this week, so come by and see it. It is truly a work of art and in addition to the lighting, there are a variety of other green aspects to the building. You can check out our inventory online here .
Previous Post For an Adventurous 2017, Get the New Ram Power Wagon Next Post New Ram? Here's How to Use the Air Suspension + Electronic Trailer Brake Controller