FCA Restarts Ram 1500 Production With a Bang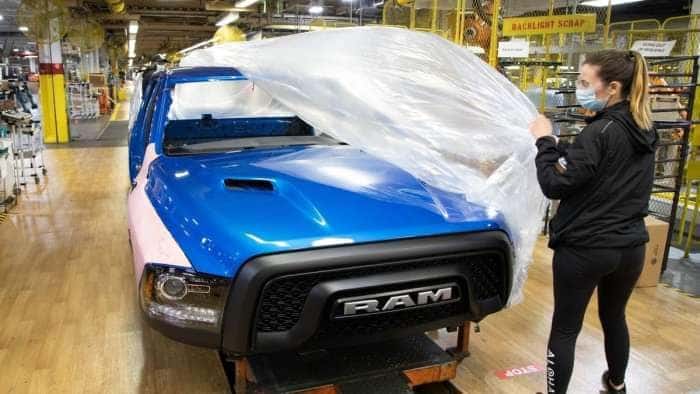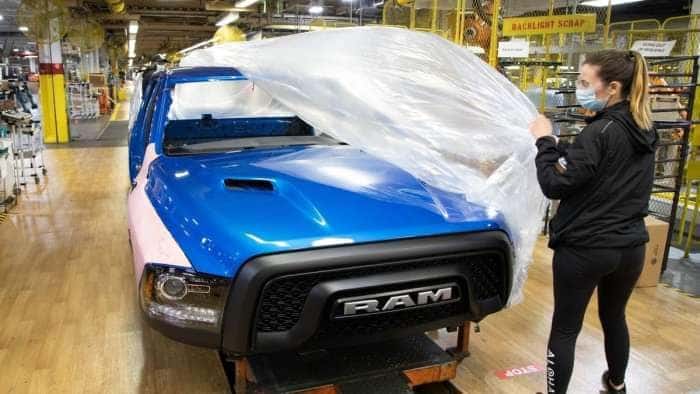 It's a new world for Ram Trucks employees as they return to manufacturing plants to build 2020 Ram 1500 pickups. The plants just reopened post-quarantine, but the employees have plenty of new rules to abide by as they work to build new vehicles and stay safe from Coronavirus at the same time. Open for one shift daily, the truck plants in Warren and Sterling Heights, Michigan, are seeing a slow-but-firm revamp of manufacturing. If the virus can be kept at bay, Fiat Chrysler Automobiles (FCA) is programming to add other shifts in a couple of weeks — only time will tell. Despite all the changes, FCA remains focused on manufacturing and assembling more Ram 1500 pickups to avoid a shortage in the near future.
As FCA works to restore production in its manufacturing plants, the clear priority for the automaker is the 2020 Ram 1500 model. Both variants of the profitable 2020 Ram 1500 and Ram 1500 Classic pickups were in high demand prior to the outbreak. Given that the plants were forced to close, the automaker is looking to re-engage that same demand as quickly as possible. Another task on Ram's to-do list? To produce as many pickups as possible in order to avoid a shortage should the virus spike again and force plants closed once more. GM and Ford have adopted a similar strategy, with the Detroit Three strictly focused on ramping up truck production as quickly and as safely as possible.
Ram declined to give a figure of how many orders they have for pickup trucks, but the automaker did confirm that the plants in charge of pickup production are the priority at this point. FCA was pleased to welcome its employees back to work as the company issued the following statement:
"After welcoming back nearly 12,000 employees to our U.S. manufacturing facilities today, we successfully resumed production of our award-winning vehicles under a comprehensive, multi-layered program of health and safety measures designed with the single purpose of safeguarding employees. We were pleased with today's restart. Everyone followed the new protocols and our plants were fully staffed to start production. We expected nothing less from FCA's incredible employees. We are very confident that we have all the right protection measures in place to keep them all safe. We also want to thank our dedicated team of employees whose leadership and ingenuity helped prepare our facilities for today's successful restart."
FCA required employees to complete a health assessment while thermal imaging cameras are keeping track of their temperatures. These same checks are in place every day until the threat of the virus is diminished. The company is also providing masks, gloves, and eye protection, and implementing the policy that the first 10 minutes of any shift be dedicated to cleaning work stations and equipment. Other procedures, including exposure and quarantine guidelines, have been outlined by the automaker. Insiders know that it'll take automakers a few weeks to build up to the same production levels they had prior to the virus outbreak, but it's rewarding to see companies get back to work in this new normal.
Although FCA and Ram are working to ramp up production in an abundance of caution,Miami Lakes Automallhas plenty of Ram inventory for customers to choose from. Visit us at Miami Lakes AutoMall and check out our latest redesigned Ram 1500 inventory to schedule your test drive today! Follow us on Miami Lakes Ram social media for the latest news and updates.
Photo Source/Copyright: FCA
Previous Post What We Know About the Ram Rebel TRX Next Post Upcoming Ram Rebel TRX Will Crush the Raptor