Comparing the Ram 1500 vs. Ford F-150 – Miami Lakes Automall Ram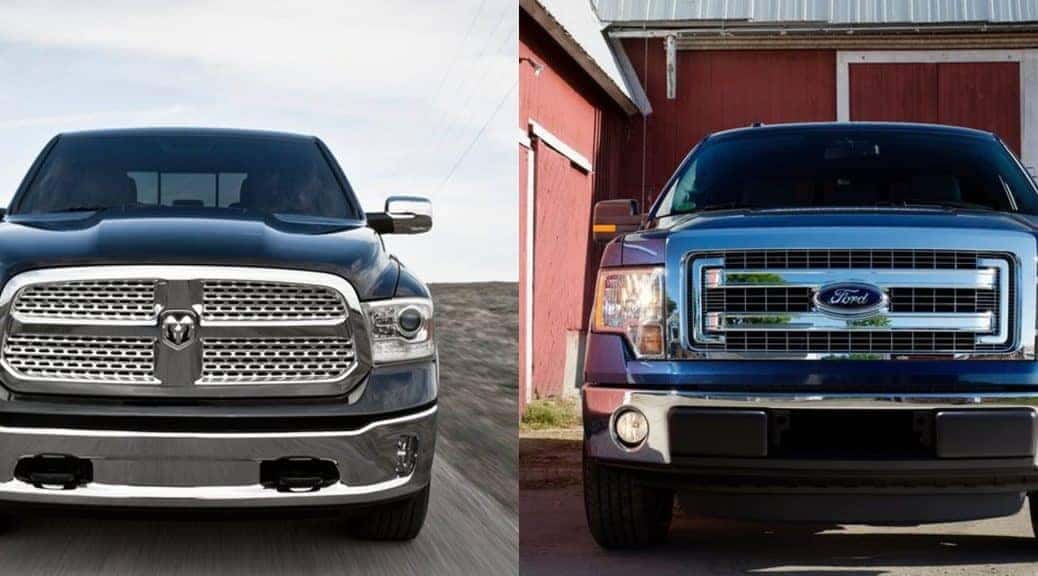 Ram trucks are the fastest growing brand in America. There's a reason for that; with Ram, you receive more. One of the best ways to illustrate this is to compare the Ram 1500 to the Ford F-150. While both trucks offer some unique features, here are the areas where they have distinct differences.
Fuel Efficiency
Ram knows you want a truck that maximizes power and efficiency; this is why they equipped their truck with the available 3.0-liter EcoDiesel V6 engine. This engine helps the Ram 1500 earn up to 28 miles per gallon. Meanwhile, Ford's answer to this demand is their EcoBoost engines. With these, the F-150 earns up to 22 highway mpg falling short of the Ram's efficiency.
Class-Exclusive Offerings
Along with its engine, one of the ways the Ram is able to achieve its impressive efficiency is with the available TorqueFlite 8 eight-speed automatic transmission. Another offering that only they offer is the Active-Level Four Corner Air Suspension, which automatically levels heavy loads during transport. These outstanding performance features are items you won't find on any other truck in its class including the Ford F-150.
Warranty
Both manufacturers offer durable warranties on their trucks. Ford offers the five-year, 60,000-mile limited powertrain warranty whereas Ram gives their owners five-years or 100,000 miles on their limited powertrain warranty. While both are impressive, Ram gives you more mileage thereby making it a better protection particularly if you plan on putting plenty of miles on your truck.
Ultimately, the Ram 1500 is a better buy because it offers better performance features, more fuel efficiency and a longer warranty in terms of mileage. To test drive the Ram 1500 today, be sure to visit Miami Lakes Ram, your Dodge RAM dealer. We have a great selection of new and pre-owned Ram trucks at prices that are budget friendly.
Previous Post October is an Excellent Time to Lease a Ram 1500 Next Post 3 Guidelines for Keeping Your Ram Truck in Top Shape