Coming Soon: The Ram 1500 Rebel TRX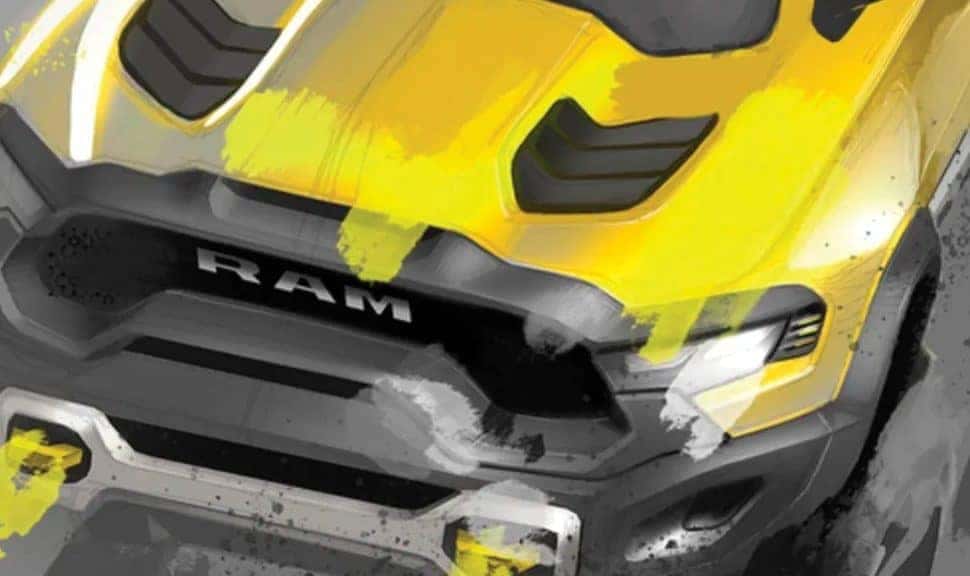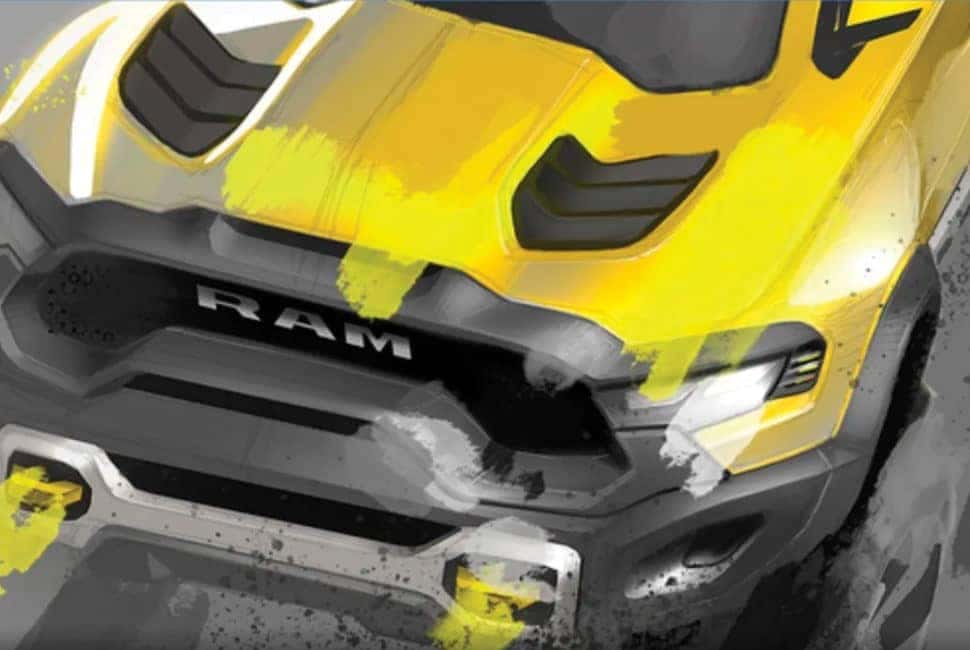 We've known for quite some time that Ram Truck is gearing up to launch the Ram 1500 Rebel TRX to compete directly with the Ford F-150 Raptor. Recent reports from _ Allpar _ and _ Mopar Insiders _ indicate that the debut and launch date of the TRX is closer than ever. Here's what else we know about the upcoming Ram 1500 Rebel TRX.
Design
_ Allpar _ and its inside sources indicate that the TRX will look something like the drawing above — recently published as Fiat Chrysler Automobiles' (FCA) "Drive for Design " flyer. A dual vented hood and flared arches for a wider stance are expected to be key design features of the TRX, cementing its status as an aggressive, solid off-roader. The drawing is similar to a Ram Rebel TRX concept that debuted a couple of years ago.
Horsepower
Enthusiasts eagerly awaiting the arrival of the TRX will be happy to learn that it'll have more than 700 Horsepower. That's right, with a supercharged 6.2-liter Hellcat HEMI V8 under the hood, the TRX will be able to reach 707 horsepower. That's the same amount of horsepower the same engine generates in vehicles such as the Dodge Challenger and Dodge Charger. In contrast, the original concept TRX presented a few years ago only offered 575 horsepower.
Borrowed from Alfa Romeo
The new Rebel 1500 TRX will not only feature extended versions of the aluminum paddle shifters found in the Alfa Romeo Stelvio Quadrifoglio, but it'll also use the same eight-speed ZF automatic transmission. The eight-speed ZF automatic transmission can be found on a wide range of European luxury vehicles.
Luxury
Mopar Insiders is reporting that the Rebel 1500 TRX will offer plenty of luxury and advanced tech for consumers. The base price is predicted to be at around $70,000, but no official figures exist as of yet. Ram will likely be taking a page from its very successful revamp of the Ram 1500 model which added luxury touches and impressive tech features such as a massive 12-inch touchscreen display, trailer cameras, and more.
Debut
If all goes according to plan, consumers can expect to get their first real glimpse of the Ram 1500 Rebel TRX at the Detroit Auto Show this upcoming June (2020). Launch date is said to be sometime during the third quarter of 2020.
In the meantime, as we wait on the arrival of the Rebel TRX, feel free to explore the existing Ram lineup atMiami Lakes Automall. Whether you're looking for an entry-level or fleet-oriented pickup like the Ram 1500 Classic , or something more modern like the revamped Ram 1500 , Miami Lakes Ram has got your back. Schedule your test drive today! Follow Miami Lakes on social media to stay up to date with the latest Ram news, including the upcoming debut of the TRX.
Photo Source/Copyright: FCA
Previous Post 2021 Ram ProMaster Highlights Next Post Ram Trucks Introduces Another Special Edition Pickup