A Look at the Ram 2500 Power Wagon's Best Features – Miami Lakes Automall Ram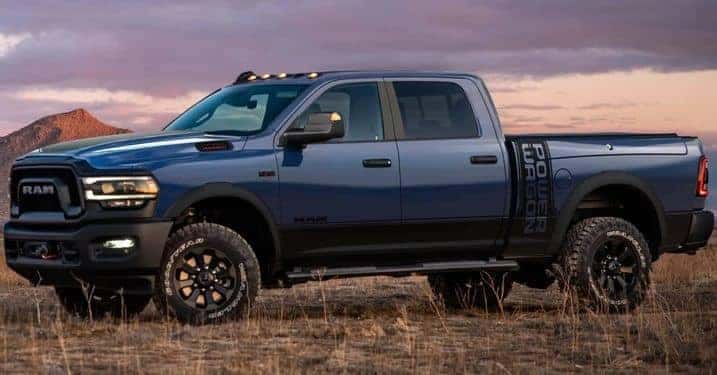 Ram's Power Wagon has been around for some time now. The off-road pickup first found its inspiration from World War 2 Dodge-produced trucks. Ever since its debut, the Power Wagon has been able to continue to make a name for itself as one of the most capable and efficient pickup trucks available. Although the name itself was discontinued in 1980 in favor of the Power Ram, the Power Wagon name was soon revived in 2010. Flash forward to today and the Power Wagon remains just as relevant as ever. We'll go into detail about some of the best features of the 2022 Ram Power Wagon and why it stands as such a powerful and capable pickup.
Power Wagon's 6.4L V8
One of the main features that give the 2022 Ram 2500 Power Wagon its oomph' is its 6.4L V8 Hemi engine. Ram ensured that the pickup would have the power and performance to take care of just about any job. The 6.4L V8 is capable of a respectable 410 horsepower and 429 lb-ft of torque. With this engine, Wagon owners are able to get an astounding tow capacity of up to 17,520 pounds. They're also able to get another 4,010 pounds of payload in the truck bed. The Ram 2500 Power Wagon also features variable-cam timing, a fully electronic automatic transmission, and on-the-fly shift mapping.
Power Wagon's Gas-charged Monotube Shocks
Another key feature unique to the 2022 Ram 2500 Power Wagon is its monotube shocks. These come courtesy of the company Bilstein which utilizes their private facility in Nurburgring, Germany to produce some of the most capable shocks in the off-roading sector. The Power Wagon remains light and agile thanks to the suspension upgrades and gas-charged shocks. The powerful pickup also receives a larger carrying capacity while reducing uncontrolled movement. The shocks are also able to last longer thanks to their increased dampening power.
Power Wagon's Front sway bar
In addition to its V8 engine and gas-charged shocks, the 2022 Ram 2500 Power Wagon comes equipped with an electronically disconnecting front sway bar. This front sway bar drastically improves the Wagon's off-road capabilities and maximizes articulation for the toughest of terrains. Typically used on 4x4s and off-roaders, this sway bar helps each wheel work independently of one another. This helps maintain contact with the ground when going off-road.
Power Wagon's Warn Zeon-12 Winch
The 2022 Ram 2500 Power Wagon has one final feature that allows it to be such a powerful off-road pickup. This is the Warn Zeon-12 Winch which is a 12-volt winch that features a synthetic cable. This lightweight winch can pull up to 12,000 pounds with a single line. It also has over 80 feet of slack. Power Wagon owners will be happy to know that the Zeon-12 winch features a black powder-coated finish with stainless steel fasteners which helps reduce corrosion. For longevity, this is the optimal choice. Given all its features and capabilities, the 2022 Ram 2500 Power Wagon is a pickup unlike any other.
Come Test Drive a Brand-New Ram at Miami Lakes Automall!
Are you excited about getting a new Ram 2500 ? So are we! At * Miami Lakes Automall *, we're more than excited to help our customers find what they're looking for. Check out our new vehicle inventory or browse our quality pre-owned vehicles . We offer suggestions like auto financing to help make paying for a vehicle easier.
If you're in need of service, schedule an online service appointment with our expert technicians. Allow our professional techs to get started on all repairs or maintenance work. Stop by today and see what we can do for you right now.
Photo Credit: Ram
Previous Post All-New Ram EV Sees Potential Name, 'Ram Revolution' Next Post Ram To Announce Ram Revolution Insider Program