2016 Ram 3500: The Ultimate in Luxury and Performance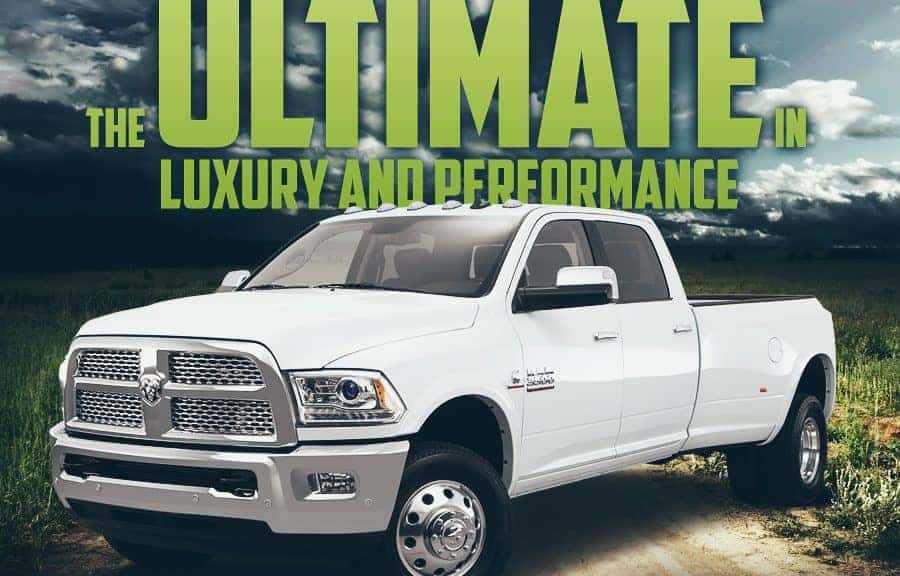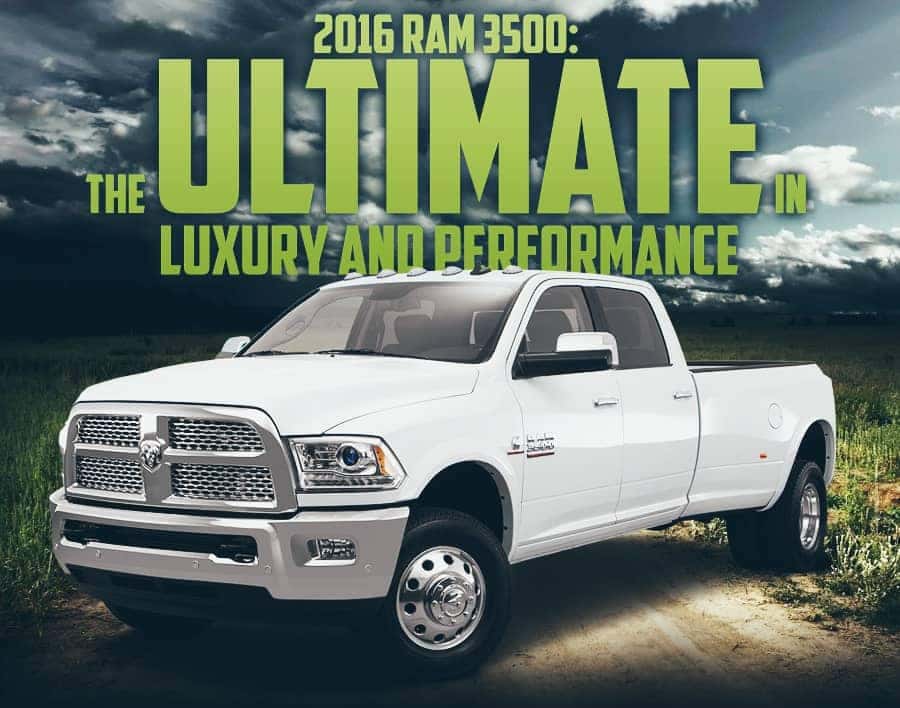 The 2016 Ram 3500 is a powerhouse of a truck. Not only is it able to pull a small house off it's foundation, but it's also one of the most luxurious trucks on the market. Combine these two features, and you have a truck that will not only tow with the power of a tank, but the comfort and refinement of your rich father-in-law's Victorian-style mansion; only difference is the inside of the truck isn't as outdated as the mansion; because it's made with premium materials, and has state-of-the-art technology to entertain you and make your life more convenient.
This truck isn't too good to be true; it's simply just a Ram truck. Which in 2016 means you are getting the latest and greatest working capability, comfort, and technology.
Performance
Especially when you bump-up to the Laramie model. This model makes it a point to give you the most refined and comfortable working experience ever; without sacrificing any of it's performance capabilities.
Engine Options
Not only is it a workhorse, but it's a versatile workhorse. There are three engine options for the Ram 3500 Laramie, the standard one is the 5.7-liter Hemi V8 engine with variable valve timing. This is an engine that provides you a truck that's still work-oriented without sacrificing fuel-efficiency. If you don't need to pull a house off its frame, and just need the Ram 3500 for the extra space for work supplies; stick with the standard engine. It can still put out 383 horsepower and 400 pound-feet of torque, which are still monstrous numbers — even for a truck this size. The VVT allows the engine to provide optimal torque over a larger RPM range, which means no matter how much you watch that needle climb, you will have steady and strong towing. This engine also has aluminum heads, and spherical combustion chambers that allow more airflow; also boosting power and torque.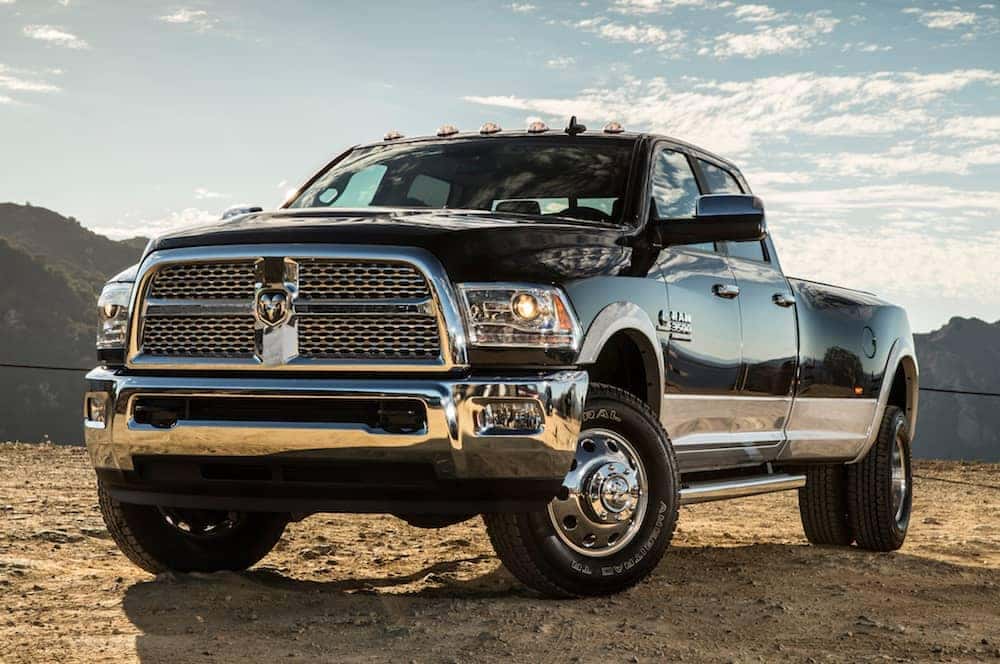 The 6.4-liter Hemi V8 engine is the middle engine out of the 3 options, and provides even more horsepower and torque. This bad boy puts out 410 horsepower and 429 pound-feet of torque, which means we are starting to get into some serious numbers now. This engine is equipped with fuel saver technology to help offset it's larger size, and it will shut down four cylinders when cruising (or driving downhill) under light loads to increase the fuel-efficiency without sacrificing power. There are two spark plugs per cylinder, which are there to help increase power and torque, while reducing exhaust emissions.
The third and final option is the big-daddy 6.7-liter Cummins Turbo Diesel I6 engine — turbo diesel; yeah, baby! This engine provides the Ram 3500 with world class capability, outstanding performance, and best in class towing. When paired with the right transmission, the AISIN AS69RC six-speed automatic, this engine becomes a powerhouse. Offering more torque in the lower-range where and when you need it most; towing a house down the road. This engine gets 385 horsepower, which is only 2 more than the standard engine.
Which means this engine paired to the Laramie 3500 might make it a little slower; but the 900 pound-feet of torque is what makes it move mountains.
Best-in-Class Towing Capability? Close Enough
When the Laramie 3500 is equipped with the 6.7-liter Cummins Turbo Diesel engine, the Ram 3500 wins best-in-class torque and towing capacity. While the other engine options are still powerful, they are nothing compared to this one. With this engine equipped, the Laramie is able to tow up to a massive 30,660 lbs (it's the Tradesman and SLT trim that get best in class towing), but even with less than a 100 lb difference, that's still enough to haul an ocean boat down the highway.
But enough about the performance capabilities of the truck, people almost expect that type of power from a Ram at this point. What they aren't expecting, however, is just how luxurious the interior of the Ram 3500 Laramie is. Which makes you forget about the minor decrease in towing capacity.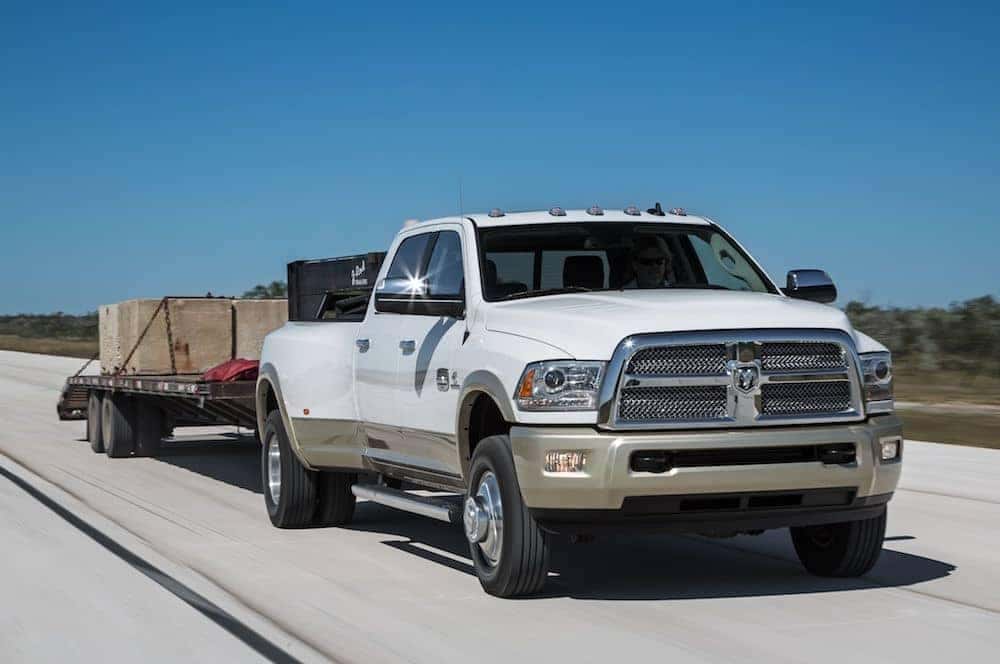 Luxury
The interior of the Laramie is one of utmost refinement and comfort; and it looks handsome. It has the best materials offered by Ram, along with state-of-the-art technology that will make working even easier, and more entertaining.
Comfort
For vehicles, luxury is a two part concept. The first part is making you as comfortable as possible, and the second part is keeping you entertained and providing the greatest amount of convenience possible; the Ram 3500 Laramie does both parts very well. For comfort, the 2016 Ram Laramie 3500 has a truly stunning interior. The first thing you will notice is slipping into seats; leather seats. With refined accent stitching that runs over the entirety of the seats, it will make you feel like you are sitting inside of a top-end luxury sedan instead of a Ram. Taking this idea even further, the Ram 3500 Laramie has an aesthetically appealing contrasting three-tone interior of black, bronze, and a deep rich brown. Which is accented by European burl wood on the center stack, top of the steering wheel, door panels, and center console.
Topping this all off, the comfortable leather seats become even more satisfying in the colder months, because they are heated.
Technology
Like I said previously, the second part of luxury means convenience and entertainment, which is where the technology inside the Ram Laramie 3500 comes in. The first thing you'll notice after admiring the steering wheel is the driver information display that's set up. In place of your typical and boring analog instrument cluster you used to know, it's replaced with an eye-catching display that tells you so much more than just your speed and RPMs. This full-color 7-inch, customizable multi-view informational display let's you cycle through 34 different menu options and graphics that present you vehicle data. You can see what doors are ajar, put your GPS on it, check on your headlights, and much more.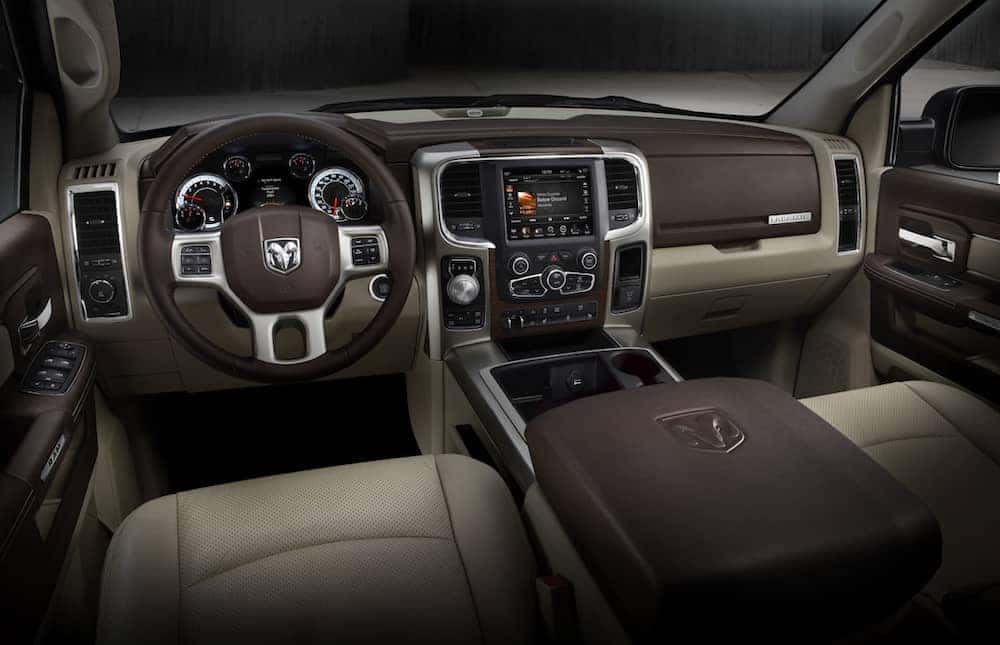 Along with the 7-inch display, the 8.4 Uconnect system with a touchscreen allows you GPS capability, Bluetooth hands-free phone connectivity, media options, a charging USB port, SD card slot, and can a lot more. This touchscreen is there to do two things; entertain and make your life easier. These are just the two most prominent technological features in the Ram Laramie 3500, and it has many more standard/optional features that weren't mentioned.
The Ultimate in Luxury and Performance
As you can see, it's easy to see why the Ram 3500 is the ultimate in luxury and performance. If you wanted to take it up a notch, you can even get the Limited trim instead of the Laramie one. Which has the same engine options and performance capabilities, and tacks on even more standard luxury features.
But for a starting MSRP of $47,420, the Ram 3500 Laramie gets you close to best-in-class towing and torque, along with some of the best luxury features offered in any truck; making this a truck that knows how to work in sophisticated style.
Previous Post 3 Reasons Why the 2016 Ram 3500 Tows More than the Competition Next Post Meet The RAM ProMaster City Commercial Van