The 2016 Ram 2500 Now With Even More Trims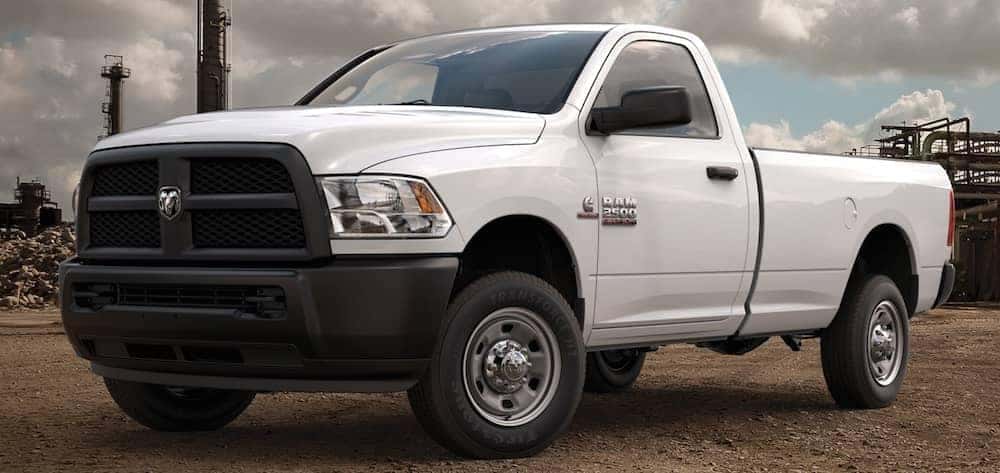 No matter what you require of your pickup, no matter the job, Ram 2500 has you covered. The all new 2016 Ram 2500 offers more trims than ever before. Ready to perform any task you need it to, these trims provide endless options. The benefits to owning a Ram 2500 are now greater than any other pickup on the market today. Where other trucks shy away from too many tasks preferring to stay specialized, the Ram 2500 offers plenty of options so you can be confident that the trim you choose is exactly right for your lifestyle.
_ Whether your job is in the oil fields or soccer fields, ocean-bound or mountain top, the Ram 2500 has just the fit for you. _
*Tradesman & Power Wagon Tradesman *

_ Also known as Ram For Work, this is not your average "work truck". _
Ram knows when it comes to business, the bottom line matters. Ram is always working for you to improve not only your daily job but your daily tasks, as well. Working as hard as you do, you need a truck that's going to deliver the same workload, if not more. There's no questioning if Ram provides reliability. The Tradesman offers best-in-class available gas horsepower and 429 lb/ft of torque and has a 10,000 lb maximum GVWR, or Gross Vehicle Weight Rating. Working with the power from a 6.7L Cummins Turbo Diesel I6 engine provides the confidence and insurance you need to know that Ram will power through. Mated to this engine is the available class-exclusive G56 six-speed manual transmission. If you are like the millions of other business owners to like to have complete control, this is your engine and the G56 is your transmission.
If more power, payload and towing capacity is what your occupation requires, then consider getting a Power Wagon Tradesman to get the job done. As the Power Wagon Tradesman, you're taking a step into the big leagues. Maximum towing capacity is 10,030 lbs while the payload can get up to 1,510 lbs. It's powered by the legendary 6.4L HEMI V8 which makes its capability not only better, but also adds to its performance. Coming standard with an electric winch and 4.10 axle ratio, the Power Wagon rides on 17" aluminum wheels and all-terrain tires.
_ Putting yourself and your staff in a Ram 2500 Tradesman is the best way to make sure your team will always stay true to you, the same way Ram stays true to you. _
SLT

The SLT comes available in regular, crew or should you require a family friendly pickup, the mega cab. Coming standard with cloth interior upholstery, the bench seats fold at 40/20/20 so all children and family member, dog included, not only matter but have the room and comfort level they desire. Remember that boat you purchased (like you could forget)? Now you can pack the whole family with all their luggage and haul the boat to the lake this summer with ease and in style. With the ability to tow 17,980 lbs, the SLT has a maximum payload of 3,990 lbs and comes standard with an 18,000 lb Class V trailer tow hitch and trailer brake control. Doing what they can to keep all passengers happy; young and mature, the SLT also comes standard with a 12-Volt auxiliary power outlet should a phone or iPad need more charging during the long trip ahead.
Big Horn
Available in a crew or mega cab the Big Horn is at the beginning of the nicer trim levels on the Ram 2500. Offering a built in UConnect 8.4 inch touchscreen that is updated with its own navigation, it also takes advantage of premium cloth seats. The rear seats split 60/40 and folding to reveal more cargo space, should the bed of your truck not be large enough, though I don't know who''s ever made that request. Towing a maximum of 17,150 lbs it doesn't offer much of a difference in payload return getting 3,610 lbs. Powered by a 5.7L HEMI V8 engine, the Big Horn offers something different by way to of rear differentials, featuring an anti-spin Rear Differential.
*Laramie & Laramie Longhorn *

Work wise, the Laramie doesn't present too different from the Big Horn, but what the Laramie has over the Big Horn, especially when it's the Longhorn Laramie, is luxury. Offering way more interior comforts to the cabin than any trim before it, the Laramie is where you want to start if you are accustomed to your creature comforts, and hey, we can't blame you. Once you and your family have become accustomed to heated seats in the winter time, it's hard to return to cold cloth.
The luxury features that come standard in the Laramie include dual-zone automatic temperature control, LED interior lighting. Looking out for you as well as all passengers during the winter months, heated leather-trimmed front and rear seats come standard on the Laramie along with an Alpine stereo sound system that includes nine speakers with a subwoofer to boot. Long road trips to the ski lodge just became infinitely better with that perk.
Exterior and safety features were upgraded with Bi-functional projector headlamps and a Parkview rear backup camera. The Laramie 2500 is powered by a 5.7L HEMI V8 that, like the BigHorn before it, can tow up to 17,520 lbs and carry max 3,610 lbs.
Should this amount of luxury simply not suffice, there is yet another Laramie offered: the Laramie Longhorn. Even more luxury. Even more features. Including all the features from the Laramie, the Longhorn proceeds with better safety inclusions like Parksense front/rear park assist system which alerts the driver when objects become too close to the proximity of the truck. The interior is finished with premium real wood accents.
Outdoorsman
If you're an outdoorsman, you already know that your pickup stays packed and ready to go at a moments notice during hunting season. You have your truck packed with all the necessities that will carry safely in, around and then back out of the deeps woods. The Outdoorsman is equipped with all the standard equipment you'll need to navigate through any kind of terrain in any kind of weather. With features that include tow hooks, fog lamps, anti-spin rear differentials and dual 220 amp alternators, Ram has your truck prepared, so can worry about the important things.
Limited
When you're an executive looking for the very best, you come to Ram. When you want the very best in comfort and luxury, you get the Limited 2500. Upgrade to a mega cab if the crew isn't big enough for the comfort of your family and friends who will be accompanying you on your journeys in the Limited 2500. When standard features include automatic beam control headlamps, heated Natura full leather front and rear seats, wheel to wheel side steps, remote keyless enter n' go and nine Alpine speakers for the very best in audio entertainment, it's hard not to feel completely spoiled by Ram. But, maybe, this time, you deserve to be a little spoiled. So, indulge in the Limited.
Laramie Power Wagon
Where power intersects with luxury, that's where you'll find the Laramie Power Wagon. Getting the very best of both worlds, the Laramie Power Wagon is an unstoppable force lined in the finest materials and updated technology. Powered by the legendary 6.4L HEMI V8, standard features include Front Disconnecting Stabilizer bar, Tru-Lok front and rear axles with a 4.10 rotation and an electric winch for when you or your buddy gets in a bind. Riding on 17" aluminum wheels with all-terrain tires allow you the ability to traverse any road ahead.
Previous Post Exploring the 2016 Ram 2500's Interior Next Post Two Most Luxurious Ram 2500 Models Show Off Style & Power