Top Gear Mods L200 as Mitsubishi Hints U.S. Truck Revival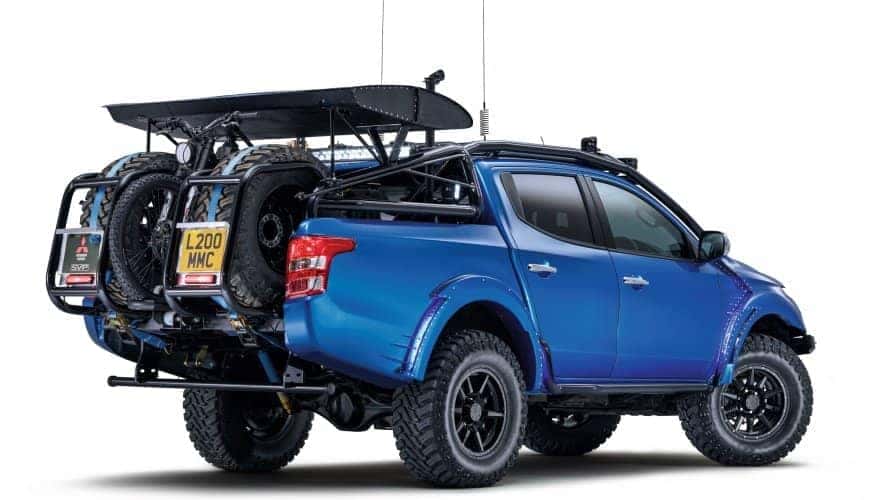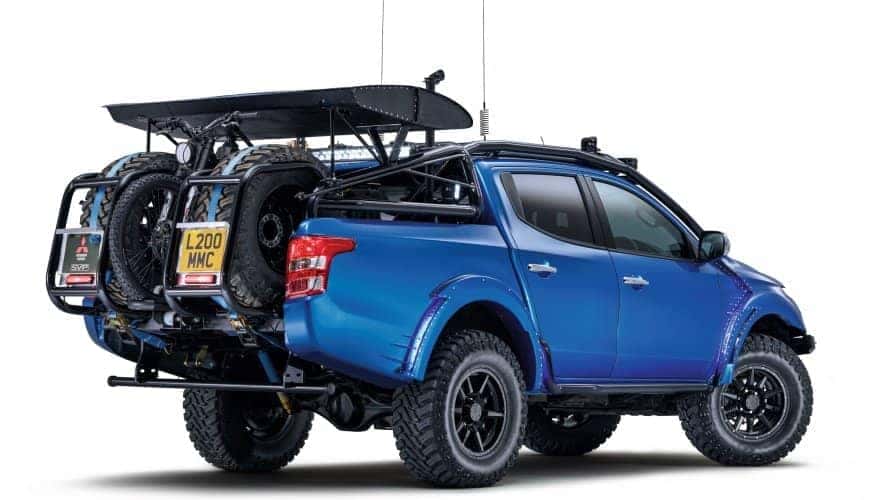 Did you hear the news? Mitsubishi Motors is thinking of bringing trucks back to their lineup. Yeah, they're pretty focused on their SUVs and crossovers at the moment, but seems they're looking to expand a bit. There hasn't been a truck released in the states since 2009 – the Mitsubishi Raider died off after only a few years in the market. However, that doesn't mean people forgot about Mitsubishi trucks. In fact, the Mitsubishi Triton, also known as the L200, lasted until 1996, and was recently picked up by the guys at Top Gear to turn it into a desert warrior. This is the kind of hype Mitsubishi needs for the reintroduction of trucks to the US market.
Say Hello to Project Swarm
Tom Ford from Top Gear took a new Mitsubishi L200 as the base model (it's still being built to this day in foreign markets), and is turning it into a bit of a beast. He calls it a Euro spec-runner, or more so a fully specced and thoroughly upgraded production vehicle used to 'pre-run' stages of hardcore off-road desert races. These are the vehicles used to check for all the bits in a desert race route that could spell doom, and not just for the vehicle. We're talking cliffs, boulders, and instant-death detours. So pre-run vehicles need suspension and be able to handle a tough ride.
First, you may ask, "What's so special about the Mitsubishi L200, and why use that as the base?" Well, aside from one of the longest running trucks, it's got some good things going for it for off-road runs. Under the hood is a 2.4-liter I4 turbodiesel engine mated to a 5-speed automatic transmission. It's horsepower isn't very fancy, coming in at 180 horsepower, but it has 317 lb-ft of torque, which is a good start for going off-road. The suspension and "Super Select 4WD II" selectable drive control for AWD make it a great vehicle for rear-wheel drive high range (high fuel efficiency), four wheel-drive high (great for slippery terrain), high range with a locked center differential (good for snow and mud), and a low range locked differential (rock crawling). So, it's pretty solid in all.
The project is actually very extensive, and we won't cover it all here. We will however, tell you what the goal was and what they ended up with. The changes planned to turn this truck into a spec-runner was to add an external roll cage to keep the driver and passengers protected in the event of rolling over, as well as keeping the bed and cab connected; the exhaust was going to be switched out for a side exhaust; larger tires were going to be installed along with a new differential; wheel arch flares; an upgraded suspension; and of course a winch in case of getting stuck.
The problem is they're still working on it, so we can't tell you if they'll get everything they wanted. Here's what we do know, though. The tires are somewhere between 35- and 38-inches, the suspension will get a bit of a lift, improved bumpers, laser LED lighting, and an airplane wing to host cameras, a roof box, and a drone launching pad. There will also be a dirt bike mounted in the load bed to be hauled around. So far, by looking at the image above, it looks pretty awesome.
If people are modifying Mitsubishi trucks like this today, just think of what might come of the next truck Mitsubishi will release. Word has it that Top Gear was actually in touch with Mitsubishi when discussing the project, so the end result could always spur something new for the next truck release.
Photo Source/Copyright: outsideonline.com; Mitsubishi
Previous Post Meet Hyaku, Mitsubishi's Centennial Concept Next Post Summerize Your Car – Here's How