New Lane Hazard Warning Technology from Mitsubishi Electric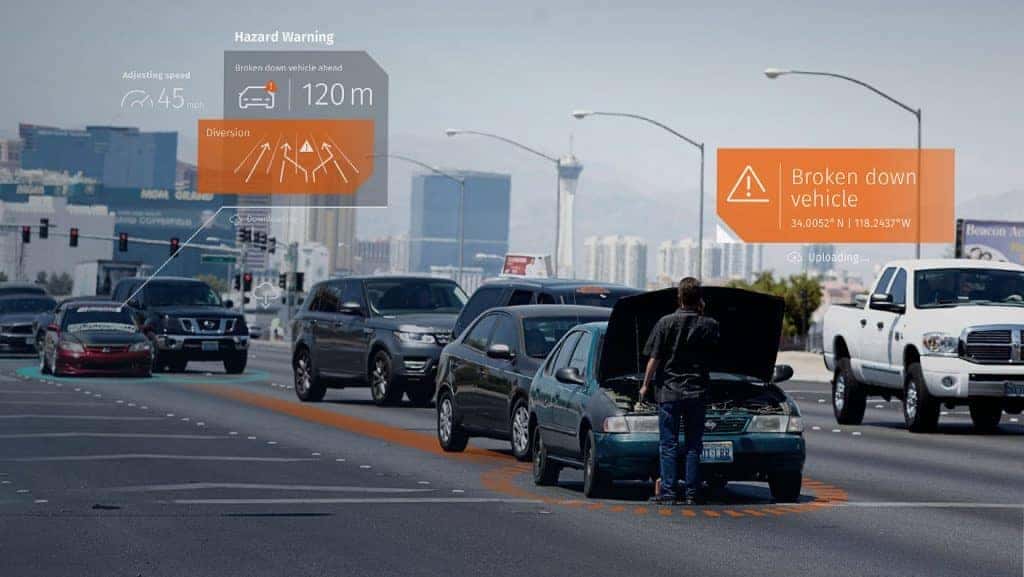 Mitsubishi Electric, a sister company of Mitsubishi Motors and under the Mitsubishi Corp umbrella, has been pretty busy as of late. Although Mitsubishi Electric is known for a variety of things, some of which has to do with home appliances, they've also been known to develop technology for upcoming automobiles. During the 2019 Consumer Electronics Show, Mitsubishi Electric showed us some of the technology they're working on that allows consumers to communicate with passengers in other vehicles in real-time over a virtual platform. Always keeping safety in mind, new technology from Mitsubishi Electric keeps drivers informed about upcoming safety hazards while on the road.
A Car with a Brain?
Mitsubishi Electric has been working on autonomous technology for upcoming Mitsubishi vehicles for several years and made their big debut in 2017. Using what the company calls a Mobile Mapping System (MMS), through the use o car-mounted GPS antennas, laser scanners, and cameras, drivers are presented with a 3D map of what the MMS sees in real-time while collecting data. In 2018, the technology became more advanced, turned into an easy roof-mount unit, that uses various technologies to operate, such as a speed sensor, the ability to drive the vehicle through tunnels or underwater pathways, and a high-sensitivity camera that allows the vehicle to continue to function and collect data at night. All of this could be really helpful with the newest automobile technology to come from Mitsubishi Corp.
The way Mitsubishi Electric describes this new system, called Lane Hazard Warning, it sounds pretty autonomous. In short, when the Lane Hazard Warning system road hazards localized to a specific lane, such as a slow car, slippery road, and debris, this information is then transmitted in real-time via a connected cloud to other vehicles in the surrounding area. Having already successfully completed two field tests, one in California U.S., and another successful trial in Ibaraki Prefecture in Japan, Winter 2018.
Through the utilization of the vehicle's sensors and an HD Locator, developed by Mitsubishi Electric to provide precise centimeter-level positioning technology, and the HERE Open Location Platform, a collaborative big location data platform shared between the two companies. The first step is to allow vehicles to talk to one another, but the companies are also evaluating the application of the technology in automated updates of maps for vehicles connected to the cloud. It all sounds like a sci-fi version of SiriusXM Traffic and other similar products/services.
"HERE Technologies and Mitsubishi Electric are showing how your car can learn from the experiences of other cars on the road to make for a much safer driving experience…We believe fast, accurate and targeted hazard alerts will be a critical part of the data infrastructure required for automated driving and smart city services. We look forward to seeing this technology in the market." – Jørgen Behrens, SVP and Head of Applications and Services at HERE Technologies.
Going forward, the companies will be making Lane Hazard Warning available to automakers for testing in their own vehicles. Note that Mitsubishi Electric and HERE Technologies didn't specific just Mitsubishi Motors. This could be a technology popping up in all kinds of vehicles in the coming years. Get all the updates about Mitsubishi Motors and Mitsubishi Electric when you follow Miami Lakes Mitsubishi on social media .
Photo Source/Copyright: ml-eu.globenewswire.com
Previous Post Get Fuel Efficiency and a Great Sound System with the Mitsubishi Mirage Next Post Why Would the Renault-Nissan-Mitsubishi Alliance Merge with FCA?