Mitsubishi Uses Augmented Reality to Help Explain Vehicle Tech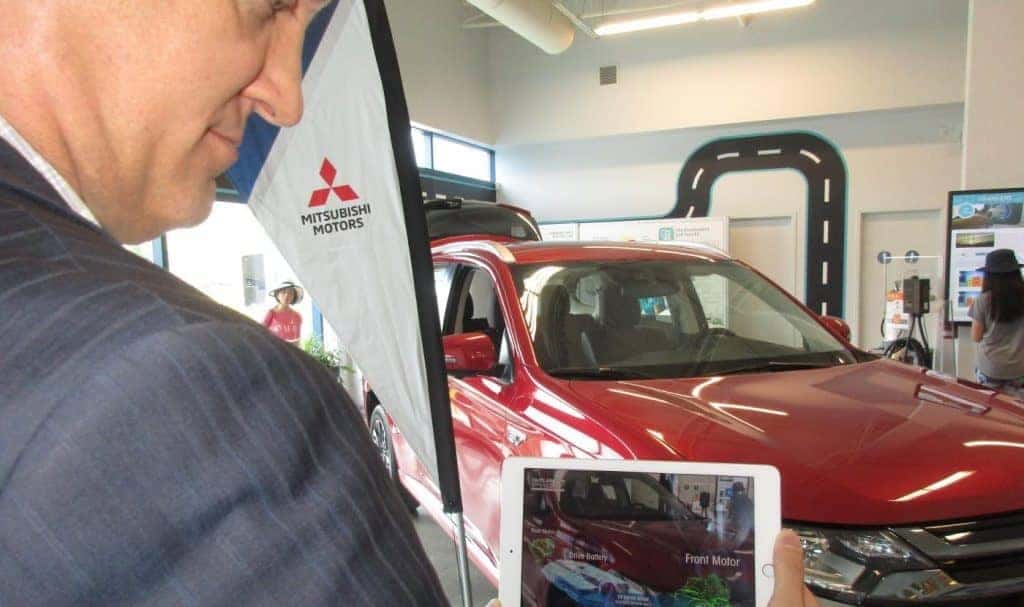 With consumer and automotive technology on the up swing, automakers are starting to get more involved in the digital age to connect with their consumer base. In 2016, when the Kia Niro was still on the production line, Kia advertised their hybrid crossover with a Facebook Messenger bot, the Niro Bot , to answer questions about the vehicle. In early 2018, soon after the 2018 Jeep Wrangler JL debuted, Jeep also released their " New Jeep Adventure App ", a virtual reality app that allowed consumers to configure, take pictures of, and virtually sit inside their own Jeep Wrangler JL. Now, Mitsubishi Motors is doing something similar to continue to raise sales for the Mitsubishi Outlander PHEV by implementing augmented reality in dealerships, starting with Canada.
Canada is part of the North American market, although they may get various versions due to different federal regulations and what not. Why Mitsubishi is taking this technology to our neighbors of the north first is anyone's guess, but it's still a neat feature that can travel down to us in the next year or so. The augmented reality Mitsubishi dealerships will be using is actually an app developed for Mitsubishi North York, Ont.-based St. Joseph Communications.
The app is used to help sales people explain to customers the technology of the 2018 Outlander plug-in hybrid electric utility vehicle. All a salesperson needs to do is point the tablet towards a part of the plug-in that's visible, say, the front tire. Once the app registers and locks into place, the app then allows the viewer to do a virtual walk around to see the vehicle from different positions via hyper-accurate tracking and registration coding techniques with tracking markers.
"Up until now the salesman had to verbally explain to the customer how the system works, and for somebody who is maybe not as knowledgeable about technological things, it may be difficult to grasp the explanation…[Now] the consumer can actually see a kind of virtual reality almost of what's going on with the vehicle…It gives them a better understanding." – Don Ulmer, Mitsubishi Motors Sales of Canada senior manager of product planning.
This new app will be great for new consumers and demographics that are interested in the fuel efficiency of hybrid technology, but don't quite understand it. In August 2018, a federal survey of national car salespeople found that even a percentage of sales people don't understand electric vehicles and/or hybrids, which makes selling them even more difficult. Although sales people should be knowledgeable about what they're actually selling, this app will help them do so without looking foolish.
"So the sales person can show the customer [the various drive modes] with the augmented reality in the showroom and when they go out for a test drive they can select the screen [of the infotainment system] and show what it looks like in real time." – Ulmer.
And yes, the augmented reality app can demonstrate the three driving modes of the Mitsubishi Outlander PHEV – EV (electric-only), series hybrid (for electric and engine power,) and parallel hybrid (engine power with electric assistance). The app can also show how the regenerative braking system operates. Now, instead of looking through a brochure or a website with limited information, consumers can go look through the app at the dealership and learn all about the Outlander PHEV. Let's hope this kind of technology catches on and becomes a downloadable app for smartphones.
What do you think? Would you be more likely to buy a vehicle if you had an app to experience it second-hand? Let us know on Miami Lakes Mitsubishi social media .
Photo Source/Copyright: canada.autonews.com
Previous Post Revival of the Mitsubishi Triton Spied Next Post Android-based Infotainment Systems Coming to a Mitsubishi Near you