Mitsubishi Eclipse Cross Receives High Safety Ratings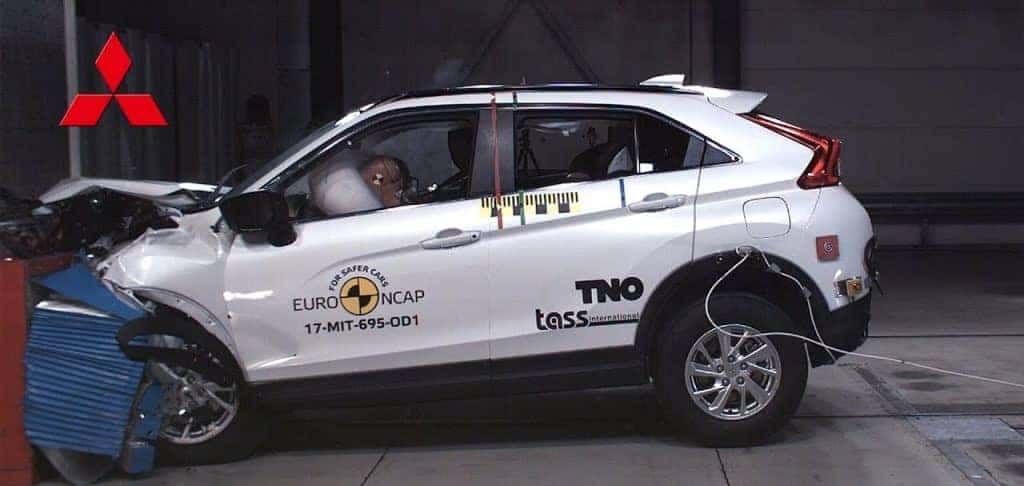 Mitsubishi Motors has been making use of resources from their alliance with Renault-Nissan over the last year, but when it comes to pure Mitsubishi vehicles, the last of the line is the Mitsubishi Eclipse Cross. The pinnacle of technology for passenger comfort and entertainment, next to the environmental-friendly Outlander PHEV (plug-in hybrid electric vehicle), the Eclipse Cross is the classic sports car turned crossover. Although not engineered to win any drag races, the Eclipse Cross still comes with coupe-like style, Super All-Wheel Control for handling any terrain, and a number of features that keep the driver and passenger safe. Recently, the safety of the 2018 Eclipse Cross was put to the test in the land of the east and received a five-star safety rating.
Safety Features
If looking at the safety features of a car from Mitsubishi Motors, one would find a bit of a gap in advanced safety features over the last several years (pre-2018). Now, available safety features span across multiple models and trims. For instance, the Eclipse Cross comes with blind spot warning with rear cross traffic alert and lane change assist, forward collision mitigation, lane departure warning, and adaptive cruise control.
Blind sport warning is a helpful feature for drivers on the road, especially in large vehicles like crossovers and SUVs that may have some trouble checking their blind spot when looking to merge or change lanes. Because this system comes with rear cross traffic alert and lane change assist , this combination of systems help drivers of large vehicles even more, alerting them to obstacles in their surroundings when backing out of a parking space. Lane change assist is more so an extension of blind spot warning, letting drivers know if their are vehicles approaching while attempting to change lanes, not just if there's a vehicle hovering in their blindspot.
For new drivers or those that may have distractions, forward collision mitigation and lane departure warning are both great safety features to have. New drivers may still be learning the subconscious behavior of staying in their lane while on the road, and lane departure warning can help with that. If a teen driver, or one who drives with a busy family, it's also nice to have a system that tries to avoid frontal collision by warning the driver; a mitigation system also has the ability to activate the brakes if the driver doesn't respond to lessen the severity of impact. The most convenient safety feature may be adaptive cruise control for those long car rides on the highway where the speed limit may change or traffic may get heavy. Although none of the above are substitutes for safe driving, they're all very helpful.
A++
Now that we've covered some of the features that make the 2018 Mitsubishi Eclipse Cross so safe, let's look at the ratings. The Eclipse Cross was evaluated by the Japan New Car Assessment Program (JNCAP), operated by the National Agency for Automotive Safety and Victims Aid that evaluates a vehicles safety performance based on a number of collision tests, much like the Insurance Institute for Highway Safety (IIHS). The JNCAP evaluates a vehicle's safety based on collision safety, head protection, rear passenger seat belt usability, seat belt reminder, and braking performance when testing vehicles.
Due to Mitsubishi's " Reinforced Impact Safety Evolution " design, all vehicles by Mitsubishi Motors are built to keep passengers safe in a collision with built-in crumple zones to help in absorbing energy and a cabin made of high tensile strength materials with reinforced pillars to avoid extreme deformation. In the case of a collision, SRS airbags that detect the severity of the impact and deploy the airbags based on that data in just 300 milliseconds are also equipped in every Mitsubishi vehicle.
Such safety measures earned the 2018 Mitsubishi Eclipse Cross a five-star rating and the highest award by the JNCAP, an ASV++. Similar to the Top Safety Pick + by the IIHS, this would mean the Eclipse Cross performed exceptionally well on all of the above tests. Looking for a safe crossover for a new driver or your family? Come to Miami Lakes Automall to test drive the Mitsubishi Eclipse Cross or find other safe vehicles in our inventory .
Photo Source/Copyright: Youtube.com/The Wheel Network
Previous Post The Future is all About e-Evolution for Mitsubishi Next Post Mitsubishi Motors to Compete at 2019 Dakar Rally