Mirage Boasts Best Mileage and Price | Mitsubishi Dealers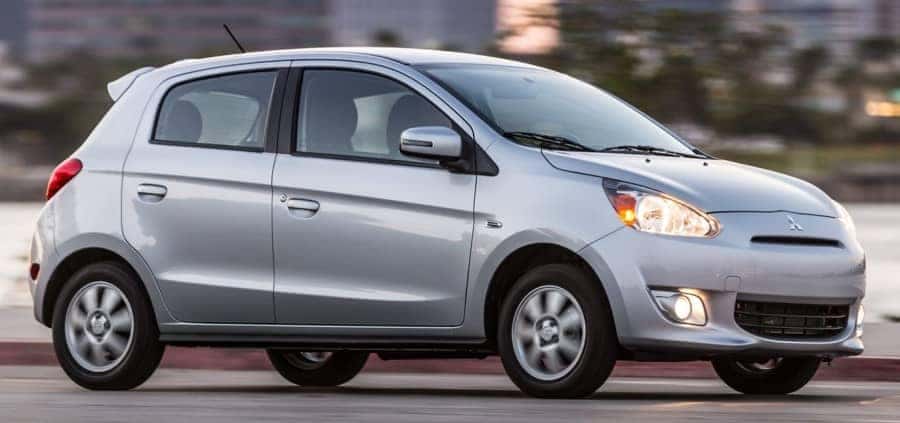 The latest incarnation of the Mitsubishi Mirage is definitely set to impress with its outstanding EPA rating and impressive affordability.
Mitsubishi holds efficiency as a high priority whether they're working on a gasoline or electric powered vehicle. Their 2015 Mirage has been named the number one non-hybrid car in the U.S. for fuel economy.
Take a closer look at the Mirage to find out what makes this model from Mitsubishi dealers such a hot topic for 2015.
The Skinny
The Mirage didn't have to go teeny tiny to achieve its excellent fuel ratings. It's a subcompact that seats up to five people.
It comes with a 1.2-liter MIVEC DOHN 3-cylinder engine and is available with a 5-speed manual transmission or a Continuously Variable Transmission (CVT).
The ride has a nice feel, and the Mirage has great maneuverability. The Automotive Science Group even named it the winner for Best All-Around Performance.
It also comes with a slew of features that you'll love.
Keyless entry
Start/stop button
Leather-wrapped steering wheel and shift knob
Touchscreen infotainment
Bluetooth hands-free phone system
USB port
Split-folding rear seats
Efficiency
The race to make the most efficient cars in the industry is on, and Mitsubishi is leading the pack. The Mirage is a wonder with its rating of 44 miles per gallon on the highway.
How does it conserve so much while still offering exceptional utility? It has a uniquely aerodynamic design and a super low 0.28 drag coefficient.
Pricing
The Mirage's price sticker will take your breath away…in a good way. All of the convenience and efficiency mentioned above start at $12,995.
And that price includes a 10-year/100,000-miles warranty so you know that Mitsubishi has you covered. Get more value without eating up your savings by taking the Mirage for a test drive.
Previous Post 3 Reasons the Outlander is a Great Choice for Families Next Post A Dynamic Duo: Jackie Chan and the Evo