The Ultimate Guide to Kia Soul Special Edition and Concept Models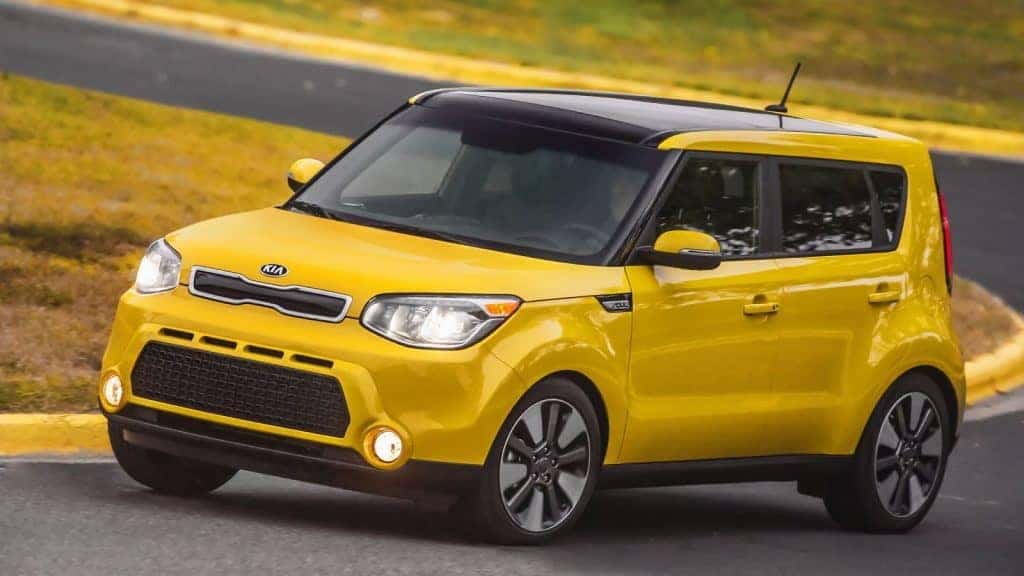 With a diverse range of models, the ever-evolving Kia is sure to please any driver, especially if you're in the market for a fun, fuel-efficient, and feisty drive. Stop by your local Kia dealer to discover this exciting lineup of Kia vehicles.
The Beginning
Launched in 2008, the Kia Soul, manufactured in Korea is a compact car modeled after a boar wearing a backpack. Seriously. Senior Designer, Mike Torpey, at Kia Design Center America, designed the Kia Soul to be strong and bold, demonstrating a "rugged personality with attitude." The Kia Soul was created out of the Kia Design Team's mantra, "Dynamic Energy, Function, and Strength, in a small footprint."
That first generation footprint, produced from 2010-2013, quickly evolved to include a range of concept, special, and limited edition models.
The base model Kia Soul wagon is equipped with a 2.0 L Inline 4-cylinder engine, available in 5-speed manual or 4-speed automatic transmissions, 142 hp, front wheel drive, with a 24/30 MPG fuel economy, and Bluetooth capability.
Available in a variety of exterior colors, including Molten, Java, Shadow, Dune, and Alien, the interior cloth interior comes in either Sand or Black, but houndstooth and glow-in-the-dark upholsteries are also available.
This is a fun car, initially designed to appeal to a younger generation and spice up the Korean automotive landscape, which, until 2010, had been dominated by white, black, or silver sedans.
But what about the concept cars?
Torpey refers to concept cars as the "supermodels" of automotive design. Let's take a spin down the runway!
Kia Concept Cars
First up, the Original Kia Soul Concept. Launched in 2006, the Kia Soul Concept was based on the Kia Mesa, and featured a 2.0L I4 engine, 5-speed automatic transmission, manual shift capability, and adaptive cruise control.
Kia Soul Diva, Burner, and Searcher
If concept cars are the "supermodels" of the automotive industry, the Kia Soul Burner, Diva, and Searcher, all introduced in 2008, are the European hotties.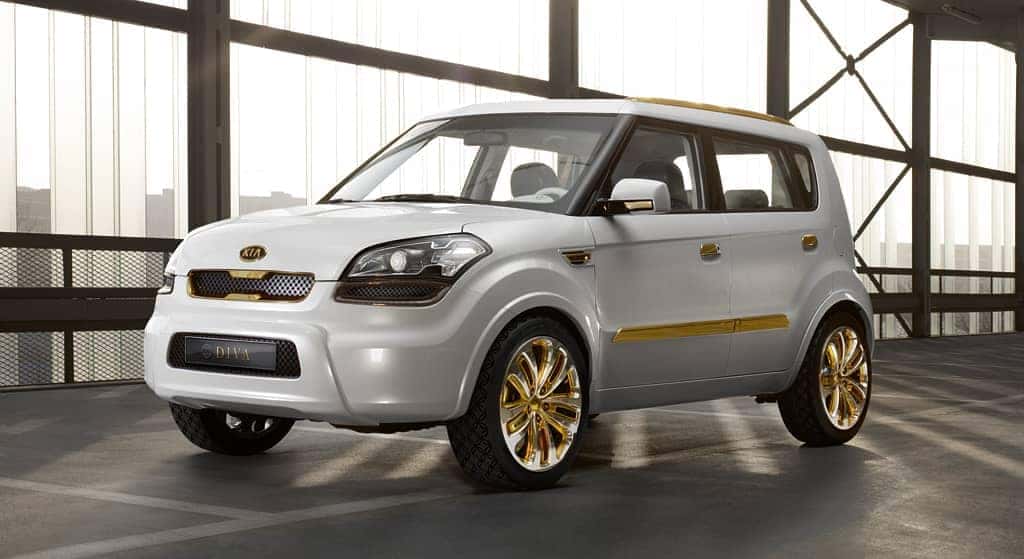 The Kia Soul Diva , as it name suggests, targeted youthful, fashion-forward women. Stretched across the top is a full-length glass panoramic roof, the paint scheme sparkles in white, gold, and black, and features shiny black imitation leather, quilted sofa-style stitching, and long-pile "Pony-hide" carpet.
The Kia Soul Burner is the Diva's "bad boy" counterpart. Equipped with a solid roof panel, no roof rails, 4 bucket seats, 245-40R19 tires, L-shaped day-light LED driving lamps and two vertical exhaust pipes on the bumper.
Perhaps the most soulful of this threesome, the Kia Soul Searcher is a sanctuary on wheels, defined by Eastern cultural values of inner peace and serenity. The bonnet, powered folding roof, tailgate panel, dashboard, door panels, and steering wheel rim comes in an old leather finish, while the floor and seats are covered in rich grey-beige felt.
Hamming it Up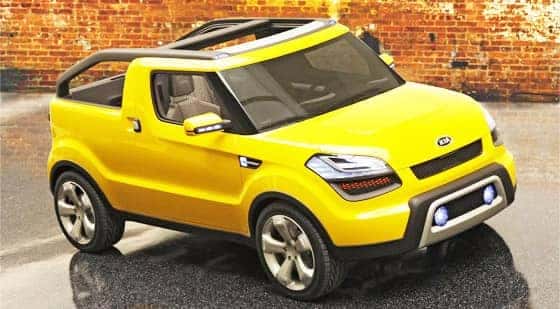 A nod to Kia's marketing team and spokes…animals, the 2011 Kia Hamstar is a flashy red and black homage to the hamsters, or "hamstars," rocking out in the Kia commercials. The glossy exterior and leather interior feature large cut out stars, with "Hamstar" printed across the hood and tailgate.
Hybrid Options
Unveiled in 2008, the Kia Soul Hybrid is an electric option concept, equipped with a Gamma 1.6L petrol engine, electric motor rated 15 kW (20 PS; 20 hp) and 105 N·m (77 lbf·ft), variable transmission, ISG (Idle Stop & Go), and regenerative braking.
Introducing the 'Sters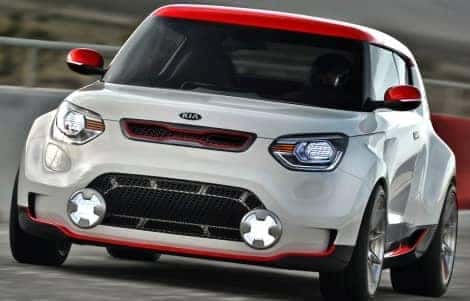 The Kia Soul'ster, introduced in 2009, is a two-door, four seater with dual chrome exhaust, polished aluminum exhaust tips with carbon-fiber interior sleeves, 19-inch 5-spoke aluminum alloy wheels. Drivers can choose between a 1.6L I4 rated 120 hp (89kW) or 2.0 L I4 rated 120 hp (89 kW) 5-speed manual transmission.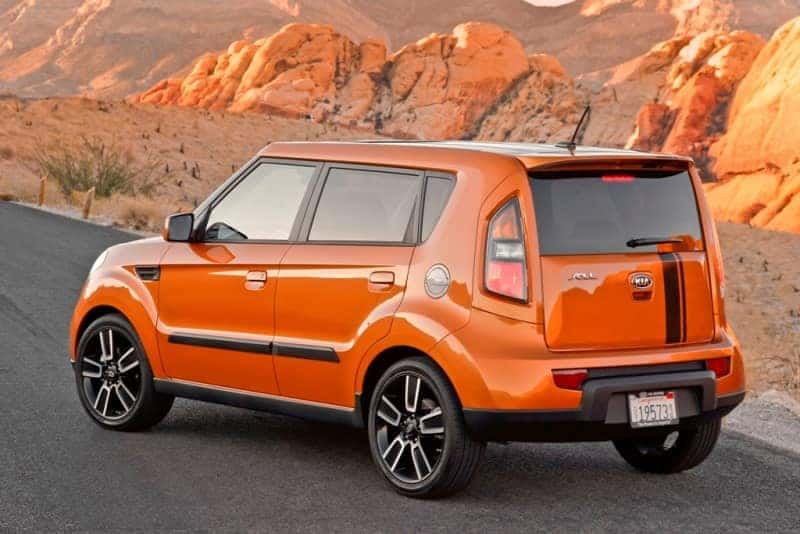 Released in 2012, the Kia Track'ster was designed with ultimate performance in mind and features three doors, custom 19-inch wheels, 247 hp, all-wheel drive, six-speed short throw manual transmission, upgraded brakes, recessed LED-accented lenses, in thrilling Whiteout and Inferno Orange paint scheme. Kia calls the Track'ster, "the Soul's sleeker, more powerful sibling."
Special and Limited Editions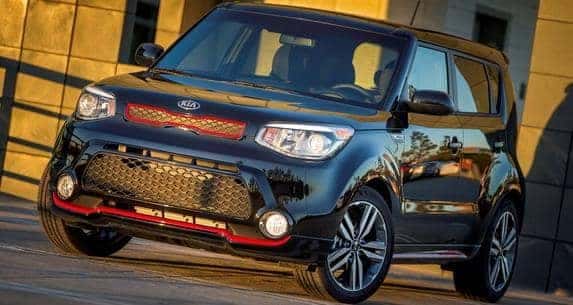 The 2010 special and limited edition Souls are based on the Soul+ model and feature similar packages and perks, but with tons of personalization.
Denim Soul
Limited to 1,200 units, the Soul Denim comes equipped with 5-speed manual (optional automatic) transmission,18-inch alloy wheels, upgraded audio and moonroof packages, fog lights, floor mats, iPod cable, denim paint scheme with white striping and accents, and interior black fabric featuring the Soul logo, at the base price of $17,000.
Shadow Dragon Soul
More refined than its special edition counterparts, the 5-speed manual (optional 4-speed automatic) Shadow Dragon was limited to 1,900 units, featuring Shadow Black paint, matte-black dragon graphics across hood and tailgate, 18-inch black alloy wheels, black leather-trimmed seats, Audio Upgrade Package, iPod connection, steering wheel controls, moonroof, fog lights, all for about $18,000.
Ghost Soul
Chrome accents, new fender vent and rear spoiler, 18-inch wheels and leather-wrapped steering wheel and shift knob, heated, leather-trimmed seats, Audio Upgrade Package, prices the fully-loaded Ghost at approximately $19,000.
Ignition Soul
Evocative of car racing, the sporty 5-speed manual Ignition Soul comes in "ignition orange," complete with a black racing stripe, and features 18" wheels, iPod and Bluetooth connectivity, moon roof, privacy glass.
Flexible Fuel Options
Kia Flex Soul
Korea's first flex-fuel vehicle, the Kia Flex Soul is capable of running on 100% ethanol or 100% gasoline or some combination of both. Compared to the existing 1.6-liter gasoline model, the Flex Soul demonstrates a 44% improvement in fuel efficiency, with a 3.2% increase in power and 3.7% increase in torque.
The Latest and Greatest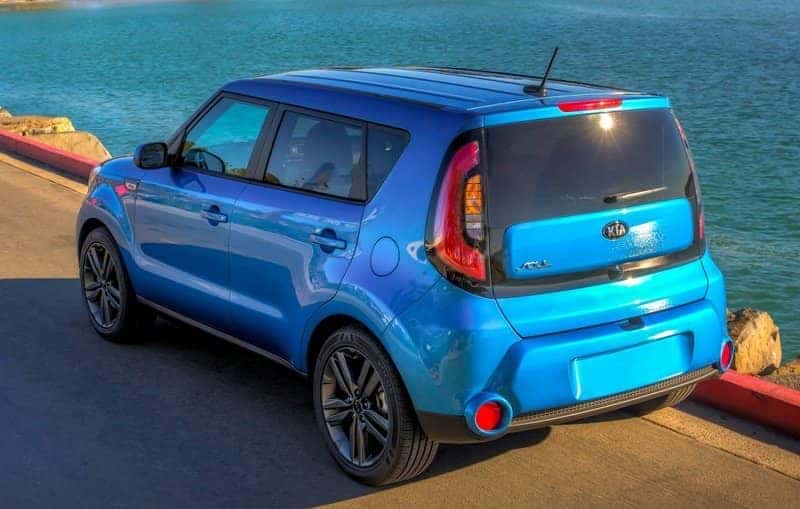 Kia Soul Red Zone 2.0
An updated version of the 2014 Soul Red Zone, the 2015 Red Zone 2.0 is sportier than ever, high-tech, innovative and modern. Featuring 18' alloy wheels with split 5-spoke design, the stunning Shadow Black, Inferno Red-accented exterior, and panoramic sunroof, this Soul comes equipped with everything a driver would expect from the Soul+, but also includes intuitive technologies, navigation system, and 8" screen.

Kia Soul Caribbean Blue
Inspired by tidal waters and reflective ocean colors, the 2015 Caribbean blue, like its spicier Red Zone 2.0 sibling, features the same modern package and state of the art technology with stylish interior and exterior accents. The 18-inch alloy wheels surround a 10-spoke starfish design, and the limited edition cerulean blue blazes the road, guided by with projector-style headlights.
It's Electric!
The latest concept car from Kia, the 2015 Trail'ster is a fuel-efficient, electric AWD crossover, equipped with a 1.6L 185 hp engine and six-speed automatic transmission, and 270-volt AC electric 35 hp, motor capable of delivering 100-lb.-ft. torque to the rear wheels when needed.
Built on Ksport coilovers, lifted 2.5 inches, and sporting 245/45-19 Pirelli Winter Carving tires, the Trail'ster has aluminum skid plates, and a roll-back canvas roof, anchoring an integrated roof rack. Inspired by melting springtime snow, the Trail'ster comes in Polar Pearl Snowdrift.

Kia Soul EV , Kia's completely electric car can charge in four to five hours on a 240-volt system, and runs off a lithium-ion battery, features a 09-hp motor, regenerative braking, giving it a 93-mile range per the EPA. For now, this model is only available for purchase in California and Georgia, but will be sold in other states soon.
With so much personalization and so many purchasing options, your Kia dealer is sure to have something to satisfy your driving needs and desires.
Previous Post Kia Bringing Soul EV to Five New States Next Post 2016 Kia Optima Gets New Turbo Option and More