Kia Dealership – Miami, Fl
Kia is a relatively young company compared to some other automotive brands, but it has quickly proven itself as a contender in the industry. Though the first Kia dealership didn't open in the United States until 1994, the brand grew quickly. By the next year, more than 100 dealerships were open in 30 states, and Kia had sold 24,740 cars in the United States.
In 2013, Kia sold 2.75 million vehicles worldwide.
As a top Kia dealership in Florida , Miami Lakes Kia has seen the success of the brand firsthand, and we can attest to the quality that has helped catapult it. Kia vehicles are stylish, dependable and some of the most affordable models on the market.
Here are a few things you should know about Kia, its history and the changes it has in store for the coming year:
Value + Style = Kia

Though Kia has maintained a relatively modest profile, it produces stylish models that rival larger brands.
Take the Kia Sorento , for example. The sleek SUV can seat up to seven, but it doesn't look bulky like some of its counterparts. The family friendly Sorento has a sleek, aerodynamic design. This isn't your typical, dowdy minivan — it's a stylish crossover that you'll love driving even when you don't have the kids. It also makes the perfect passenger vehicle for escorting business clients.
The Kia Forte is one of the brand's most popular models, and it has a sleek profile that would fit in with the Nissan Maxima or the Mazda 3. The interior features gorgeous features and convenience technology that you would find in other major brands.
The main difference between the Sorento, Forte or other Kia models and their competitors is that Kia almost always undercuts their prices. Kia is a value brand that provides some of the most affordable prices without scrimping on the features. The Sorento starts around $25,000, while rivals can range from $30,000 to $40,000. The Forte starts at just under $17,000, while its rivals are all over $20,000.
If you want a gorgeous vehicle that offers everything you need but don't want to spend a lot of money, going to your local Kia dealership is your best choice.
Introducing the 2016 Kia Sorento
The Sorento is one of Kia's most popular models, and 2016 is set to usher in some exciting changes.
The Sorento will get a redesign in 2016, just two years after its last makeover. Exterior changes will include a longer wheelbase, a wider body, and a bolder front with "squintier" head lights. Some options changes will include either 17- or 19-inch wheels in four different designs or LED fog lamps. The new Sorento looks more mature and sophisticated.

Under the hood, the 2016 Sorento will have a turbocharged 2.0-liter Inline 4 engine that puts out 240 horsepower. Other engine options will include a 2.4-liter engine with 185 horsepower and a 3.3-liter V6 engine with 290 horsepower.
The Inline 4 engine will feature improved fuel efficiency, reduced emissions, and better performance in cold weather. However, the V6 engine will provide more power for towing. It can tow up to 5,000 pounds, which is up from the previous model's 3,500 pounds.
Interior updates include increased head room, heated and ventilated seats, leather upholstery, dual-zone climate control, and a panoramic sunroof. The driver's seat has 14-way adjustment, and the passenger seat has 8-way adjustment.
The back row has an additional 1.5 inches of legroom, and the cargo space is increased by 1.5 cubic feet. A handy lever can fold the second row flat, as well, offering more cargo space.
Other features will include a 12-speaker stereo system, UVO eServices like Speed Alert, a color touch screen, backup camera, smart cruise control, collision warnings and more.
Kia Investing in U.S. Manufacturing
Since Kia established itself in the United States, it has only continued to invest in and grow its presence here. Kia opened its first manufacturing facility in the United States in 2009. The facility, located in West Point, Georgia, can produce up to 300,000 units per year and offers 2,500 jobs.
The new facility was expected to bring up to 20,000 new jobs in the area for supporting industry, such as transportation, suppliers and more.
The Georgia facility first produced the Sorento, which continues to be a strong performer for the company. The facility also produces the Optima, which has been a solid performer thanks to its widespread appeal for families, young professionals, retirees and more.
When you purchase one of these vehicles, you are supporting the investment that Kia has made in the United States and are directly supporting the U.S. economy, even if you are buying from a foreign brand. The more successful Kia sees that its operations here are, the more likely it will be to continue to grow here, which will boost the economy.
Exciting Changes in the Kia Lineup
Besides the Sorento, the 2016 Kia lineup is expected to bring on some exciting changes.
The 2016 Kia Optima will get a beefier body and a more powerful engine. The new Optima will measure almost 16 feet in length, and its wheelbase will be just over 9 feet. Under the hood, it will have 2.0-liter four-cylinder engine that is turbo charged and features direct injection. The engine will deliver 246 horsepower, giving it enough power for the get up and go drivers need.
The new Optima almost looks like a sporty hatchback from certain angles, but it is really a mid-size sedan that seats five comfortably . The extra space provides more passenger comfort and cargo space. The car also includes an updated loading system that changes the position of the car for easier loading and ensures stability during transport.
The family friendly Sedona will get exterior updates in 2016 to create a more stylish look than the standard minivan. Trim levels and new color choices will offer stylish options for all buyers. The Sedona will continue to offer seven- and eight-seating configurations.
Under the hood, the Sedona will be powered by a 3.3-liter V6 GDI engine. A hybrid power train is rumored for the Sedona, but it is unclear if it will be introduced for the 2016 model or sometime in the near future. Either way, we're excited about the possibility.
Kia may not be a flashy model with a high profile, but it makes dependable yet stylish vehicles that are more affordable than most rivals. You can enjoy many of the features that higher-priced vehicles offer, such as heated and ventilated seats, touchscreen navigation, and selectable drive mods, but in an insanely affordable package thanks to Kia.
Now is the perfect time to visit your local Kia dealership to learn more about new models, available options, take a test drive, and fall in love with the most affordable vehicles on the road.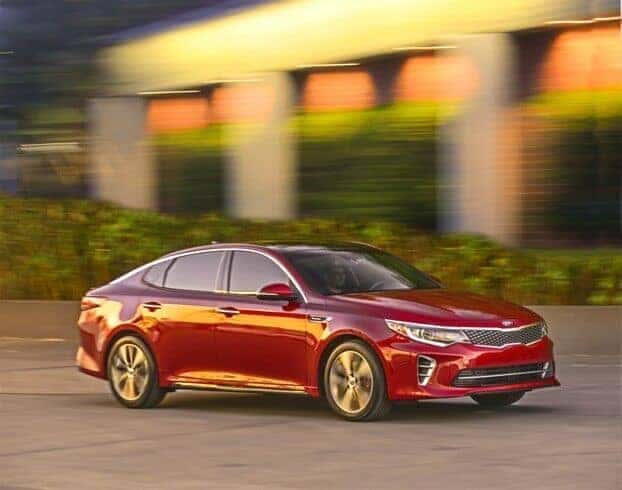 *_Miami Lakes Kia_ * provides a large selection of new and previously owned Kias. We pride ourselves on offering some of the best prices on Kias in South Florida, and we work with buyers to help them find the right financing to fit their new Kia into their budget. Service is our top priority. Not only do we sell high-quality Kia vehicles, but we also provide some of the best service and repair for all vehicles.
**Visit us today to browse our selection and to experience our top-rate customer service for yourself. We can't wait to welcome you to our family._ ** _