Pricing Released for 2021 Kia K5 (Formally known as the Optima)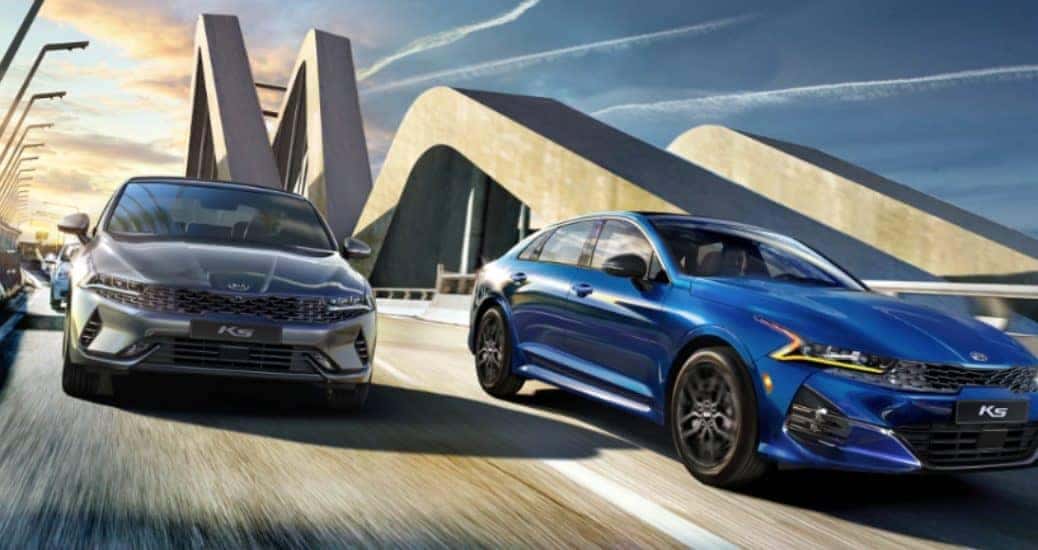 Every week, a little more information about the 2021 Kia K5, previously known as the Kia Optima, is released as we get closer to getting our hands on this new sporty sedan. Last week we learned that the new Kia K5 will be coming with an all-wheel drive option to give consumers even more traction on the road, no matter the conditions. Finally, after all the waiting, a price has been revealed, and it's at par with Kia Motors budget-friendly small cars.
As far as we know, the final lineup for the 2021 Kia K5 is made up of five trims: LX, LXS, GT-Line, EX and GT. A new theme starting to appear in the auto industry, automakers are trying to combine high-performance with vehicles in their lineup not meant for such. One well-known muscle car automaker just put an engine capable of generating over 700 horsepower into an SUV, and crossovers meant to handle the racetrack are starting to show up. However, not all consumers want to be behind the wheel of all that power, they just want the look – and who could blame them? These performance-oriented vehicles are made to look hot!!!
Because of this, automakers are also starting to offer high-performance looks without the high-performance engine. The 2021 Kia K5 has a starting MSRP of $24,455 (plus destination fee) for the base LX model, and it goes all the way up to $31,455 (plus destination fee) for the GT model. If consumers don't want the more powerful engine, they can opt for the GT-Line instead, with a starting MSRP of $26,355 (plus destination fee). Not bad for a car that looks like it can burn rubber but is really made for a trip to the grocery store.
Some package details have also been released for the 2021 Kia K5 sports car. We're calling it a sports car because Kia Motors has adopted the swept-back roofline of the Stinger for many of its recent vehicles, a theme we hope continues. The GT-Line and EX models will both come with premium packages that add advanced driver-assist systems, tweaks to the exterior, and some interior upgrades. This adds onto the already great styling cues of a fastback vehicle with a new lighting signature, a wider stance, and a new tiger-face front fascia. The interior is already pretty decked out with all-leather upholstery options with red leather seating, a flat-bottom steering wheel, available Mood Lighting, and a panoramic sunroof. Forward-collision warning, driving-attention warning, and lane-following assist come standard on the 2021 Kia K5, but blind-spot collision avoidance and rear-collision emergency braking can be found as upgrades on some trims. A GT1 package can add a 10.3-inch touchscreen with Apple CarPlay and Android Auto, a heated steering wheel, Bose premium audio, LED headlights, and other interior features to the GT trim.
The majority of the lineup is powered by a turbocharged 1.6-liter inline-four capable of producing 180 horsepower and 195 lb-ft of torque, paired up with an eight-speed automatic transmission. It might not win any drag races, but offers a fuel economy of 29 mpg city, 38 mpg highway, and 32 mpg combined according to the latest EPA estimate. The 2021 Kia K5 GT has a turbocharged 2.5-liter inline-four under the hood, able to generate up to 290 horsepower and 311 lb-ft of torque, paired with an eight-speed dual-clutch automatic transmission, and able to accelerate from 0-60 mph in 5.8 seconds.
Excited? We're excited. Here's looking forward to the all-new 2021 Kia K5 . DO WANT.
Photo Source/Copyright: Kia.com
Previous Post Kia Motors Ranks as Highest Brand in 2020 J.D. Power Initial Quality Study Once Again Next Post Kia Releases Smart Device Features for UVO