New Electric Scooter Coming from Kia Motors and the Hyundai Motor Group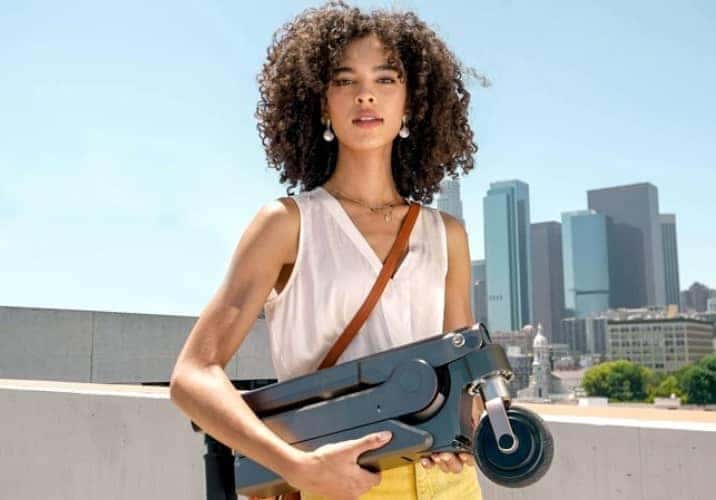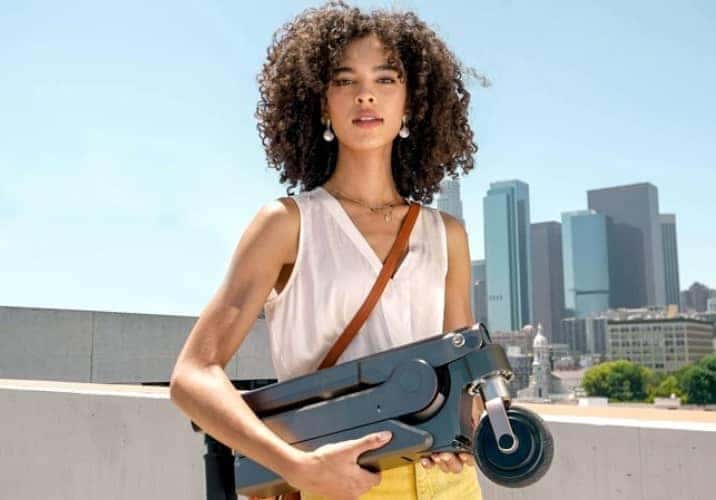 Ever been on an electric scooter? Not the motorbike, but the one-person device, like a motor-powered kick scooter. Rental services that allow people to get around via electric scooter are quickly spreading across the states. From California to North Florida, people can rent an electric scooter and get from point A to point B. Well, with all the new alternative fuel technology, automakers were quick to ask, "Who could cash in on this first?" The Hyundai Motor Group was quick to answer the call. Building on a concept the automobile group presented at the 2017 Consumer Electronics Show, the Hyundai Motor Group reveals a personal electric scooter capable of a 20 km range.
Now, at first, it's going to sound a little weird. This new model by the Hyundai Motor Group comes with rear-wheel drive, a highly-capable lithium battery, and stylish front and rear lights. Sounds like the description of an automobile, but it's really just the one-person electric scooter, just upgraded. Increasing safety, the new 2019 model is able to shift from front-wheel drive to rear-wheel drive to keep the scooter stable by shifting weight to the rear when needed. In addition, engineers added suspension to the front wheel for a smoother ride on various surfaces.
Running on a 10.5 Ah lithium battery, the scooter is able to achieve a top speed of 20 km per hour. Coincidentally, it can also travel around 20 km on a single charge, so if your destination is under 20 km, then you're golden. To convert this into U.S. measurements, the new electric scooter from the Hyundai Motor Group can travel 12 mph and travel about 12 miles. Best for travelling around the city but probably not across town.
What's great about this new concept is that the scooter weighs about 7.7 kg, or 17 pounds, making it highly portable. It's also collapsible, making it even easier to carry around – except consumers won't need to. Take a look at the above design. With its unique and compact tri-folding design, not only is this scooter lighter and more compact than any similar product, but the new concept has a unique feature. The latest concept from the auto group has plans to integrate the scooter with future Hyundai and Kia vehicles – when mounted on a vehicle, the scooter is charged automatically, using the electricity produced while driving. Park the car somewhere all day and get around with the scooter, ensuring that consumers can complete their journey seamlessly.
"This is the vehicle-mounted personal scooter which could be featured in future Hyundai Motor Group vehicles. We want to make our customers' lives as easy and enjoyable as possible. Our personal electric scooter makes first- and last-mile commuting a joy, while helping to reduce congestion and emissions in city centers." – DongJin Hyun, head of Hyundai Motor Group Robotics Team
The new scooter is also miles ahead of other competitors. This scooter features a digital display that shows battery status and speed; is smartphone compatible for easy navigation; and to help with nighttime riding, the new scooter also comes equipped with two curved front LED headlights and two rear tail lamps. In the near future, a regenerative braking system may be installed to increase the scooter's range by 7%.
Watch the scooter in action here
Interested in this new electric scooter coming to Hyundai and Kia vehicles? Follow along on Miami Lakes Kia social media to learn more.
Photo Source/Copyright: Kia Media
Previous Post Kia Motors Tests Intelligent Personal Agent on Seltos Next Post Kia Motors Connects with Millions of eSports Fans