Kia Updates the Kia Niro and Niro Plug-in Hybrid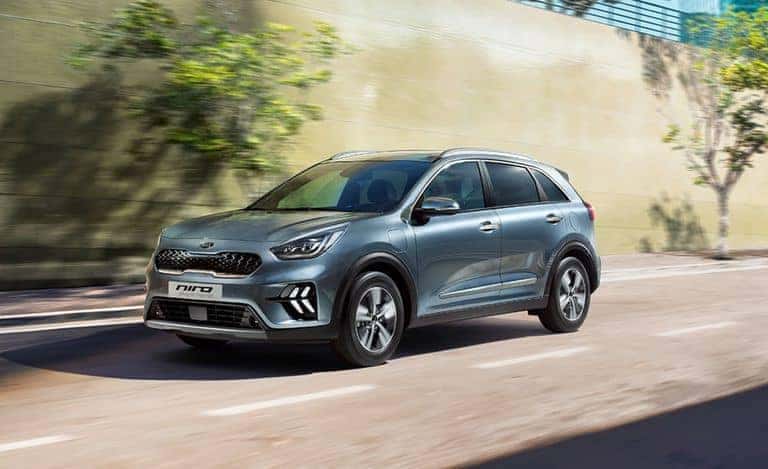 With Kia Motors promising a lot of changes in the few years with their "Imagine by Kia" presentation at the 2019 Geneva International Motor Show, they're also putting some upgraded models on display. Set to come out in 2020 for the United States, some tweaked hybrid models will be getting a facelift for some new style. Most notably, with their current success, the Kia Niro hybrid crossover and Kia Niro Plug-in Hybrid crossover will be getting some new fresh style inside and out, along with new tech and safety features to increase the already great quality of each. What better way than to debut both at the Geneva Motor Show?
Based on the visuals, it seems like the Kia Niro and Kia Niro Plug-in Hybrid are adopting some aesthetics from their upcoming electric counterpart, the Kia Niro EV (e-Niro in UK markets). That tends to happen, improving on already great designs after the second or third attempt. The cabins have also been improved with new interior materials and infotainment technology. It even includes some telecommunications upgrades.
For the 2019 model year in the UK, the Niro hybrid crossover is getting some new bumpers and have turned the headlights into a more blocky ice cube design. These will most likely be available as LEDs for maximum visibility. New LED daytime running lengths, a unique double-arrow layout, and optional LED fog lamps also appear. In the back, the taillights are also now being outfitted with LEDs, perhaps to help lower rear-end collisions with such bright brake lights. New reflectors and fog lamps, and a silver skid plate can also be found in the rear fascia. The Niro Plug-in Hybrid will also benefit from these changes.
For the 2019/2020 Kia Niro, two 16-inch wheel designs and an all-new 18-inch dual tone diamond-cut rim design have been made available. The new Kia Niro Plug-in Hybrid features new 16-inch alloy wheels with dark grey inserts. Again, all of these new styles and changes are coming from their new EV variant yet to hit the streets.
Step inside and find the dashboard has been changed with new materials and soft-touch finishes with the choice of gloss-black trim or satin chrome highlighting the instrument panel and dashboard. It all gives the cabin a more upscale feeling. Both hybrid models are also gaining two new color choices for the interior: Red-Orange or Plum.
The powertrain is the same as previous model years for each model respectively. The Niro hybrid crossover is powered by a 1.6-liter GDi gasoline engine with a 1.56 kWh lithium-ion polymer battery, and the Niro Plug-in Hybrid has the same gasoline engine setup with an 8.9 kWh battery powering the electric motor. The larger battery allows consumers to drive on the electric engine independently of the gasoline engine for up to 30 miles.
Some new technology has popped up, with an optional 10.25-inch touchscreen a Uconnect telematics infotainment system compatible with smartphones. Sounds similar to the next-gen Uconnect 4C now available in Fiat Chrysler Automobiles vehicles. UVO connect also offers access to live traffic information, weather forecasts, POIs, fuel prices, parking, charging station information, and more. Better than a temporary SiriusXM Traffic subscription. New active safety tech features also make an appearance with Stop & Go functionality added onto the Smart Cruise Control system and Lane Following Assist.
Interested? We'll most likely see these new changes pop up in 2020 models while European models will see these during the second quarter of 2019. Keep up to date with all the changes by following us on Miami Lakes Kia social media .
Photo Source/Copyright: CarAndDriver.com
Previous Post Kia Unveils New EV Concept at the Geneva Motor Show Next Post Comparison of Kia Stinger and Dodge Charger