Kia Optima PHEV Highlights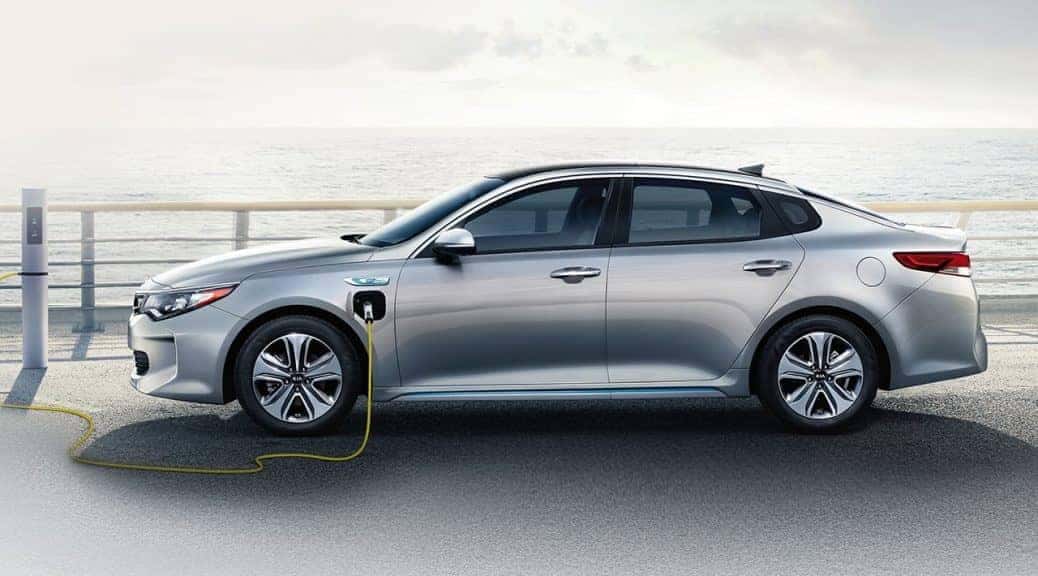 What makes the Kia Optima Plug-in Hybrid so great? Well, there's a couple of things that make it stand out. For one, a plug-in hybrid electric vehicle, also known as a PHEV, does more than the standard hybrid vehicle due to its rechargeable battery, and that gives it a real advantage when it comes to fuel economy, tax credits, and greenhouse gas emissions.
Engine and Fuel Economy
With only one trim, the Kia Optima PHEV is powered by a 2.0-liter I4 Full Parallel Hybrid system made up of a 2.0-liter DOHC engine, with gasoline direct injection (GDI) and continuously variable valve timing (CVVT) technology, and an electric motor powered by a 9.8 kWh lithium polymer battery. Together, the engine and hybrid generate 202 horsepower and 276 lb-ft of torque. The majority of that torque actually comes from the electric motor!
Because the Kia Optima PHEV has an electric motor powered by a battery, the Optima PHEV can be driven on pure electricity for up to 30 miles. So that means the vehicle can travel 30 miles with little-to-no tailpipe emissions and without using a single drop of gas. When using the battery and engine together in hybrid mode, the Optima PHEV has a fuel economy of 103 MPGe (miles per gallon equivalent) and it has a total driving range of 610 miles when the vehicle starts out with a fully charged battery and full tank of gas.
Fuel Savings and Affordability
First off, the fuel savings are pretty grand. Fueleconomy.gov estimates that the average annual fuel cost of driving the Optima PHEV is $800. In comparison to the fuel economy of the average new vehicle, a driver with the Optima PHEV is looking to save about $3,500 in fuel costs in about five years. After all, according to fueleconomy.gov, a consumer can spend $1.07 to charge the Kia Optima PHEV and be able to travel 25 miles – that's a dollar for nearly the entire all-electric range. You could make a 20-mile commute practically for free!
There's also the federal tax credit to consider. Buyers of the Optima PHEV are eligible for a federal tax credit of $4,919, so that's a nice money saving perk, too.
Technology
If this parallel hybrid system wasn't cool enough technology, Kia Motors did not shy away from putting all the good stuff into the Kia Optima PHEV. This vehicles comes standard with an 8-inch color touchscreen with UVO eServices, voice-command navigation, Apple CarPlay, Google Android Auto, SiriusXM Traffic, and HD Radio. All that goodness is coupled with a Harman/Kardon QuantumLogic 10-speaker Premium Surround Sound system with Clari-Fi. And of course, what modern vehicle would be complete without Bluetooth wireless hands-free technology and steering-wheel mounted audio controls and hands-free phone controls? The Kia Optima PHEV has it all.
---
So how much does all this good stuff cost? The 2017 Kia Optima PHEV is pretty affordable. It has a starting MSRP of $35,210, and you can get a closer look at it in our inventory online here . *
*
Photo Source/Copyright: Kia.com
Previous Post Kia Cadenza – For Those Legroom Requirements Next Post Kia Motors Crossovers, SUVs, and Minivan