Kia EV6 and Telluride Named on SlashGear "Best Cars of 2023 – 10 of the Top Rated Picks"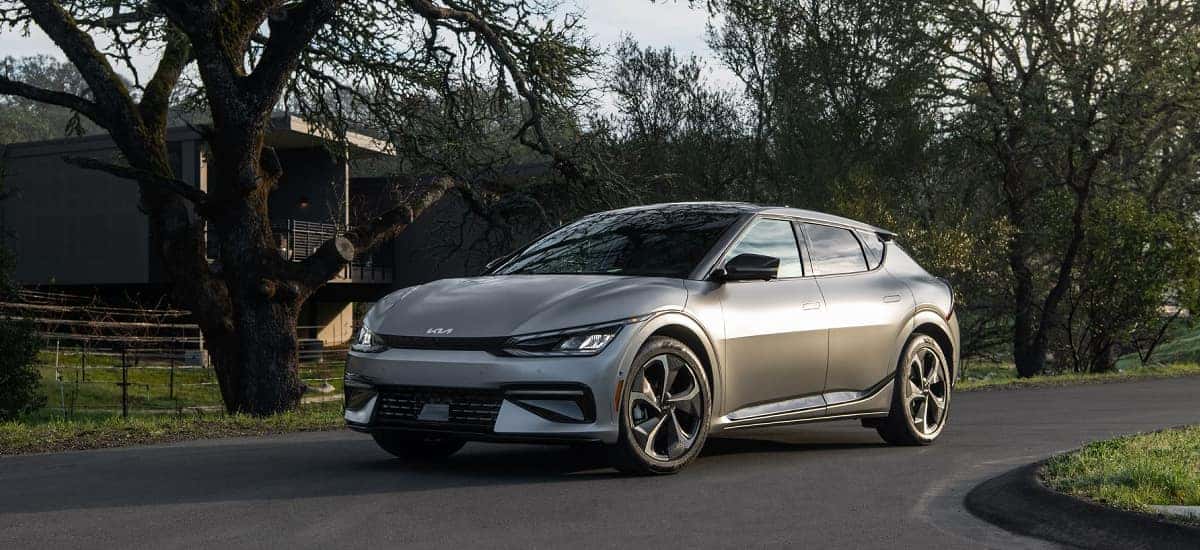 The Kia Corp has been doing very well during the shift towards an all-electric vehicle marketplace. Having several electrified and all-electric vehicles in the lineup, it wasn't going to take much for Kia to go all-electric. In the span of three years, we got the Kia EV6 and Kia EV9 – both battery-electric vehicles (BEVs) – as well as electrified versions of old favorites, such as the Kia Sorento PHEV and Kia Sportage PHEV. Kia is also known to win many awards for its vehicles, especially its BEVs. Just recently, SlashGear completed its list of "Best Cars of 2023 – 10 of the Top Rated Picks", and the Kia EV6 and Kia Telluride were recognized among many other vehicles as "the best" in their class.
Who is SlashGear? SlashGear is an online magazine that specializes in consumer electronics, cars, gaming, entertainment, and science. Putting together this list every year, SlashGear combs through potential winners and selects its top picks based on several key factors specific to each category. These include pricing and value, aftercare support, performance, the availability of active safety features, cabin technology and equipment, and style and design. When it comes to BEVs, this also includes driving range. More than 40 cars were entered into the competition this year, and the EV6 and Telluride came out on top.
"With more than forty electric cars on the market in the U.S. today, we set out to find out go-to suggestion for drivers looking to get behind the wheel of a new EV…The EV6 stood out for its competitive price and potential range, the refinement of its drivetrain on the road, and the flexibility of the overall lineup: from an attainable base model, through to the performance-minded EV6 GT." – Chris Davies, executive editor, SlashGear
The Kia EV6 won the title of "Best EV", and how could it not? Known as the first-dedicated BEV by Kia, having no gasoline, hybrid, or plug-in hybrid predecessor, the EV6 is one-of-a-kind for the lineup. The EV6 was also the first BEV by Kia the showed some real high-performance. Able to come equipped with electric all-wheel drive (e-AWD) on the GT trim, the electric powertrain is able to generate 576 horsepower and 545 lb-ft of torque, and able to accelerate from 0-60 mph in 3.2 seconds (according to Car and Driver), making it Ferrari Roma or Lamborghini Huracan Evo Spyder (with rear-wheel drive). Plus, the Kia EV6 is a fraction of the cost, with a starting MSRP of $48,700 (plus destination fee) for the 2023 model.
For the title of "Best Family SUV", the Kia Telluride was there to claim a victory. Having won many awards since its release, we don't see the Telluride disappearing from the media anytime soon. The largest SUV in the lineup, and possibly the model that the Kia EV9 was based off of, the Telluride is powered by an Atkinson Cycle LAMBDA II 3.8L V6 GDI engine capable of producing 291 horsepower and 262 lb-ft of torque. An SUV, this baby can tow a good chunk of equipment, with a standard towing rated up to 5,000 pounds. Add in its two new X-Line and X-Pro trims, and consumers have an off-road SUV, starting with a higher ground clearance (+10mm), upgraded approach and departure angles, and an upgraded Traction Control System (TCS). The starting MSRP for the 2023 Kia Telluride is $35,890 (plus destination fee).
Looking for an award-winning vehicle for 2023? Find the new Kia EV6 and Kia Telluride at Miami Lakes Automall.
Photo Source/Copyright: Kia Media