Kia Carnival MPV Earns TSP from IIHS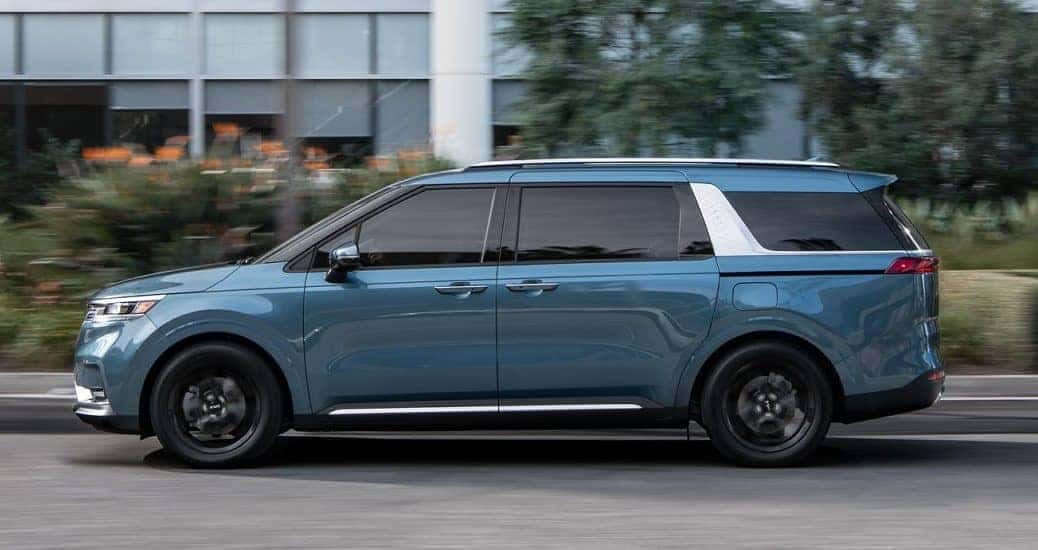 As automakers around the world race to find the next powertrain, safety feature, or automated driving scheme that will earn them a gold medal, there is only one way to know the best of the best. That's why we have multiple trusted publications that review vehicles for quality, such as Kelley Blue Book or Car and Driver , and organizations that conduct studies on vehicle quality and satisfaction, such as J.D. Power and AutoPacific . When it comes to safety features and standards, we have two safety organizations that rate vehicles and may even keep some off the roads – the National Highway Traffic Safety Administration (NHTSA) and Insurance Institute of Highway Safety (IIHS). They're probably why the return of "suicide doors" never made it past the concept model in 2018. IIHS has been busy rating vehicles lately, and Kia Corp is getting pats on the back, with the 2022 Stinger sport sedan having received a Top Safety Pick Plus (TSP+) rating, and now the Kia Carnival MPV is getting its own Top Safety Pick (TSP) rating from IIHS.
How does IIHS rate a vehicle for safety? Aside from looking at what safety features a vehicle model offers, IIHS also tests the vehicles for crashworthiness. Although the word is misleading, what makes a vehicle crash-worthy isn't how flashy it looks when it crashes, but more so how well it handles an auto incident in the first place. If a vehicle can protect all passengers or even mitigate an accident altogether, then it gets high ratings. IIHS has five crash tests that measure the safety of a vehicle when it comes to crash avoidance and mitigation. They are driver-side small overlap front, passenger-side small overlap front, moderate overlap front, side, roof strength, and head restraint test.
IIHS also has its own rating system of "Poor", "Marginal", "Acceptable", or "Good", plus a rating system for safety features – Basic, Advanced, and Superior. IIHS is very strict, and the reason the 2022 Kia Carnival MPV received a TSP instead of TSP+ is because the vehicle only received an "Acceptable" rating for the ease-of-use for the LATCH systems – something a minivan should do a better job of, seeing as how their major demographic is growing families. IIHS also really sticks it to vehicles, and the Carnival MPV gets this rating assuming the consumer opts in for the LED projector headlights and gets a unit built after March 2021. Aside from that, the Kia Carnival MPV is just as safe as any other modern Kia vehicle, equipped with 12 standard Advanced Driver Assistance System (ADAS) features, such as Forward Collision Avoidance-Assist, Blind-Spot Collision Avoidance-Assist, Parking Distance Warning-Reverse, and High Beam Assist.
"The all-new Carnival offers a combination of technology, utility and confidence unrivaled by competitors…This latest TOP SAFETY PICK reinforces Kia's unwavering efforts to deliver products that enable the lives of new and existing customers." – Sean Yoon, president and CEO of Kia North America, Kia AmericaThe 2022 Kia Carnival MPV joins several other vehicles in the lineup to receive a TSP rating from IIHS, including the 2021 Soul, Forte, Seltos (built after August 2020), Stinger, Sportage, Sorento, and Telluride. Vehicles that received the TSP+ rating so far are the 2022 Stinger and 2021 K5. With so many safe and amazing options from Kia Corp, this is one automaker that will definitely earn their gold medal. Find your award-winning and safe Kia vehicle at Miami Lakes Automall .
Photo Source/Copyright: Kia Media
Previous Post MLAM Kia and HMG Launch EnableLA Next Post 2022 Kia Sorento PHEV Revealed