Kia America Wins Two Spots in 2021 Rebelle Rally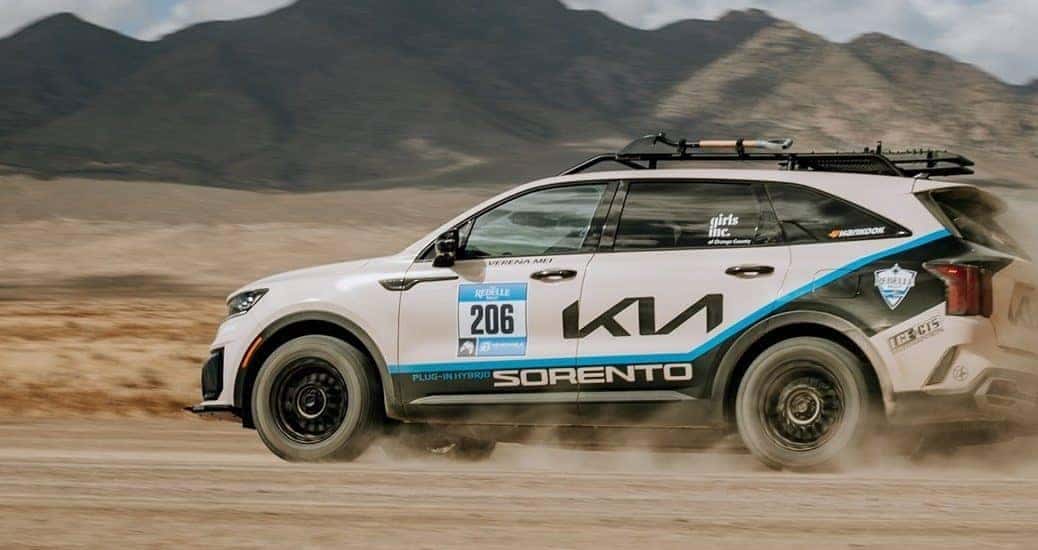 The Rebelle Rally has been gaining a lot of attention in recent years, especially from automakers. Known as the first all-women's off-road rally and the longest competition of its kind in the lower 48 states, the Rebelle Rally has become recognized as another race and another chance for automakers to show what their models can do in a drag race setting. A 2000-kilometer race of off-road navigation in the United States, with the race spanning from Lake Tahoe to San Diego is a lot to take on, but in recent years automakers have entered crossovers and plug-in hybrids – not your typical off-road or drag vehicle. Still, Kia America entered the 2021 Rebelle Rally with the 2022 Sorento PHEV and won second and third place!
This year, Kia America was working with two all-women teams acting as the drivers and navigators from within the cabin of the new plug-in hybrid SUVs. Modified for the race, the 2022 Sorento PHEV came with underbody armor to protect the undercarriage, plus a front bumper guard and skid plate. For tackling off-road terrain, a 1-inch spacer lift provided the Sorento PHEV a slight increase in ground clearance, and tow points were affixed to the front and rear bumpers, just in case. Making sure these SUVs could handle any kind of terrain, Hankook Tire America Corp. as the official tire provider for the rally vehicles, outfitted the rims with Dynapro AT2 all-terrain tires outfitted with 17-inch KMC matte black wheels to handle rocky terrain and sandy dunes.
Each PHEV was also customized by women-owned LGE-CTS Motorsports in Southern California. The new color schemes were similar to the exclusive "Desert Sand" and "Pine Green" paint finishes on the Zion and Yosemite concepts that were used to show off the different ways consumers could configure the new Sorento, based on their lifestyle. In addition, the rally vehicles were equipped with a roof rack for the teams' recovery gear, including tread boards and shovels, safety equipment, and an interior cargo mounting system installed after removing the rear seats.
In 2020, a Kia-sponsored Telluride came in second, piloted by driver Alyssa Roenigk and navigator Sabrina Howells. The team returned for 2021, and took third place this year, whereas professional rally driver Verena Mei and navigator Tana White had a great performance for their first race, claiming second place. With a total of ten teams in the X-Cross class, that's a pretty good standing. Although not exactly intuitive, X-Cross stands for 4×4, so not only did the Sorento PHEV race in this class, but it was also entered under the "Electrified" designation and still won out over 70-percent of the competition.
"We are elated over the strong performances from both of our teams, who truly tested the Sorento PHEV's [metal] throughout the course of the punishing rally…All four women embody Kia's new slogan, 'Movement That Inspires' and their podium finishes prove that our rugged and capable SUVs can also be energy efficient adventure vehicles." – Sean Yoon, president & CEO, Kia North America and Kia AmericaWinning awards and winning races, Kia America is building some interesting vehicles. Find a new Kia car model at Miami Lakes Automall .
Photo Source/Copyright: Kia America
Previous Post Kia America and NBA Extend Multi Year Partnership Next Post Kia and HMG Set to Release PBVs in 2022