Ideas for Child Proofing a Car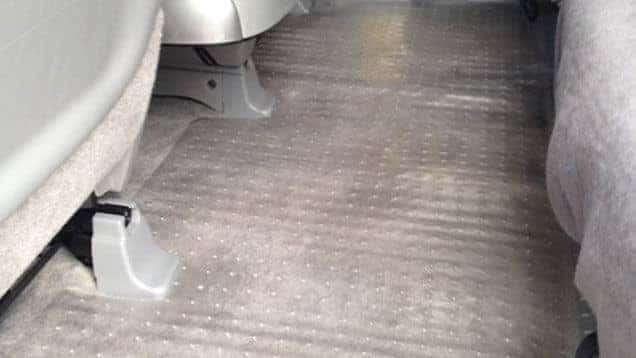 When it comes to childproofing a car, especially a new car, some people panic. How do you keep it clean, how do you keep sand from the beach and dirt from little league sports from making a mess of a once spotless cabin? Nothing's perfect, and sooner or later the inside of a vehicle will get a little dirty, and kids tend to make it worse, but there's something you can do about it. We put together a list of easy tips to childproof a car.
Work From the Ground Up
Like any project, starting from the bottom and working your way up is as good a place as any to start. Let's talk about the floor of the cabin. Some form of cloth covers most if not all of the cabin floor, and it's quick to stain or catch crumbs. How can you avoid that? The first step is to purchase a rubber mat, measure the seats and dimensions of the inside of the car, and then make the proper cut outs in the mat. If you measured and cut right, the rubber mat should fit perfectly in the cabin. For extra protection, a bath towel or rug beneath the seats will make for great crumb catchers with easy clean up.
Muddy Seats and Sticky Cupholders
Alright, so we can keep the cabin floor clean, that's not too bad. What about the upholstery, the seats and seatbacks, and console components? Seat covers, my friend. Seat covers can keep any seat clean and comfy (especially if heated and/or padded). Put some easy-to-clean covers on the seats and seatbacks, and it won't matter if your child was playing in the mud. The seats will be protected – the covers, however, will need a good scrub.
Then there's the main console, which most likely your kids won't be touching. However, second-row seats may come with cup holders, and the front row definitely does. Cup holders do a lot more than hold a cup though – they're a good place to put a cell phone, spare change, and trash. Soon enough, it gets sticky, grimy, and gross. Most cup holders are also the same size as … a cupcake! See where this is going? Put some cupcake sleeves down, and every so often remove them and all the trash from the cup holder in a single grab.
Now the Hard Part … Keeping the Kids Occupied
Short trips, long trips, kids just can't sit still. They need to be entertained and kept busy, or they'll drive you crazy. With a DVD player or seatback entertainment system, this won't be a problem. However, we're assuming you don't have any of that, so we need to get a bit creative. Why not build a table tray? Yeah, like the ones in an airplane.
Those nifty trays are great for food, drinks, tablets, and small activities like reading or coloring. With a shower caddy, trapper keeper, or even a binder with pockets, you can easily make a quick entertainment package to set up behind the first row. Then, the kids have all their favorite things right there to play with, and they'll be preoccupied enough to last a small road trip.
* There we go, not too shabby eh? Aside from window smudges and wear-and-tear, we think this about covers the majority of messes any car will see. Have other tips? Let us know. And if you're in the market for a new vehicle that will soon need to be child proofed, c heck out our inventory for the latest deals. *
Photo Source/Copyright: Lifehacker.com
Previous Post Kia Hydrogen Vehicles in 2020 Next Post 2018 Kia Rio Sedan and Rio 5-Door Debut at NYIAS