2018 Kia Rio Sedan and Rio 5-Door Debut at NYIAS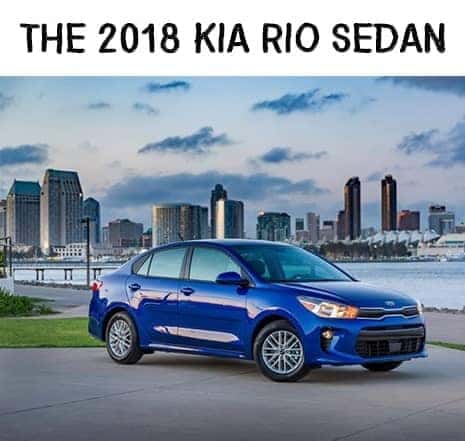 We didn't expect it, but Kia Motors played a strong hand at this year's New York International Auto Show with the debut of the new 2018 Kia Rio sedan and Rio 5-door. Aside from dimensions, the hatchback door, and cargo space, the Rio sedan and 5-door models are very similar and they both have style and power in spades.
Powertrain and Drivetrain
Available in three trims, the all-new 2018 Rio models are powered by an enhanced Gamma 1.6-liter GDI four-cylinder engine with VVT. "GDI" stands for "gasoline direct injection," and it is a high-pressure fuel system currently taking over the way automobiles get their fuel into the combustion chamber. "VVT" stands for "variable valve timing," and the Kia Rio has its own variable intake system designed to improve fuel economy. The power output adds up to 130 horsepower and 119 pound-feet of torque. The engine can be paired to either a six-speed manual or six-speed automatic transmission.
Driver handling has also gotten better, with the engineers of the Kia Rio sedan and Rio 5-door refining the driving experience with a newly designed front suspension, 11-inch disc brakes up front and drum brakes in the rear for stopping power*, and increased durability to take the brunt in the event of a collision, all while still reducing the weight of the 2018 Kia Rio. The construction of both also implements reduced noise, vibration and harshness (NVH) technology to dampen sound pathways and keep the cabin nice and quiet.
Style, Comfort, and Tech
The drivetrain isn't the only new thing on the 2018 Kia Rio sedan and 2018 Kia Rio hatchback. Defined by crisp lines and sophisticated style, the two 2018 models will have a sportier look in comparison to their predecessors. Kia's new signature grille, the tiger-nose grille, has been implemented, along with new swept back headlights and a repositioned fog lamp for a wider front fascia and better driver visibility. With a little optical illusion at play, a well-creased shoulder line runs from front to back to give both vehicles a sleeker look, while also making them more balanced for an "athletic" stance. 15-inch wheels are the standard, pushed to the corners of each vehicle for further stability.
Inside, things have gotten a little more comfortable and convenient. Both models feel spacious, and there is plenty of room for occupants to stretch out a bit. Ample cargo space is also a plus, with 13.7 cubic feet in the 2018 Kia Rio sedan and 17.4 cubic feet in the 2018 Kia Rio hatchback – fold the seats down, and that number jumps up to 32.8 cubic feet in the hatchback. It's not all about the seating though, there's also some modern tech upgrades
Can't come out with a new vehicle for the 2018 model year and still be using last generation technology. Along with Bluetooth hands-free functionality, a six-speaker stereo, and a rear-view camera system, there are some other neat tech features exclusive to the top-tier Rio EX. These extras consist of a seven-inch floating touchscreen interface, UVO3 voice recognition infotainment system, and smartphone integration through Google Android Auto and Apple CarPlay.
Both vehicles are shaping up nicely, and if their 2017 model price tags are anything to go by, the top-tier Rio EX may be pretty affordable (Hatchback was only $20,905 in for 2017). We'll see if any more news pops up before their release.
* *The EX model gets 11-inch disc brakes up front and 10.3-inch disc brakes in the rear *
Photo Source/Copyright: KiaMedia.com
Previous Post Ideas for Child Proofing a Car Next Post Kia Announces 2018 Kia Stonic EV