Check Out the Highlights of the 2024 Kia EV9 for America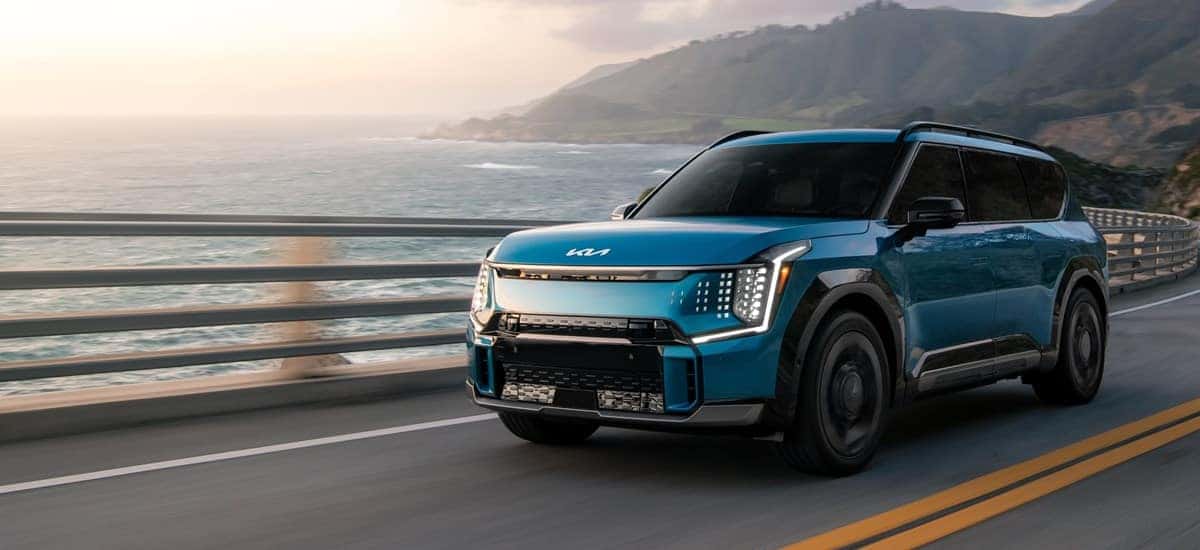 With Kia America introducing the Kia EV9 during the 2023 Monterey Car Week at The Quail, it was finally time to bring the all-electric SUV to the states. Already having plenty of exposure in Europe, it's only right that North America gets a taste of this all-new battery-electric vehicle (BEV). First seen at the 2022 Chicago Auto Show, where we got to test drive the EV6, the EV9 was more of a display model than anything else. Now, officially heading to the U.S., Kia press has released plenty of specs for us to comb over. Check out the highlights for the 2024 Kia EV9.
Powertrain
A BEV, don't expect any gasoline this time around. Running on the dedicated Electric-Global Modular Platform (E-GMP) set to be the basis for many future BEV models by Kia and parent group Hyundai, the EV9 is the first to feature fourth-generation battery technology designed for improved performance. Available with two powertrain options, the standard setup is a 76.1-kWh battery with a 160-kW (215-horsepower) motor that powers the rear wheels. Consumers can opt-in for a 99.8-kWh battery to increase the driving grange to 300 miles, or go for a dual-motor setup, delivering 283-kW (379-horsepower) and 516 lb.-ft. of torque with all-wheel-drive (AWD).
Available at launch, consumers also get access to several drive models on all trim levels – Eco, Normal, Sport, and My Mode. AWD models also add Snow Mode. Then there's recharging when it comes to BEVs. Built with an 800V electrical architecture, high-speed DC chargers designed to charge a battery from 10-80 percent in under 25 minute comes standard. Emboldening the essence of an SUV, there is even some off-road capabilities with up to 7.8 inches of ground clearance and 5,000 lbs. of towing capacity for AWD models.
Style
Stylish as ever, Kia continues to design vehicles that look rugged yet sophisticated . Similar to the large Telluride SUV, the EV9 is a little boxy, but also very large (197.2 inches long) – even a little longer than the Telluride SUV itself. Sporting the new Digital Tiger Face on the front fascia, we're seeing a more aggressive look with an open mouth grille baring fangs. An available Digital Pattern Lighting Grille is a world first feature is available on high-tier trims, whilst a hidden lighting system comes standard. These illuminate when the vehicle is first turned on, and if equipped with the Digital Pattern Lighting Grille, an animated light show forms on start up. More lighting options will be available for download at an additional cost in the Kia Connect Store.
From front-to-back, the EV9 has a distinct appearance. Thin-lens horizontal projection LED headlamps up front, slim Star Map taillights in the rear, available flush roof rails, tandard 19-inch geometrically designed wheels, aero flaps on the front bumper, and Black high gloss exterior trim on the front bumper, fenders, and side moldings give the EV9 a look unlike any other. For the GT-Line, 21-inch exclusive dark colored alloy wheels and a "Focused" lighting pattern complete the look of a high-performance sports car while staying true to the design of an SUV.
Inside, the driver cockpit is an elliptical-shaped dash to achieve of floating effect. The new design of Kia cabins come with a wide panoramic display with standard dual 12.3-inch screens and a 5.0-inch HVAC screen integrated into the dashboard. Even with all this digital allure physical switches for functions like volume, temperature control, and fan speed are still present, along with hidden-until-lit haptic switches to control infotainment features. Mesh headrests in the front seats make the cabin feel spacious, and every row comes with a little something, such as an under-tray stowage for front passengers; cup holders in the rear, and an available sliding table. Oh, and don't forget all the sustainable materials the EV9 is made from, apparent in its design.
Technology
Featuring the Connected Car Navigation Cockpit (ccNC) system, the cockpit definitely feels futuristic with Quick Controls available with a swipe on the screen, navigation that comes with charging guidance based on arrival time and distance-to-empty estimates to keep consumers ready-to-go without being wary of the next chance to charge up. Thanks to over-the-air updates, features like the Kia Connect Store will continuously offer improvements to the Kia EV9, such as the aforementioned Digital Features that can unlock the ability to remotely upgrade performance, entertainment, and more.
A mobile power source, the Kia EV9 is pretty much a battery on wheels. Thanks to an Integrated Charging Control Unit (ICCU) and V2L and V2X (Vehicle to Everything) technology, consumers can drive this EV9 to, let's say, a family vehicle that lost its charge a little too early, and then use the EV9 to give it some juice, like recharging a dead car battery. In addition to helping out others, Kia has introduced a Digital Key standard feature that allows consumers to lock, unlock, and drive the vehicle via a virtual key. This digital key can also be friends and family over text messages.
Safety and ADAS
Safety is always important for Kia, having introduced an array of standard and available Advanced Driver Assistance Systems (ADAS) over the years. Up and coming is Advanced Highway Driving Assist (AHDA), an available driving feature that utilizes LiDAR-based technology to offer consumers with Level 3 or even Level 4 autonomy. Consisting of 20 standard ADAS features, the Kia EV9 comes with advanced and automatic safety features such as Forward Collision-Avoidance Assist (FCA-2) to detect vehicles, pedestrians, and cyclists; oncoming and crossing vehicles at intersections; minimize and/or mitigate certain collisions; and more.
Expected to go on-sale in the U.S. in the fourth quarter of 2023, pricing is still left to be revealed. With summer ending and autumn just around the corner, we still have a ways until the fourth quarter. More information will be released as it becomes available. Oh, and here at Miami Lakes Automall, we're already getting some EV9 units in stock. So, if you're looking for a new all-electric SUV, you can find the new 2024 Kia EV9 at Miami Lakes Automall.
Photo Source/Copyright: Kia Media