Best Extras for the 2015 Kia Optima | Kia Dealerships in Miami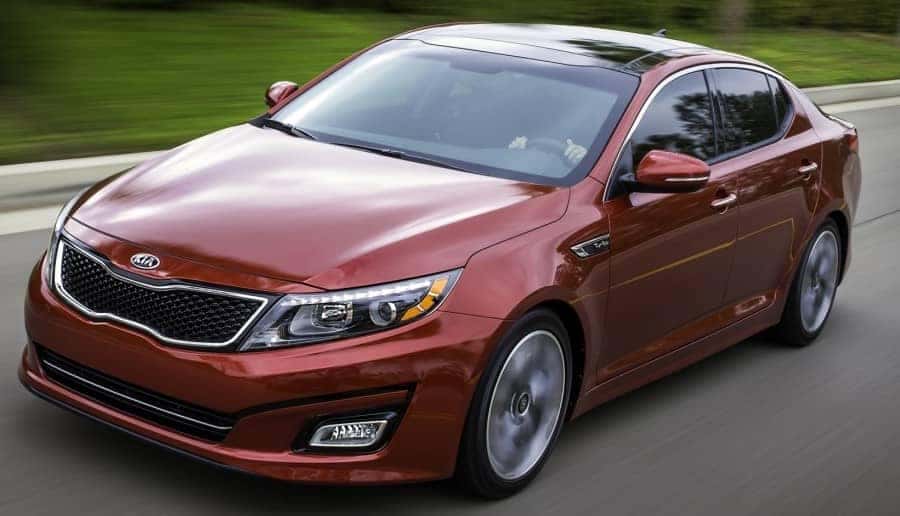 The upscale Kia Optima is one of the best values you'll find on the market. Its sophisticated style, plush interior, and array of cutting-edge features make it a prime choice for anyone who likes their ride with a lot of luxury stirred in.
With incredibly affordable pricing and an industry-leading warranty, the Optima offers a lot more than its competitors for a lot less.
When you invest in a new vehicle, you want it to have all of the creature comforts that make driving a pleasure. Most people spend a significant amount of time behind the wheel, so it's really important to find a car that meets your needs and matches your lifestyle.
Luckily, from leading safety technology to ultimate convenience, the Kia dealerships in Miami have thought of it all. Here's a look at the top features available in the 2015 Optima.
Remote and Push Button Start
Tired of fiddling around trying to find your keys? It's time to upgrade. Get your Optima equipped with Remote Start and Push Button Start.
You'll be able to get the engine running without even leaving your house, allowing the car to reach the perfect temperature before you enter the cabin.
Change of plans? If you decide not to go out, you can turn the vehicle off with another push of the button and go about your day.
And when you do head out to the car, there's no need to even take your keys out of your pocket or purse. As long as you have them with you, you'll be able to unlock the door and start the car.
Panoramic Sunroof with Power Shade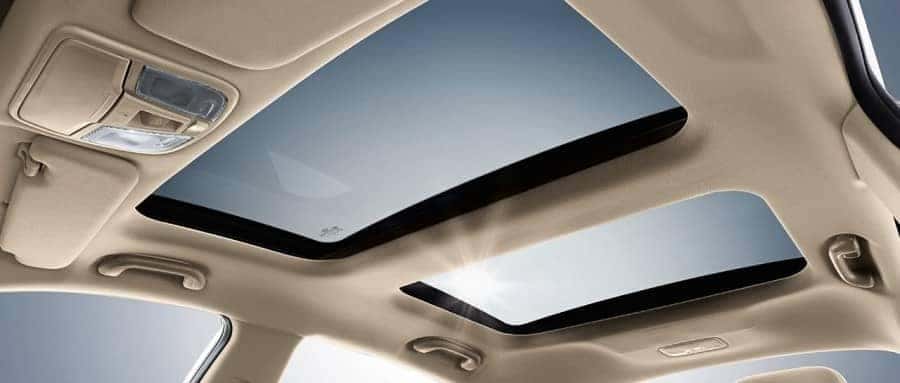 Miami is the perfect place to drink in the sun, hit the beach for the day, or just cruise around and enjoy the sights. What better way to do all that than with a state-of-the-art sunroof?
The Optima offers a panoramic view so you can let the breeze in and make every drive an adventure. Just tap the button to open, position, or close the power shade.
For a little fresh air, simply use the control to tilt the sunroof open for ventilation or open it all the way for the full effect. It's easy to use, and it provides a whole lot of pleasure when you're hitting the open road.
Infinity Surround Sound Audio System
While the Optima already comes equipped with a radio, CD/MP3 player, and SiriusXM Satellite Radio, true music lovers may want to bump things up another notch.
The available Infinity Surround Sound Audio System has an external amplifier, center speaker, and subwoofer. It also offers HD radio, giving you clean, digital sound. This premium audio option is a must for all audiophiles.
UVO eServices Infotainment System
Kia's UVO Infotainment System is subscription-free, and it offers an intuitive user experience. You can integrate your smartphone, use voice commands to make hands-free calls, and handle all of your music options seamlessly.
Paired with other available features, it can also provide directions, an assist display for when you're reversing, and a number of other handy services like geo fencing, speed alerts, and curfew reminders.
If you have young drivers in the family, those added options can give you peace of mind when you're loved ones are borrowing the car.
UVO also makes things simpler and safer by giving you regular vehicle diagnostic checks, helping you locate your vehicle in large parking lots, and alerting emergency service teams in the event of an accident.
Voice-Command Navigation System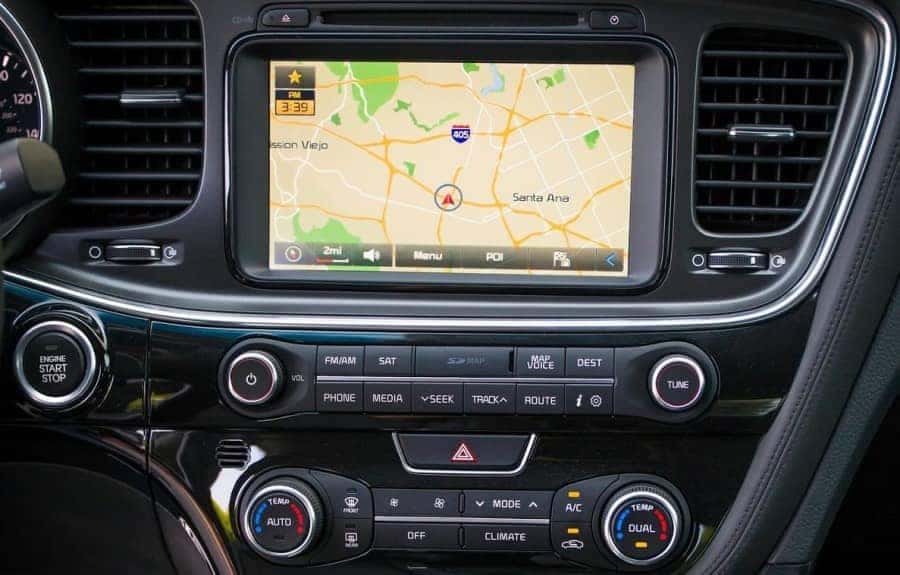 The Optima's user-friendly Navigation System is a traveler's dream. It allows you to use voice commands to manage your options, limiting distractions while you're driving.
Using Google Maps, you can save points of interest via an app on your phone and send them to your UVO Navigation System to save for later. The system also saves your trip info so you can retrace your steps and remember every stop.
It also comes with SiriusXM Traffic so you can get relevant updates about traffic in your area, giving you the opportunity to reroute if necessary. And keeping your maps up-to-date is a cinch with the Kia-provided SD card.
Rear-Camera Display
You can also get your Optima with a Rear-Camera Display integrated into the UVO system. Take away some of the stress of driving by getting a better view of what's happening behind your vehicle.
With Kia's Rear-Camera Display, you can feel confident when you shift into reverse knowing that you have a clear picture of your surroundings.
Back-Up Warning System
The Back-Up Warning System functions alongside your Rear-Camera Display, alerting you if there is an object behind you. The Optima's built-in sensors detect obstructions in your path and warn you so you have extra time to react.
Blind Spot Detection System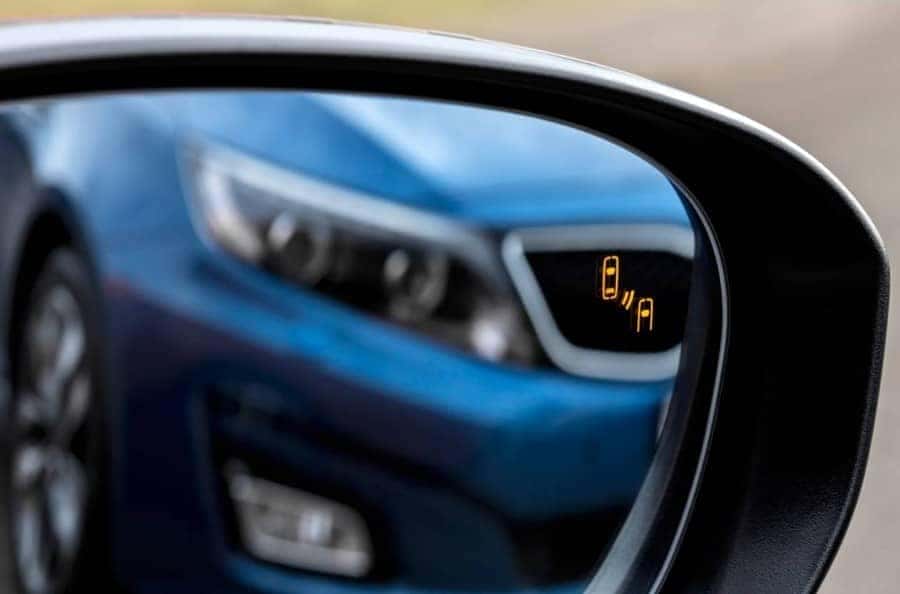 While the Optima was designed to give you the best visibility possible, there are always times in any vehicle when another car sneaks up in your blind spot.
Thanks to Kia's Blind Spot Detection System, you no longer have to crane your neck around to make sure you're in the clear. Instead, a small graphic will pop up on your side mirror to let you know that another vehicle is approaching.
It's just one more preventative measure that helps keep you and your passengers safe when you're out there getting to your destination.
Rear-Cross Traffic Alert
Also a helpful tool when you're in reverse, the Optima's Rear-Cross Traffic Alert (RCTA) lets you know when there is a vehicle behind you.
No more guess work when you're inching your way out of a parking spot in a crowded lot. With RCTA you get the heads up you need to back out safely.
10-Way Power-Adjustable Driver's Seat with Lumbar Support
Planning to take a road trip? Spend a lot of time running errands or getting from place to place? If your busy life involves a lot of time in the driver's seat, you want to make sure that seat is supportive and won't leave you with an aching back.
The Optima's 10-Way Power-Adjustable seat gives you control over exactly how you're positioned. It also provides lumbar support so you don't ever have to leave your car feeling cramped or uncomfortable after a drive.
Driver's Seat Memory
If several members of the family use the same car, it can be a major hassle to keep readjusting your seat to the proper position. Wouldn't it be nice to easily get back to that sweet spot where the pedals and steering wheel are within perfect reach?
Kia has the solution. With Driver's Seat Memory, several different drivers can program their seat settings, allowing for a quick and easy transitions back to just the right alignment. It saves time and makes sharing a whole lot simpler.
Heated and Ventilated Seat
During those hot, sticky days and cool evenings, your seat can become really uncomfortable if it's not at the right temperature, especially on long drives.
But opting for a heated and ventilated seat gives you the ability to control the temp and keep things just the way you like them. You may find yourself wanting to just set the navigation and drive all day.
Previous Post The Best Kia Customer Service Next Post 2015 Kia Trail'ster Concept: An Off-Road-Ready Soul