Kia Dealerships In Miami
At Kia, it's all about setting the bar high. The focus is on fresh, daring designs paired with an unparalleled driving experience. With a variety of versatile options, you can find the model that's just right for you at a Kia dealership in Miami. From compact cars to full-size luxury sedans, Kia has a car for every individual or family's needs.
Below are just a few of the reasons Kia should be the first and only stop during your car buying journey:
Why Budget-Minded Shoppers Buy from Kia Dealerships in Miami

If you're looking for a new car that's both sophisticated and economical, your local Miami Kia dealer is the place to go. With industry low pricing on the new Rio, Forte, Soul, and Optima, you get state-of-the-art style and performance without breaking the bank.
Kia knows that their customers are looking for serious value, so they make sure you always get more options for less money. A variety of features come standard, and you can customize your model at a Kia dealer in Miami to create the perfect package.
Kia Has Distinct Style
While there are many times in life when you can't have your cake and eat it too, shopping at a Kia dealership isn't one of them. Get a vehicle that matches your lifestyle and your personality. Kia consistently pushes the envelope on design, setting the trend and responding to feedback from consumers.
Eye-catching models, such as the Optima and Forte Koup, have bold, modern style, clean lines, and discerning touches. Designers have focused on developing cutting-edge appearances that flow nicely as a whole and create an effect that's recognizable anywhere. In a Kia, you'll definitely have people noticing when you drive by.
Kia is Constantly Improving Its Vehicles
For many years, Kia was low on the list for people who were car shopping. The company didn't have the same reputation for innovation and dedication to quality that it has today. But Kia is always improving. It climbed from 25th on JD Power and Associates' Initial Quality Study in 2010 to being in the top ten in 2013. Kia just keeps getting better.
And the shift in quality doesn't only apply to brand new models. The resale value of used Kias has drastically increased over the past several years. They're now worth more than ever, with suggested resale values for 2009 models coming in over $10,000.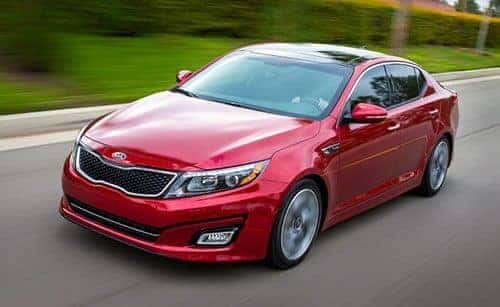 Excellent Warranty Coverage
Because Kia dealerships are committed to providing their customers with superb quality at reasonable prices, their vehicles come with a 10-year/100,000-mile warranty. It's offered so that you never have to worry.
Any unexpected repairs can be made without excessive costs, and they'll be done by professionals who specialize in Kia models. It also comes with roadside assistance so you don't have to pay extra for coverage.
Buying vs. Leasing at Miami Kia Dealers
Sometimes you need a new car, but it's just not the most convenient time to buy. Maybe you're starting a family or changing your commute for a new job. It might be a great time to lease instead of buy.
With a lease, down payments and monthly payments are significantly lower, making it easy to get your favorite model for even less! Plus, Kia even has discount programs for military personnel and college students.
Why stick with the same model for years, especially when Kia has so many exciting ones to choose from? It's okay to let your mouth water a little. Leasing makes upgrading simple, allowing you to hand off the keys and get the newest Kia Miami dealerships have in the showroom.
Kia loves making drivers happy. That's why loyal customers often receive lower monthly payments too!
Why a Kia is Perfect for Miami

Miami is a fantastic place to own a Kia because all models get great gas mileage. They're designed to take you where you want to go without costing you. So roll the windows down and take that drive to the Keys for some fun and relaxation.
Whether you're usually driving on your own or with the whole family, Kia dealers in Miami have a wide selection of sedans and SUVs to meet your needs. And get it all without signing away your paycheck. You can have incredibly reasonable monthly payments when you buy or lease your favorite Kia model.
Soul
The Soul, Kia's chic urban hatchback, is the embodiment of fun. It's not surprising that Kelley Blue Book added it to their list of the coolest cars under $18,000. Not only does it have plenty of zing on the road, but it also has outstanding fuel economy, a sophisticated body, and a polished interior that provides an advanced tech package.
Starting at $14,900

30 miles per gallon the highway

Engine options:

1.6 Liter / 130 hp
2.0 Liter / 164 hp
Optima
The Optima is a Kia favorite. This unconventional sedan pushes the limits on looks and performance. With a sharp, smooth body design that instantly catches your attention, every detail is configured to provide the optimal driving experience. Not only is it one of the most elegant-looking mid-size cars on the road, it's also one of the most powerful and efficient thanks to its optional turbocharged engine.
Starting at $21,650

34 miles per gallon on the highway

Engine options:

2.4 Liter / 192 hp
2.0 Liter Turbocharged/ 274 hp
Sorento
The Sorento, Kia's crossover SUV, offers extraordinary versatility and convenience. Its third row seating layout can accommodate up to seven people with lots of room for cargo in the back. It's also incredibly affordable and fuel efficient, providing plenty of space for everyone without breaking the budget.
Starting at $24,300

27 miles per gallon on the highway

Engine options:

2.4 Liter, Inline 4 / 191 hp
3.3 Liter, V6 / 290 hp
Forte
The Kia Forte is a savvy compact sedan with an exceptionally intuitive tech package. Using the Forte's Advanced Voice Recognition, you can do just about anything. Make hands-free calls, use Google Maps, and enjoy your favorite tunes. All the small details are thoughtfully brought together to make driving a truly pleasurable experience. Also, don't be discouraged if the base sedan model isn't for you; the Forte is offered in a coupe and hatchback model as well.
Starting at $15,890

39 miles per gallon on the highway

Engine options:

1.8 Liter / 145 hp
2.0 Liter / 173 hp
Sportage
The Sportage, Kia's crossover utility model has extremely articulate handling and comes with a 5-star crash safety rating. With a capable design and competitive fuel economy, it ranked the highest for small SUV's in J.D. Power's Initial Quality Study.
Starting at $21,600

28 miles per gallon on the highway

Engine options:

2.4 Liter, Inline 4 / 182 hp
2.0 Liter, Turbocharged Inline / 260 hp
Rio
The Kia Rio's reliable and efficient performance makes it stand out from the crowd. Its design earned it a US EPA Smartway Certification Mark. While this sub-compact has all of the essentials, it also comes with a refreshing attitude. The Gasoline Direct Engine provides more moxie, making the ride smooth and fun.
Starting at $13,900
37 miles per gallon on the highway
1.6 Liter, Inline 4 engine / 138 hp
Ready to customize your perfect Kia? Contact Miami Lakes Automall, a Miami Kia dealership, today to get started. Whether you're planning to buy or lease, our specialists would love to help you get behind the wheel of your new ride.