2022 Kia Stinger Gets a New 300HP Turbo Engine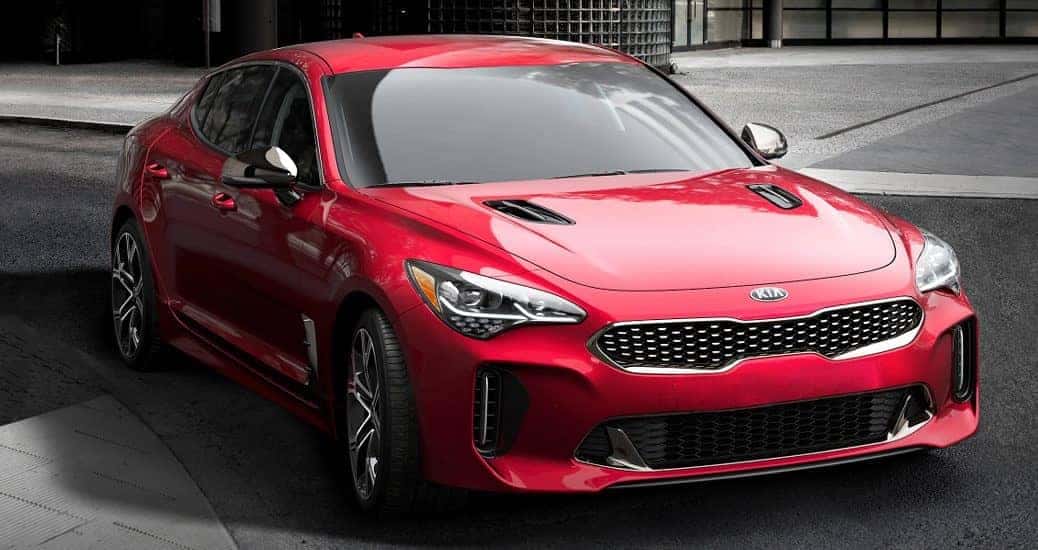 There has been talk about a mid-cycle refresh for the Kia Stinger sports car since last summer (August 2020). The mid-cycle refresh was destined for the 2021 model year, but it seems that Kia Motors held off for the 2022 model year, because the most recent news about the Kia Stinger is also introducing a new powertrain to the lineup and will be replacing one of the current options. No sense in releasing a less-powerful engine and then replacing it with a more powerful version halfway through the year – that's just a quick way to get angry consumers feeling cheated. With this new 2.5-liter turbo engine, the new 2022 Kia Stinger should be worth the wait.
New Powertrain
Currently, the 2021 Kia Stinger is powered by one of two engine options. The standard engine, found only on the base GT-Line trim, is a Twin Scroll turbocharged 2.0-liter DOHC I4 engine, optimized with continuously variable valve timing (CVVT) for added performance, can generate up to 255 horsepower and 260 lb-ft of torque. The next engine up powering the rest of the GT trims – yes, all trims on the Kia Stinger are GT trims, but only the base is a part of the GT-Line collection – is a twin turbocharged 3.3-liter DOHC V6, also optimized with CVVT, able to deliver up to 365 horsepower 376 lb-ft of torque.
Hmm, now that doesn't seem right. Why would the GT-Line be less powerful than the rest of the lineup? Well, we can't say the new engine is any more powerful than the twin turbocharged V6, but the current 2.0-liter turbo-four cylinder engine has seen its final days, because a new 2.5-liter turbo engine will soon replace it, offering a new 300 horsepower output, with 311 lb-ft of torque. GT cars, also known as Grand Tourer vehicles, are sports cars designed for high speed and long-distance driving with luxurious features to make those long drives more comfortable. Drivers will want more speed, more torque for control, and the new style changes we have already learned from the mid-cycle refresh definitely add on some luxury features.
Mid-Cycle Exterior Refresh
The front fascia already gets a change with Kia's signature 'tiger-nose' grille sitting between new multifaceted reflector LED headlamps, adorned with LED daytime running lights and new lamps with sharp slashes of light towards the front. In the rear, a new combination lamp stretches across the full width of the car, with a design that mimics the spoiler. 10 individual LED units arranged in a grid pattern to symbolize a checkered flag make up the new rear new turn signals. Larger wide-bore bright silver exhaust mufflers and a performance-inspired rear diffuser start giving this sports car some muscle car appeal, and the choice of 18- and 19-inch wheels with geometric designs continue to add a motorsport feel to this sports car.
For a darker appeal, Kia Motors has released its own blacked-out packages for the refreshed Kia Stinger. The new "Dark Package" adds a gloss black diffuser surround and black wide-bore muffler tips, and the Stinger badge on the tailgate is also adorned in black. In North America, specifically, is the new "Black Package" that comes with new 19-inch matte black lightweight wheels, a new rear wing for the trunk lid, and blacked out mirror caps and side fender trim for a more aggressive style.
New Interior
The cabin isn't left out of this mid-cycle refresh. A new HD 7.0-inch fully-digital instrument cluster makes up the display for showing vehicle information, the rear-view mirror is frameless, and a new glossy black finish is along the front of the dash. Another reason why we think this mid-cycle refresh is being saved for 2022 is because no way was Kia's upgraded 10.25-inch touchscreen infotainment and navigation system available for 2021.
In addition, Kia also added a new mood lighting system to the Kia Stinger cabin. Consumers can choose one of 64 colors to alter the cabin's atmosphere. New upholstery options are also said to pop up in global markets, such as Nappa leather upholstery finished in Saturn Black, Red, or Beige. There is also a new Saturn Black option floating around that covers the seats in black suede with contrasting red stitching in a 'chain' pattern.
Well, here is to the mid-cycle refresh, bringing a whole lot to the 2022 model year. Stay up to date on all Kia Motors news when you follow us on Miami Lakes Kia social media .
Photo Source/Copyright: Kia.com
Previous Post Kia Motors Reveals the 2022 Kia Carnival MPV Next Post Kia Motors Vehicles Named "2021 Editors' Choice Award" Winners