Kia Niro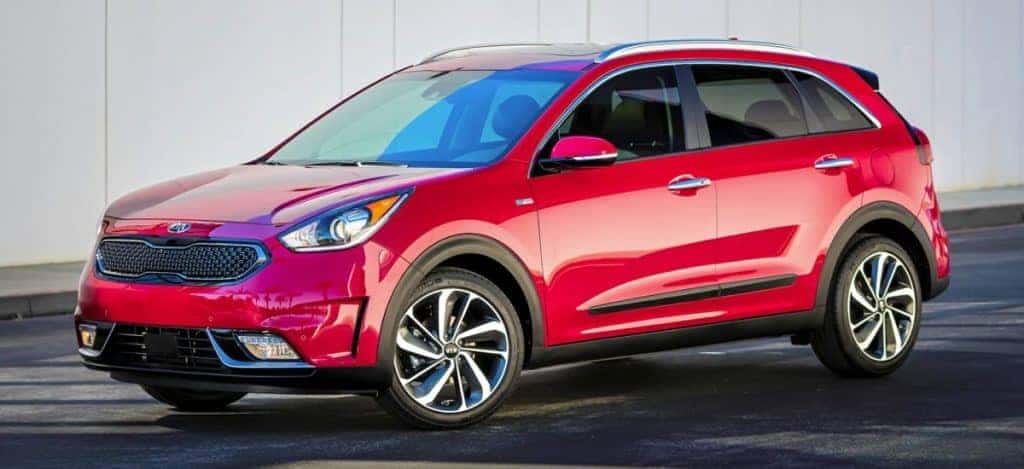 Introduced in 2017, the Kia Niro is a hybrid crossover and its a head turner and not only does it look great, but it's a Kia, so it's manufactured by a great company. The first year the Niro was available it was rated Highest in Initial Quality in the J.D. Power Initial Quality Study and considering how well Kia and the Kia Niro have been doing lately, we won't be surprised to see the Kia Niro earn the same rating for the 2018 model year.
The 2018 Kia Niro lineup includes four trims, and the most impressive model is the Kia Niro Touring. All Kia Niro models are equipped with a hybrid powertrain. The powertrain is made up of a 104-horsepower 1.6-liter I4 engine and a 1.56 kWh lithium ion polymer battery paired to an electric motor and a 6-speed automatic transmission. When the vehicle is working in hybrid mode, the Niro produces a combined 139 horsepower and 195 lb-ft of torque.
Phenomenal Fuel Economy
Fuel economy is always on the minds of drivers, but you can sit back wearing a smile knowing the 2018 Kia Niro Touring averages 46 mpg in the city, 40 mpg on the highway and has a compared city/highway fuel economy of 43 mpg. Fueleconomy.gov estimates that the average driver will spend about $900 per year in fuel costs driving the Kia Niro and drivers of the Kia Niro will save about $2,500 in fuel costs in five years in comparison to the average vehicle.
The 2018 Kia Niro Touring edition is charming both inside and out. Let's take a closer look at what makes this vehicle something to be on your list of vehicles to own.
Interior Details
Few vehicles provide a great ride with as much space and technology as the Kia Niro has From a 8.0-inch navigation system that is easy to use to the eight-speaker Harman Kardon premium audio system, the overall picture of the Kia Niro is that its a vehicle made for the 21st century. With adaptive Apple CarPlay and Android Auto compatibility, drivers can commute while answering calls hands free and enjoy the premium sounds of their Harman Kardon premium audio system inside a spacious, secure cabin.
Loaded with features from bumper to bumper, including Active Eco and Sport driving modes, the 2018 Kia Niro Touring has leather upholstery, 10-way power adjustable driver's seat with warm heated and ventilated front seats. Owners can enjoy additional standard features like a leather-wrapped and heated steering wheel and mood lighting. Another nice surprise of modern technology is wireless phone charging, which is a standard feature on the 2018 Kia Niro Touring.
Exterior Details
The Kia Niro is not your traditional hybrid crossover. Sporting a fresh sleek look, the 2018 Kia Niro Touring has HID headlights and keep a similar look of other Kia Niro trims overall on the exterior. Recently announced, the 2018 Kia Niro Touring Graphite Editions includes Platinum Graphite paint and Glassy Black 18-inch wheels and roof rail included a metallic colored grille, and 10-way power driver's seat with adjustable lumbar.
Safety Secures Peace of Mind
Between all the new technology, comfort of leather and a large navigation screen, perhaps the best feeling owners can have while driving a Kia Niro Touring is knowing how safe they are. Lane Keep Assist and adaptive cruise control comes standard with rear cross traffic alert and a rearview camera to help assist drivers pave the way for peace of mind. Front and rear parking sensors, a Forward Collision Warning system are also standard.
With a warranty that includes a 100,000-mile or 10-year limited powertrain warranty and a five-year or 60,000-mile limited basic warranty, drivers can feel secure and confident about owning the Niro.
The Next Step
See for yourself what makes the new 2018 Kia Niro Touring a special vehicle. Curious about a test drive? Come drive a 2018 Kia Niro Touring with us today at Miami Lakes Automall and we'll show you what you've been missing out on! Our professional team can't wait to help you buy, lease or trade in your vehicle to take home the 2018 Kia Niro Touring.
Previous Post Kia Telluride Concept Gets the Greenlight Next Post Two Kia Models Earn Best Vehicle for the Money Award