Strong Demand Leads to 2022 Jeep Wrangler Tuscadero Exterior Extension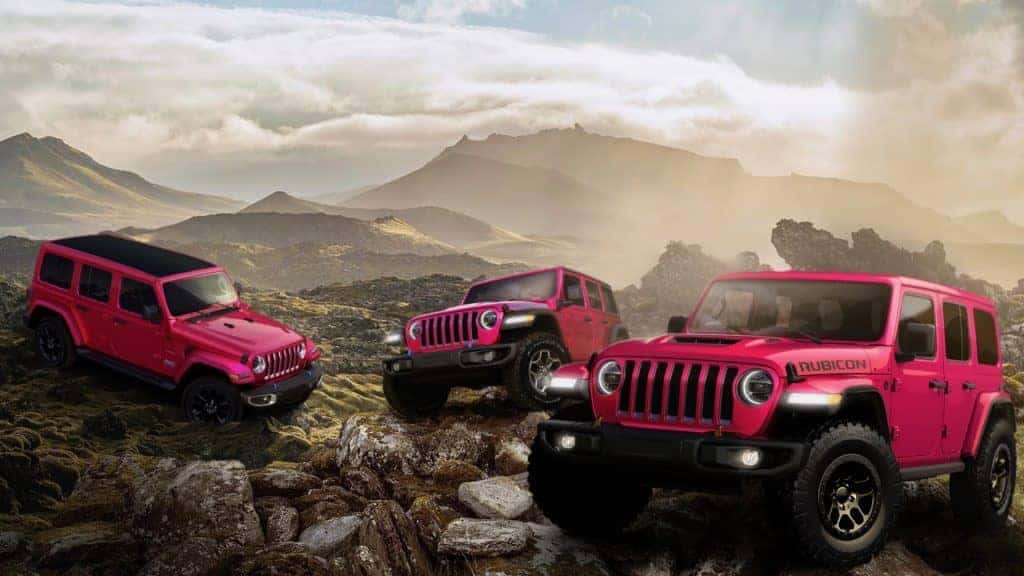 "We expected Tuscadero to be popular and the customer response has been overwhelmingly strong. It's so popular, we're extending production into 2022 model-year production to meet strong customer demand. Customers can place an order through December of this year."
-Jeep Brand North America Vice President Jim Morrison
Since its debut in August of 2021, the "for a limited time only" Tuscadero exterior paint became a fan favorite. The Tuscadero, exclusive to the Jeep Wrangler, embodies a reddish-pink hue that 30,000 fans fell in awe of. The special-edition Tuscadero exterior is also Jeep's most desired color of 2021.
A look at the daring Tuscadero and its extensively zealous magenta are enough to captivate any Wrangler enthusiasts to acquire the candy-coated brilliance. But the Tuscadero isn't the only vivid color in the special run of exterior paints. Colors such as the Gecko, Chief, and Nacho also added customization and flair to the Jeep Wrangler with a color palette directly from the factory.
The Tuscadero is available to all 2021 and 2022 Wrangler models, including the Sport , Rubicon , 4Xe , and 392. In addition, the Wrangler's chromatic magenta exterior paint option is acquirable from now until the end of December 2021. The US manufacturer's suggested retail price (MSRP) starts at $395.
Aside from the extension of the nostalgic Pinky Tuscadero, the 2022 Wrangler lineup gains the Willys model with the Xtreme Recon package. The thrill-seeking trim features 35-inch BF Goodrich KO2 all-terrain tires. The Willy's Xtreme model traverses atop 17-inch wheels, a 1.5-inch suspension lift, upgraded brakes, and a plethora of blacked-out trims and badges. The standard Willys Xtreme Recon Model details a 3.6-liter V6 engine for the four-door Unlimited body Style.
The 35-inch tires and 1.5-inch suspension lift were exclusive to the top-spec Rubicon and Rubicon 392 variations. But Jeep recognized the limitation and adapted with the moderately priced Jeep Wrangler Willys, eager to go toe-to-toe against the Ford Bronco and its Sasquatch package.
For over 30 years , Miami Lakes Automall has served South Florida with all buying, trading, and leasing desires.
Our new vehicle inventory or certified pre-owned vehicles speaks to the volume Miami Lakes Automall holds to fit your needs. But if you already have a beautiful baby in need of some fine-tuning, you've come to the right place.
Here at Miami Lakes Automall, our service experts are warmer than a fresh cup of coffee. So don't hesitate to chat with our friendly service members available to you whenever you need them.
We're here to assist you and provide answers to all your burning questions, especially those financial dilemmas. We've been here since 1982. Trust us; We've seen them all. So please stop by today. Your dream car will leave you, and it's ready to Go Anywhere and Do Anything.
Previous Post Here's Why Three Comes Before Two with the Jeep Grand Cherokee L Next Post Jeep Gladiator 4Xe Hits a Bump in the Reveal Road