Rocking Out in the 2016 Jeep Wrangler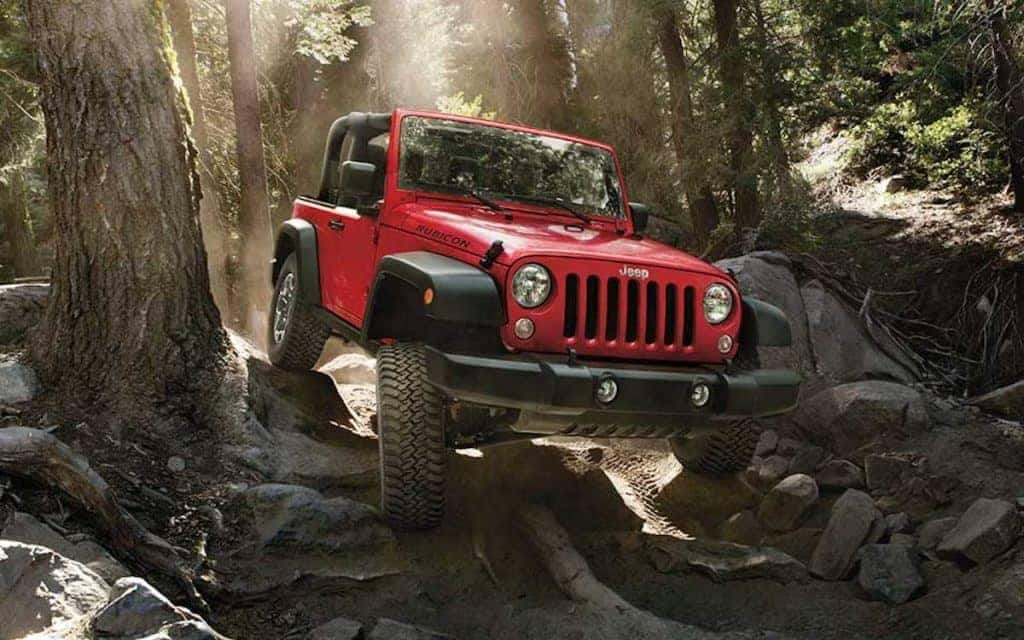 Icons exist for a reason and the Jeep Wrangler is one of our favorite icons on the automotive scene.
Though it has been around in some iteration or another since the 1940s, the new Jeep Wrangler for sale Miami is the object of our adoration at the moment.
Granted, we love all the Wranglers and the history that continues to help them evolve and dominate both on and off the road. But, the 2016 Jeep Wrangler is the one that really inspires us to "Go Anywhere, Do Anything."
Read on for specs and details on the 2016 Jeep Wrangler's performance, fuel economy, technology, comfort, and most of all…fun.
The 2016 Jeep Wrangler: It's a Rock Star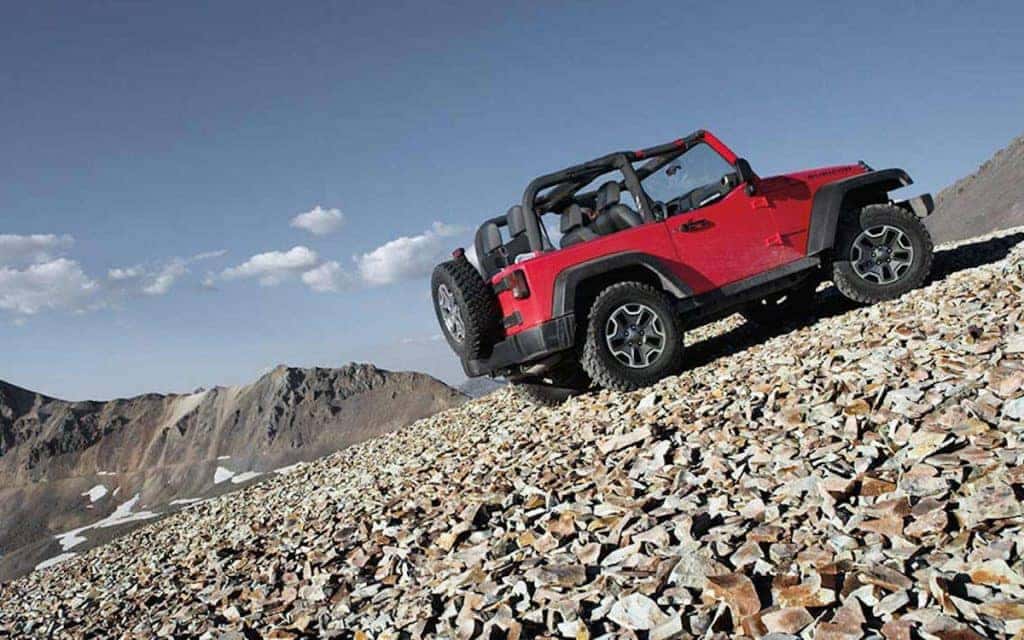 As we've already mentioned, the Jeep Wrangler is no stranger to the automotive scene. But, every year it seems like the Jeep brand outdoes itself with more options, packages, and new features. For the 2016 model year, the Jeep Wrangler adds to its special edition models with the new Black Bear Edition.
Unique to the Black Bear Edition, the Wrangler comes with black cloth seats, and black finish 17-inch wheels wrapped in Kevlar-reinforced Goodyear Wrangler Silent Armor tires, along with a topographical map of Black Bear Pass atop the Wrangler's hood.
For those who love the Jeep Wrangler Sahara trim level, expect to see a few cosmetic upgrades and the addition of an interior shade in Olive Green. Speaking of colors, the entire 2016 Jeep Wrangler lineup offers some new colors, which is not something that Jeep does very often. Suffice it to say – we're pumped!
Try Out a New Trim Level in the 2016 Jeep Wrangler and Wrangler Unlimited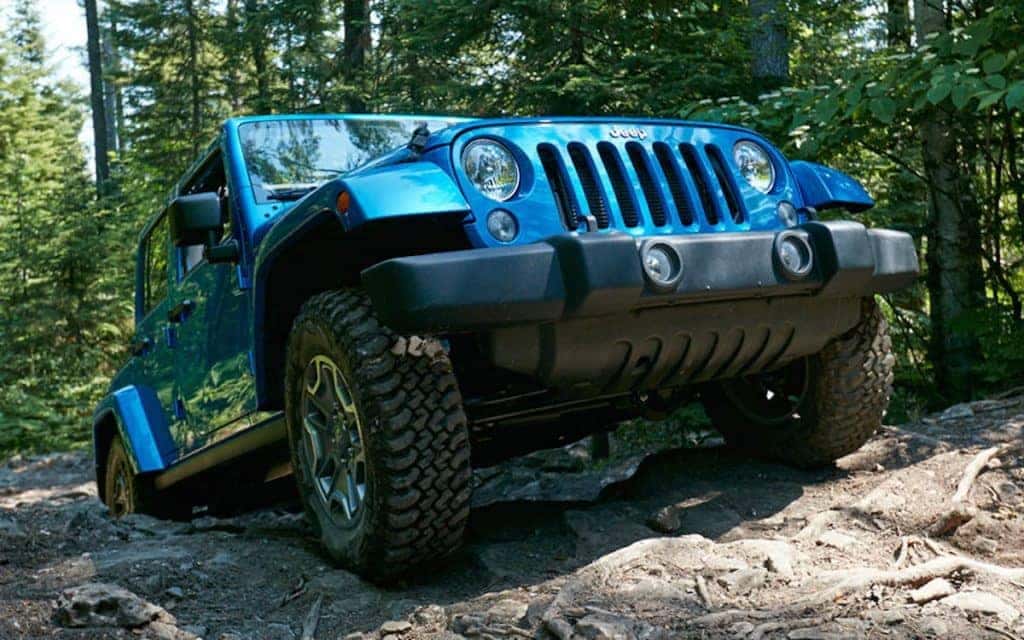 First of all, the Wrangler is available in either the two-door, four passenger body style or the slightly larger, four-door Wrangler Unlimited, which is able to accommodate up to five passengers.
The trim levels revolve around the shared trio of Sport, Sahara, and Rubicon. Other "models" are available, but really are just packages simply added onto one of these three options.
Expect the vinyl convertible top to come standard on both the Wrangler and Wrangler Unlimited models; however, the hardtop is still available. Depending on where you intend to travel, the latter might be a smarter option for you.
Let's say you want to drive the 2016 Jeep Wrangler in the Sport trim. You can expect standard equipment that is the epitome of brass tacks. Seriously. There are no bells or whistles here unless you add some options.
If not, you're driving with standard features like: on and off-road tires wrapped around 16-inch steel wheels, removable doors, manual mirrors and locks, tow hooks, foglamps, completely metal doors with crank windows, cloth upholstery, cruise control, fold-down windshield, heigh-adjustable driver seat, and a full-size spare tire in case of emergency.
With few exceptions, that's about it for equipment and the Unlimited differs only from its larger gas tank, 60/40-split fold, tumble-forward seat, and air-conditioning. Again, if you're sticking around Miami, air-conditioning is key and will likely point you in the Unlimited's direction over the base Wrangler.
But, if you opt for the Power Convenience Group, which affords you features like keyless entry and power doors and windows, you can enhance your Wrangler or Wrangler Unlimited.
Already equipped with all the best of the Power Convenience Group, the Wrangler Sahara trim level also comes with automatic headlights, hood insulation for a quieter ride, leather-wrapped steering wheel, air-conditioning, and 18-inch alloy wheels. The Unlimited version of the Sahara also adds rear passenger grab handles and tubular side steps.
Dominating the entire Wrangler and Wrangler Unlimited line is the high-end Rubicon trim. It's more rugged, yet more luxurious with off-roading equipment like Dana 44 front axle, 4.10 rear-axle ratio and electronic front and rear locking differentials, just a few of the many off-road enhancements.
Luxury comes from the leather-wrapped steering wheel and matching shifter, air-conditioning, satellite radio, and household-style 115-volt outlet.
But, this is only the beginning of the packages, options, and stand-alone equipment available for you to customize both the Jeep Wrangler and Wrangler Unlimited vehicles.
What's Under the Hood in the 2016 Jeep Wrangler and Wrangler Unlimited?
Despite all the customization possibilities between these models, when it comes to powertrains, the two share the same engine.
Equipped with a matching 3.6-liter V6 engine, able to generate 285 horsepower and 260 lb.-ft. of torque, the Wranglers and Unlimiteds come with four-wheel drive as their standard set up, featuring both low and high-range gearing.
However, the Rubicon trim is equipped with specifically short gearing, complemented by an enhanced transfer case and extra-low crawl ratio. Hill start assist and a six-speed manual transmission are both standard features, while the five-speed automatic, supported by hill start and hill descent assist is available. Maximum towing tops out at 2,000 pounds for the Wrangler and 3,500 pounds in the Unlimited.
Edmunds proved that the two-door, manual transmission Wrangler is pretty quick, able to make the zero to sixty mph dash in 6.9 seconds. Expect a slower 8.8-second return from the Unlimited, due in part to its extra weight, compared to the Wrangler.
Fuel economy is EPA-estimated at 17 city, 21 highway, and 18 mpg combined for the two-door Wrangler, no matter the transmission, while the Unlimited varies slightly with estimates of 16 city, 21 highway, and 18 mpg combined when equipped with the manual transmission, and 16 city, 20 highway, 21 mpg combined from the automatic transmission.
Shared Safety Features Come Standard
For the 2016 model year, all Jeep Wranglers and Wrangler Unlimted models feature standard safety in the form of front airbags, antilock brakes, traction and stability control. Although front side airbags are available, other safety enhancements popular on the market right now, like a rearview camera, parking sensors, or crash mitigation technologies are not.
Although we're still waiting for government crash test results on both models, the Insurance Institute for Highway Safety listed the two-door Wrangler with its highest rating of "Good" in moderate-overlap frontal-offset impact tests, and the Unlimited got the same result.
Hit the Road…or Don't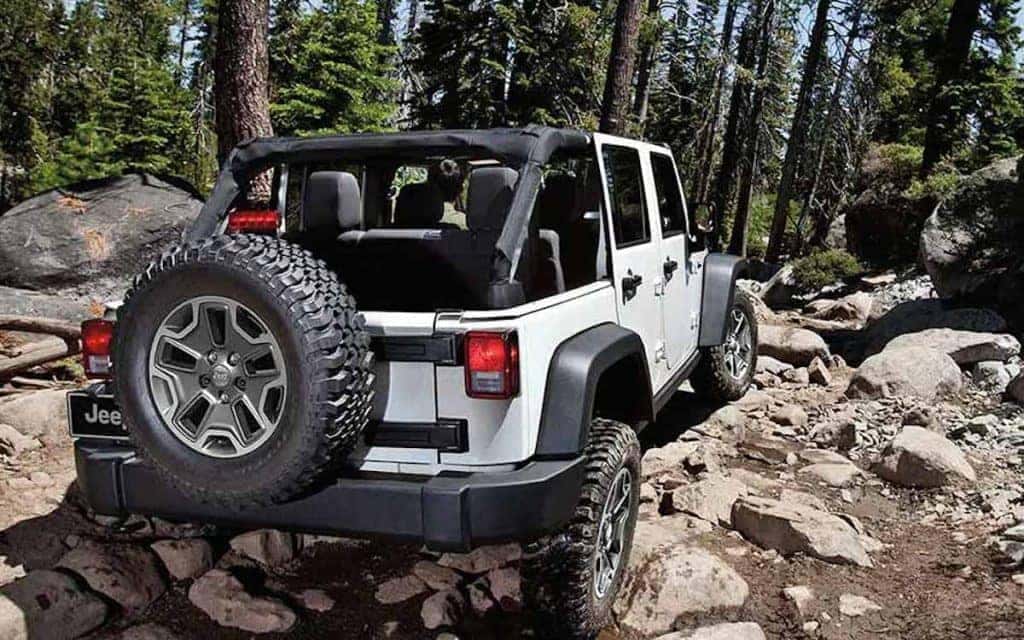 Interested in off-roading? You've found your ideal vehicle, but narrow your target to the Rubicon, Willys Wheeler or Sport models. With the money you'll save on the base Sport, you can enhance the vehicle with all kinds of gear and goodies from Mopar parts, a division of the Jeep brand.
Both the Willys Wheeler and Rubicon have standard equipment that was designed specifically for off-roading and all-terrain potential.
This is a vehicle unlike any other on the market and the driving and ride quality expectations on and off the road should be set as such. Keep in mind, we're talking about an athletic SUV, not a smooth sedan. As long as you're cool with that, you'll have a heck of time tooling around town or throttling down trails.
In addition to the customization and personalization packages, the 2016 Jeep Wrangler and Wrangler Unlimited come in a nine-shade spectrum of exterior colors, with shades like Billet Silver Metallic Clearcoat, Black Clearcoat, Bright White Clearcoat, Firecracker Red Clearcoat, Granite Crystal Metallic Clearcoat, Hydro Blue Pearlcoat, Mojave Sand Clearcoat, Rhino Clearcoat, and Tank Clearcoat, along with the new Hypergreen and Mojave Rhino Sand.
The interior colors range from black with cloth seats, along with adjustable head restraints or black cloth seats with matching black Sport mesh or dark saddle or black with cloth seats and adjustable head restraints in brown.
Pricing varies between the 2016 Jeep Wrangler and 2016 Jeep Wrangler Unlimited models, which is a good thing because it gives you some control of the range you're most comfortable with, when it comes to either a Jeep Wrangler Unlimited or Jeep Wrangler for sale Miami .
Starting at the MSRP of $23,495, the 2016 Jeep Wrangler can certainly climb upwards of that base figure while the 2016 Jeep Wrangler Unlimited is priced significantly higher to start at $32,295.
Take either of these off-road beauties for a spin at Miami Lakes Jeep dealership and see how Jeep continues to make it fun and possible to "Go Anywhere, Do Anything."
Previous Post Why You Should Want a Jeep Wrangler Sahara Next Post The Decade's Best 4×4: The Jeep Wrangler…Obviously!