Mopar Introduces Jeep Gladiator Top Dog Concept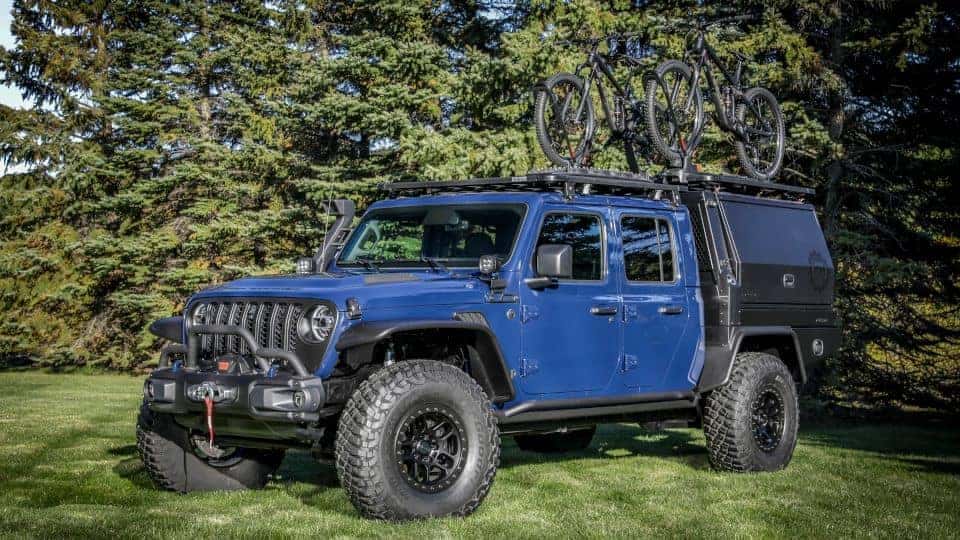 Mopar designers dropped another fun concept vehicle that likely would've been destined for the annual SEMA show had the pandemic not caused its cancellation. Serious mountain bikers are going to love the 2020 Jeep Gladiator Top Dog concept as it was designed with them in mind. Mopar used exclusive Jeep Performance Parts and other custom accessories.
"Loaded with nearly 20 Jeep Performance Parts, we built this go-anywhere Jeep Gladiator Top Dog Concept for passionate mountain bike enthusiasts. Across the entire Jeep lineup, we offer more than 500 quality-tested, factory-backed parts, and accessories," said Head of Mopar Service, Parts and Customer Care Mark Bosanac.
The Head of Jeep Brand, North America, Jim Morrison added: "Built to handle the demands of an active lifestyle and offering one-of-a-kind open-air freedom, Jeep Gladiator is the perfect canvas for Mopar to push the envelope even further with the addition of an array of Jeep Performance Parts. Mopar's new Top Dog Concept results in even more clever functionality and versatility for Jeep Gladiator."
Jeep's Top Dog Concept is painted in the K-9 Blue shade and is specifically designed to expand the cargo-carrying capabilities of the Jeep Gladiator by replacing the standard cargo box with a custom flatbed storage system instead. Said storage system features pull-out drawers on the passenger side that are intended to securely store supplies and tools that mountain bikers may need while out on the trail. Storage shelves, extra power supplies, and exterior lighting switches are all within reach. On the opposite side of the storage system Mopar added a battery-powered refrigerator along with an electric hot-dog roller grill stand. Safe to say riders can count on this feature to help them refuel while on challenging trails.
Mopar also added two rack structures above the cab area that provide additional storage space for tools and other miscellaneous equipment. There's also a set of concept exterior task lights on each side of the Gladiator, along with traction mats for vehicle recovery. Additionally, above this rack mechanism Mopar also added a dual bike rack that makes it easy to transport mountain bikes while on the trail.
The Jeep Gladiator Top Dog Concept is powered by a 3.6-liter Pentastar V6 engine with 285 horsepower and 260 lb-ft of torque and is mated to a TorqueFlite eight-speed transmission. Mopar added a two-inch lift kit and FOX shocks that increase ground clearance, along with 37-inch BFGoodrich mud-terrain tires and steel "high-top" fender flares that also provide additional clearance at all four corners of the pickup. On the inside of the Gladiator Top Dog Concept enthusiasts will find a mixture of K-9 blue and black accents, a matching instrument panel, along with black Katzkin leather seats, armrests, steering wheel, shifter boots, and parking brake handle — all accented with blue stitching.
If you'd like to know more about Mopar's product portfolio for Jeep vehicles, reach out to us via Miami Lakes Jeep social media . Mopar has hundreds of products available for the existing Jeep Gladiator and more, helping you customize your own. Not a Jeeper yet? Explore the Jeep inventory atMiami Lakes Automalland schedule your test drive today!
Photo Source/Copyright: Jeep
Previous Post Jeep Expands its 2021 Gladiator Lineup With the Addition of a Willys Trim Next Post Mopar Offers New Doors-Off Mirror Kit for Jeep Wrangler, Gladiator