Jeep Isn't Tapping Out With the All-New Wagoneer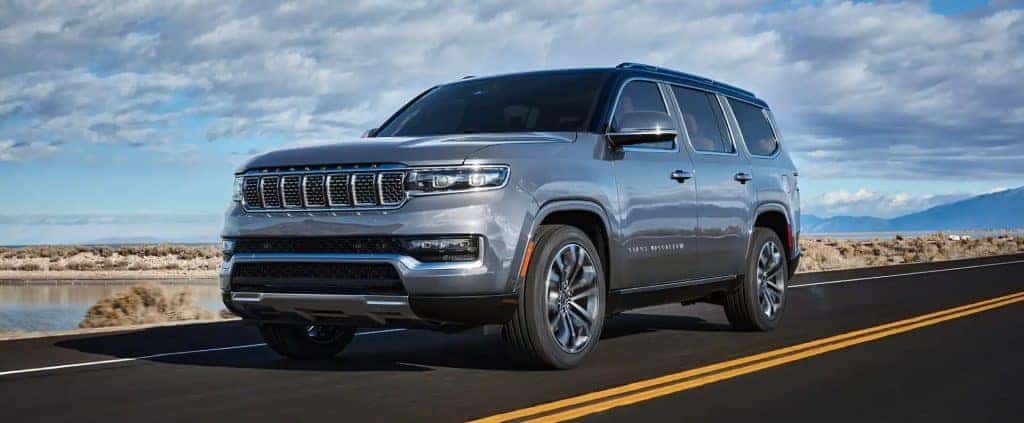 The all-new 2022 Jeep Wagoneer and Grand Wagoneer transition into a luxury market. Jeep progresses with the intention of a potential sub-brand for premium SUV buyers.
Just as Nike owns Jordan (the shoe that is), Stellantis looks to unleash additional features that will subsequently lead to the new brand-within-a-brand. Of course, nothing is officially set in stone, but the next phase of the Wagoneer will take some time. As eager as consumers may be, even the caterpillar took time to be a butterfly. Likewise, the Wagoneer needs time to grow before adding volume.
Premium Future
Tall side windows and upright pillars are just one of many amenities envisioned in premium variations of the SUV. Leather and wood greet consumers with the beautiful integration of the McIntosh audiophile sound system and Amazon's streaming Fire TV technology. Amazon Technology is the first video screen providing the front seat passenger to browse the market.
Premium Horsepower
The Wagoneer and Grand Wagoneer are equipped with Jeep's most powerful engines ever. But the automotive world is gearing toward an electric future, and Stellanis is no different.
Future Jeep's will see electric technology, and it doesn't matter if the vehicles are conventional plug-ins, plug-in hybrids, or fully electric. Jeep intends for 70% of its models to be electrified by 2025.
With the SUV's fuel economy numbers for the city being a young teen, the Wagoneer should see a plug-in drive system.
The Wagoneer will also transition platforms to the new Stellantis STLA frame. The skateboard style frame will face customization, which is needed to endure Jeep's infamous off-road capabilities. The customization won't be an easy task for the skilled automaker as Jeep will look to incorporate the SUV's premium features when creating the Wagoneer sub-brand.
Premium Market
A subbrand was always within the foreseeable future for Jeep, similar to Jaguar Land Rover with its Range Rover. Finally, JJeep is reaching out to the consumer that isn't afraid to above six figures. A Jeep sub-brand seems natural, but an iconic brand with such a heavyweight name, Jeep must be cautious not to let it dissipate.
The difficulty Jeep faces moving forward is carrying the legacy of the traditional Jeep badge. It won't be too hard for the Wagoneer and the Grand Wagoneer since the vehicles are the most extensive and most expensive by far.
Other Jeep vehicles have spiked in price as the all-new top-of-the-line 2022 Jeep Grand Cherokee L Summit Reserve midsize SUV debuted around $65,000.
Premium Rolls
Successful sub-brands exist, like the Land Rover Range Rover and the Mercedes-Benz with Maybach, AMG, and future all-electric EQS family. Unfortunately, many have failed to generate a successful sub-brand, such as Chevrolet's Geo and Toyota with Scion in 2016. Jeep is heeding the precautions and making sure it doubles down on grand success with this premium SUV.
Jeep Awaits You
For over 30 years , Miami Lakes Automall has served South Florida with all buying, trading, and leasing desires. Just take a look at our new vehicle inventory or our quality pre-owned vehicles . If you already have a beautiful baby in need of some fine-tuning, you've come to the right place. Our service experts have you covered. Don't hesitate to chat with our friendly service members available to you whenever you need them. We're here to assist you and provide answers to all your burning questions, especially those financial dilemmas. We've been here since 1982. Trust us; We've seen them all. So please stop by today. Your dream car is tired of driving around on your pillow.
Previous Post There's Nothing Small About the 2022 Jeep Wagoneer and Grand Wagoneer Next Post New Tantalizing Exterior Color for Jeep Wrangler Models