Jeep Adds New Additions to the Badge of Honor Program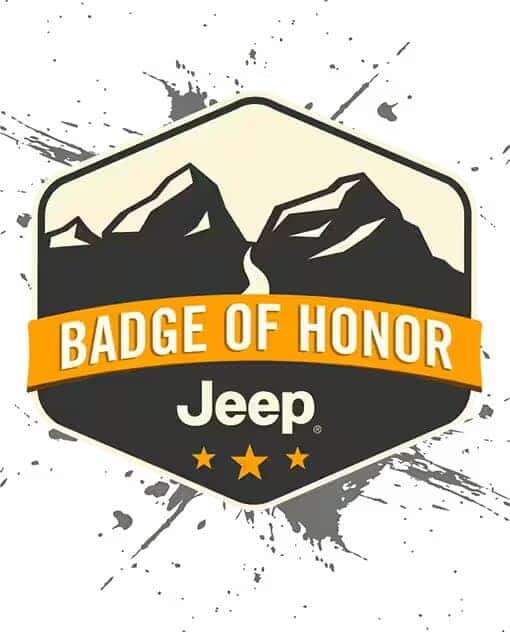 Jeep Badge of Honor is a popular online community that recognizes and rewards individuals passionate about off-road driving. Now, the off-road family will grow even more with six new trails. Off-road enthusiasts now have even more opportunities to explore challenging terrain and earn recognition for their skills.
The Six New Trails Include: 
Quartz Canyon: Hot Springs Off-road Park, Arkansas

Barney Rubble Blue Trail #49: Anthracite Outdoor Adventure Area, Pennsylvania 

Fern Ridge Trail #121: Anthracite Outdoor Adventure Area, Pennsylvania

C-2 Trail #141: Kansas Rocks Recreation Park, Kansas

Rattlesnake Alley Trail #149: Kansas Rocks Recreation Park, Kansas

Cougar Crossing: Southern Missouri Off-road Ranch, Missouri
Jeep fans interested in exploration, the Badge of Honor trails are available for download through the Jeep Badge of Honor app. The Jeep app provides valuable information, including trail highlights, difficulty ratings, and user photos. Furthermore, Badge of Honor users can earn hard badges that they can display on their 4×4 vehicles, a revelation of their fearless accomplishments.
The Badge of Honor trails come with the new Jeep Adventure Guides. The Guide is a built-in off-road adventure trail guide system; it is a well-known leader in off-road trail guides and maps. Many off-road enthusiasts can now access even a world of information and resources to help them navigate the trails and tackle their next adventure.
The Jeep Adventure Guides offer detailed guides and maps for over 200 off-road destinations, including the 68 Jeep Badge of Honor trails like the Rubicon Trail in California, Hell's Revenge in Utah, and Jericho Mountain in New Hampshire. However, although the adventure guides are available for download, they are also included in the new Jeep Wrangler and Gladiator's Uconnect 5 Nav system. Furthermore, the new 12.3-inch high-resolution screen displays the guides for a seamless excursion.
An annual premium subscription of $39.99 is available for those seeking even more off-road adventures. The premium subscription unlocks Trails Offroad's catalog of over 3,000 trail guides. 
The Trails Offroad catalog offers various difficulty levels and terrains, and it is known for its unsurpassed level of information and quality. Jeep's catalog includes all trails rated by experts based on real-world evaluation. In addition, the difficulty rating system is consistent, making it easier for off-road enthusiasts to choose the paths that match their skill levels. Each trail also comes with a detailed route description and key waypoints for turns, obstacles, and points of interest, providing users with a comprehensive guide to help them navigate the trails safely and confidently.
This new partnership between Jeep and Trails Offroad gives Jeep customers detailed information about the best off-road adventures across the United States and Canada. Over-the-air updates are available to enhance the experience further, ensuring that users have access to the most up-to-date trail information. Customers can also navigate directly to the trailhead of their chosen off-road adventure and keep track of their progress by following integrated trail route maps. The unrivaled in-vehicle integration further cements the Jeep brand's off-road leadership.
Since its debut on the 2024 Jeep Wrangler, the Jeep Adventure Guides have continuously worked to enhance the optimal user experience. The latest addition to the Adventure Guides is a new Follow Mode that displays pop-ups for waypoints, such as intersection directions, obstacles, or points of interest, as the driver approaches the waypoint on the trail. Follow Mode guarantees that users have the correct information at the right time, making navigating the paths safely and confidently easier. Further, for routes that may be traversed in either direction, customers can navigate to the trail's end, in addition to the start, so no more getting lost or going in circles. 
Come Test Drive your Jeep Wrangler
There's a Jeep Wrangler custom-made for your adventure here at Miami Lakes Automall. Here at Miami Lakes Automall, we have all buying, trading, and leasing options to meet your purchasing needs. Our new vehicle inventory or certified pre-owned vehicles speaks to the volume Miami Lakes Automall holds to fit your desires. However, if you already have a beautiful baby needing some fine-tuning, you've come to the right place, and our service department is unmatched. Our service experts at Miami Lakes Automall are warmer than a fresh cup of coffee. Miami Lakes Automall has been here since 1982. So please stop by today to drive the car of your dreams. 
Photo Source/Copyright: Jeep