What Makes the Dodge Hellcat Widebody the Must-Have Car of 2018? – Miami Lakes Automall Dodge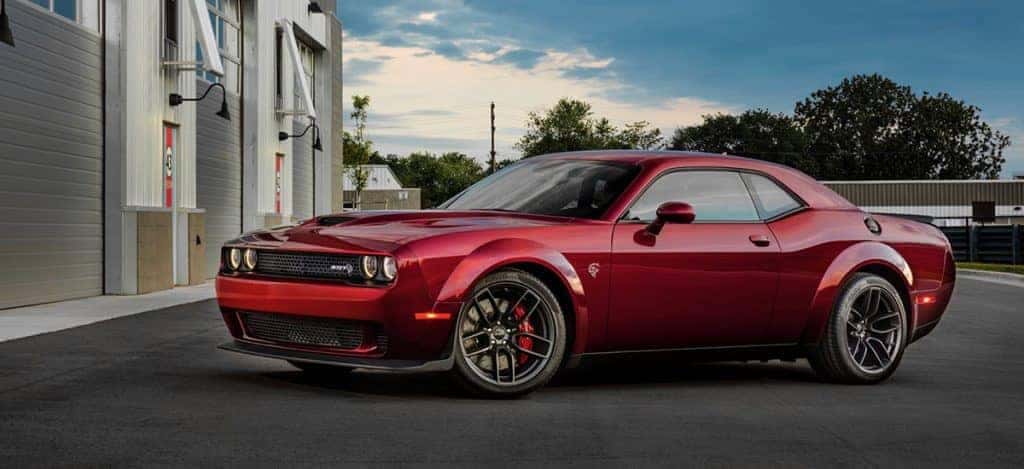 Photo Credit: Dodge, 2018 Dodge Challenger SRT Hellcat Widebody
The Dodge Challenger has a rich history that began in the 1950's back in Detroit, Michigan. All these decades later, the Dodge Challenger is still the muscle car to own today. Dodge enjoys pushing the envelope to what is possible with their 2018 Dodge Challenger SRT Hellcat Widebody. For those looking to brighten up their fall, they can start by calling this special Dodge Challenger their own. The Hellcat Widebody carries the 6.2-Liter supercharged V8 engine and makes other engines seem small and unimpressive by comparison. There's very few engines in any muscle car that can compete with the the 707 horsepower and 650 lb-ft of torque provided by the Dodge Challenger SRT Hellcat Widebody.
Owners will gain a lighting quick quarter-mile time of 10.9 seconds with this amazing muscle car. If that's not fast enough, check out the 0-60 mph time of only 3.4 seconds hitting 127 mph. This unique speed and high-performance ability is only the start of why the 2018 Dodge Challenger SRT Hellcat Widebody is the must-have muscle car in 2018.
The Muscle Car That Will Turn Heads
Stylish, cool and impressive in every way, drivers gain not only a fast car, but a statement maker. Starting off with the large "Devil's Rim" aluminum wheels taken from the SRT Demon,the Hellcat Widebody provides optional Pirelli P Zero tires that are flexible and perform well on turns and curves on the road. The Hellcat Widebody comes stocked with a six-piston high-performance Brembo brake system for impressive braking. For a little more style, the Hellcat has strong features like a blacked-out rear lip spoiler and includes extended fender flares.
Let Them Hear You Coming
The 2018 Dodge Challenger SRT Hellcat Widebody doesn't wait around once a driver touches the gas pedal. This is a muscle car that explodes with its unique 707 horsepower engine that throttles ahead with the power generated sent to the rear wheels by way of the six-speed or optional eight-speed automatic transmission. It may take some getting used to, but with the added help of traction control, driving a Dodge Challenger as impressive as this one is more fun and exhilarating with each drive. Keep in mind, the "Widebody" name was born out of the extended three-and-a-half inches added to the standard Hellcat's width. Having the extra inches allows drivers to maintain a better grip on turns and makes the Hellcat Widebody appear like its cousin, the SRT Demon.
All the Amenities of a Dodge Hellcat Widebody
Another factor many overlook is just how spacious and lush the interior is. Dodge provides owners with a widespread interior, an oversized and useful trunk space, and lots of room to house the Hellcat V8 engine. Inside the vehicle are standard air-conditioned and heated seats with a dual-zone climate control feature. Not to mention, there's also a standard 8.4-inch touchscreen that provides Apple CarPlay and Android Auto with the crisp audio that can only be delivered by an 18-speaker Harman Kardon premium audio system. Luxury never looked better with leather bucket seating that includes a new interior seating color option of "Demonic Red Laguna". Fitting for a vehicle that goes nearly demon fast and looks nicer than just about any vehicle you can find for the price. The Dodge Challenger SRT Hellcat Widebody begins at $65,690 MSRP (plus destination fee.) This all combines to create the must-have muscle car of 2018.
Go For the Best Muscle Car In the Dodge Challenger
Now that you've read about the power, don't you want to experience the performance that is awaiting? Come to Miami Lakes Automall to drive away with the latest 2018 Dodge Challenger today. Our professional sales team is friendly and ready to help you with any leasing or buying needs you may have. Feel free to ask us questions about the Dodge Challenger or any of our new Dodge vehicles .
Looking to have work done on your current vehicle? You'll want to have your vehicle in great shape to deal with the never ending fall rain and tremendous heat. If you're having issues with your current ride, we can make sure you're back on the road fast with our experienced service techs. Book an appointment with us, even if you haven't made a purchase before and we'll be happy to provide a wonderful customer experience!
Previous Post Scat Pack 1390 Makes the Challenger Wicked Next Post Ready. Set. Hellcat Redeye!