Scat Pack 1390 Makes the Challenger Wicked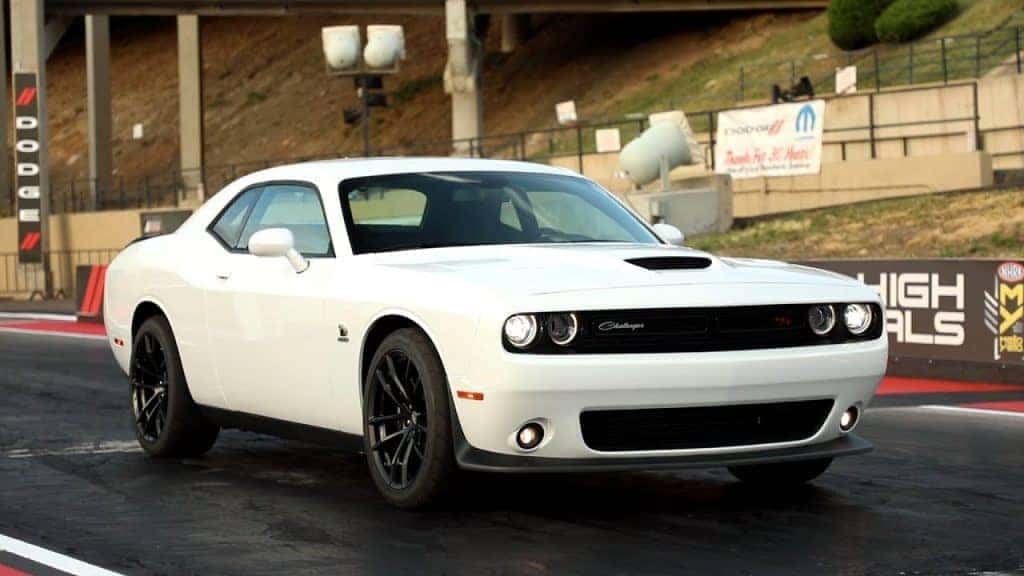 Photo Credit: Dodge
All the features that made the 2018 Dodge Challenger SRT Demon unique and special have found their way into new Dodge Challenger vehicles. First, in the upcoming 2019 Dodge Challenger SRT Hellcat Redeye, and now Demon parts, like an SRT-tuned suspension and Brembo brakes, will be in the newly announced Challenger R/T Scat Pack 1320. One thing is for sure, there's sure to be more Demon influence on the way. For now, we'd like to get into the latest buzz that comes from the new package announced by Dodge. Dodge made the announcement at the 2018 Mile-High National Hot Rod Association (NHRA) Nationals in Denver. Let's see what all the hype is about with this latest Dodge muscle entry into the Challenger lineup.
Experience the Enjoyment of the Challenger
The fun of owning a Dodge Challenger is knowing you have a vehicle capable of winning on a race track. The R/T Scat Pack receives a special adaptive damping system with a Drag Mode that helps shift weight to the end of the vehicle for stronger traction. Along with the other additions like Launch Mode and bigger tires, drivers can expect to be a winner when driving the Challenger R/T Scat Pack. Racing on a drag strip with this new Challenger package is expected for die-hard owners. In fact, that's how the R/T Scat Pack 1320 received its very name.
1320 is the exact length of feet in a quarter mile. (A quarter mile is where drivers behind the wheel of a Dodge Challenger will smoke just about any sports car.) The reason why the new Challenger is so fast is thanks to the upgrades added to an already fast muscle vehicle. Best of all, the price of owning the newest Dodge Challenger option is vastly less expensive than the SRT Demon was.
Get Impressive Speed At a Reduced Rate
For the racing enthusiast, the 2019 Dodge Challenger R/T Scat Pack 1390 is a more affordable SRT Demon that will help provide more than an entry-level start to high performance driving. Features like Line Lock to assist in heating up the tires before racing on a drag strip, Transbrake that keeps the transmission output shaft to hold the car stationary while the engine revs for a faster push-off and start, Torque Reserve is what also helps provide a better start, along with the additional Launch Assist and Launch Control to help propel this Challenger like never before. This is all capable thanks to the mandatory 8HP70 eight-speed automatic transmission installed with the vehicle. All this goes together to make the 1390 Scat Pack faster than the traditional Scat Pack offered by Dodge by 0.3 seconds in a quarter-mile race.
Taking the Challenger R/T Scat Pack, which begins at $38,995 MSRP (plus destination fee), adding $3,995 for the 1320 package with $1,595 for the 8HP70 eight-speed automatic transmission is all it takes. That price is sure to put a smile on many potential customers faces. Like the SRT Demon, there's only one seat in the vehicle. To add an additional passenger and rear seats, it costs a $1 for each respective seat. Keep in mind, that will add 114 pounds if added. For those who want to find something less racetrack ready and something more road friendly, we have options that will make you grin all the same at one place.
Find Your Smile at Miami Lakes
All someone has to do to know the difference between a Dodge Challenger and the competition is to test drive one. We hope that you do that with us. We proudly sell the Challenger and have both new 2018 Dodge Challenger models and quality pre-owned Dodge Challenger vehicles . We will help you with any buying, leasing, selling and trade-in offers you have.
* If you're looking for ways to fix up your current vehicle, come in for a check up with an appointment. We're happy to have our professional sales team take a look and upgrade your vehicle or help with anything from oil changes to tire rotations. We're happy to help. Come right in for any questions you have, we're here to make your car buying experience fantastic at Miami Lakes Automall . *
Previous Post The 2018 Dodge Charger Keeps Receiving Awards with J.D. Power APEAL Next Post What Makes the Dodge Hellcat Widebody the Must-Have Car of 2018?