Ready. Set. Hellcat Redeye! – Miami Lakes Automall Dodge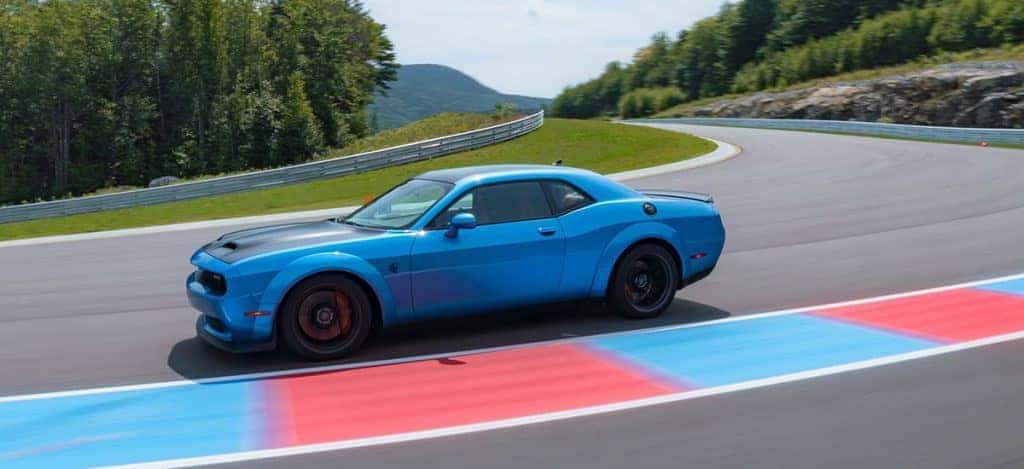 Photo credit: Dodge
The best thing about driving a Dodge Challenger SRT Hellcat Redeye is knowing just how fast and free the feeling is. Inspiration comes from within the dominant, extra quick SRT Hellcat Redeye with its 797 horsepower engine and a ridiculous 203-mph top speed. Drivers are forewarned; this is barely a street legal vehicle and is best suited on a race track. However, that doesn't have to stop anyone from showing off what a remarkable, beautiful and powerful muscle vehicle can genuinely embody.
Almost Too Sharp To Touch
There's no denying the sharp design and bold features of the Redeye are attractive. Few vehicles on the road have such an impact upon first sight. The noticeable Hellcat logo is on each side and the twin-snorkel lid hood with the sleek design throughout will draw attention. So will the high-end performance and speed; ever driven a vehicle that cuts through a quarter-mile in only 10.9 seconds? That's the kind of speed we are talking about.
Both the Hellcat SRT Redeye and SRT Hellcat Redeye Widebody generate 707 lb-ft of torque and handle exceptionally well. The SRT Redeye is only available with the eight-speed automatic transmission and comes stock with impressive Brembo brakes that are fully capable of slowing down the high-speed adrenaline drivers are sure to test their Hellcat Redeye with daily.
SRT Hellcat History
In 2014, the first Dodge Challenger SRT Hellcat was introduced. Back then, the Hellcat hit 707 horsepower and raised the bar for what engine output in a production vehicle could be. Now, just four years later, the bar has been set even higher. The Redeye is not quite as powerful as the 840 horsepower of the Dodge Challenger SRT Demon that came out in 2018, but is quite significant with a wicked engine and body that borrows parts from the Dodge Challenger SRT Demon itself. The success of the first Hellcat was immense as Dodge could hardly make enough in time for the customers appetite.
So, what makes the Dodge Challenger SRT Hellcat Redeye special? Unlike the Demon, this vehicle will have a much lower price point at $69,650 MSRP (plus destination fee) and isn't under any limited production numbers. There's no doubt this vehicle is sure to be a hit for any one who wants to feel the rush of owning among the best Dodge Challenger SRT muscle cars ever made.
"As it has been common to do over the past 50 years or so in the muscle car world, we took the biggest engine we had available to us and we mated it with the best car we had available to put it in. So this is the marriage of the Demon powertrain to the Hellcat, " said Kevin Hellman, Dodge's brand manager for the Challenger
Drive Your Very Own Dodge Challenger SRT Today!
You've read about what it feels like to drive one. You've seen them on the road passing you by. You don't have to wait any longer to get your hands on this iconic piece of American made muscle. This fall, switch things up for a change and feel the excitement of the Dodge Challenger. We welcome you to talk to our professional staff that is just as happy to show you the Dodge Challenger as you will be to buy or lease one.
If you're looking to sell or trade-in your current vehicle, we can help and also assist with financing with the help of our friendly financing team. If you're in the market for some repairs or maintenance work, even if you didn't buy with us, make an appointment with our servicing team. Miami Lakes Automall is your one-stop shop for all things automotive related! We look forward to seeing you soon!
Previous Post What Makes the Dodge Hellcat Widebody the Must-Have Car of 2018? Next Post 10,000th Dodge Pursuit Shipped