10,000th Dodge Pursuit Shipped – Miami Lakes Automall Dodge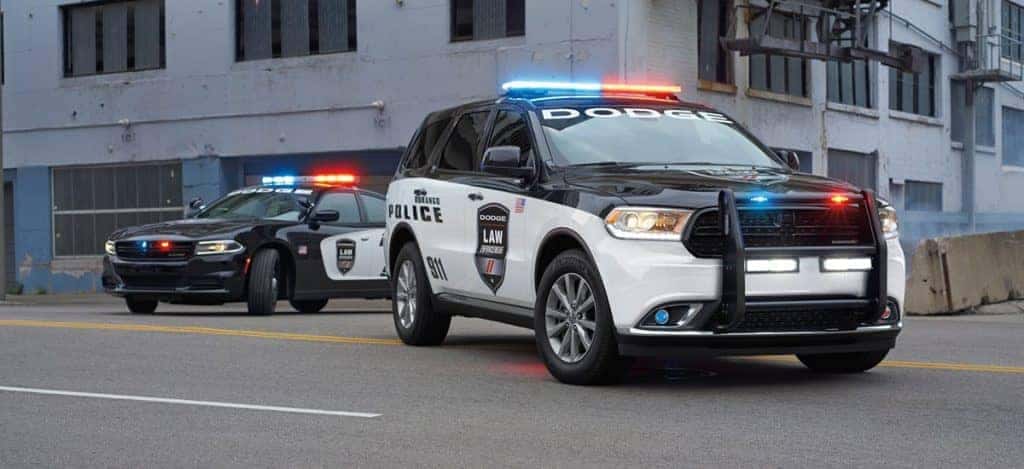 Photo credit: Dodge
10,000th Dodge Officer Protection Package was recently shipped. The Fiat Chrysler Automobiles (FCA) collaboration with InterMotive, Inc. is a special product built for law enforcement agencies. Enhanced Dodge Durango SUVs and Dodge Charger muscle cars have FCA's Fleet Safety Group technology added and aid police officers everyday. Let's go over some of the helpful high tech developed by InterMotive that has enhanced law enforcement safety and some of the perks these special FCA vehicles carry.
Superior Police Vehicles Shipped
Taking a look into the latest Dodge Charger Pursuit police sedan, law enforcement gain the help of InterMotive surveillance mode module technology and the assistance helpful tracking measures that will warn the officers of possible dangers. This is due to the Dodge engineering and FCA's Fleet Safety Group technology. Combined with the ParkSense rear park assist system and ParkView rear backup camera, any movement behind the vehicle is detected and relayed to the driver.
"The Officer Protection Package is the latest layer of safety to be built into our Charger Pursuit.We knew it was the right thing to do for all the men and women who protect us on a daily basis, and we are gratified to know that over 10,000 of these heroes now have a better chance of avoiding rear ambush occurrences. I'm also pleased to announce that we will continue to offer this package free of charge on our 2019 model-year Dodge Charger Pursuits," said Steve Beahm, Head of Passenger Car Brands, Dodge//SRT, Chrysler and FIAT – FCA North America.
How the System Works
Research and development from FCA debuted this sensitive system in 2018 to detect movement and immediately alert those inside the cruiser of the potential danger. This allows officers to look at anything happening behind the vehicle with the help of the live camera monitor. The live camera view is turned on if the sensors go off. If the sensors are set off, law enforcement can choose to lock all doors, automatically raise the front windows, turn the rear lights on and flash all taillights. This technology provides a few extra seconds for police to assess and react to any situation happening. No longer will law enforcement have to worry about a potential ambush attack, potentially saving lives in the process.
More on the Dodge Charger Pursuit
So what is unique about the new Dodge Charger Pursuit – also known as America's best-selling police sedan? It's ready to go with best-in-class 370 horsepower and the amenities and high-performance capabilities of the Charger Pursuit. Not to mention, world-class safety and security is equipped with the no-cost Officer Protection Package, which includes the Uconnect touchscreen on a 12.1-inch display and an integrated law enforcement system with innovative technology that helps improve the safety occupant space. A factory-installed Mopar upfit packages elevates the Dodge Charger Pursuit with the segment's most advanced all-wheel-drive system for maximum tactical performance, all-weather traction and fuel-efficiency. Law enforcement around the country has embraced the Dodge Charger Pursuit as these special packages has been shipped over 10,000 times.
Why Dodge?
Dodge is the standard for high-performance driving and provides maximum speed and power for not just law enforcement, but customers from every business and industry. The latest 2018 Dodge Durango provides maximum comfort with incredible handling for a large scale SUV. The new 2019 Dodge Charger has never been as capable or fun. High-performance vehicles are luxurious inside and out, deliver heart pounding addereline for owners and make every drive extraordinary. Don't worry though, the Dodge Durango and Dodge Charger is available for citizens to own.
Find the Right Dodge, For the Right Price
Miami Lakes Automall is prepared to help you find the right vehicle for you and your budget. We'll gladly show off our entire lineup of new Dodge vehicles and pre-owned Dodge vehicles . Buying, leasing, selling and trade-in offers are apart of what we handle everyday. Let our professional sales team help with your purchase.
For any repairs or vehicle maintenance, we hope you make a simple appointment and we'll do the rest to take care of your vehicle. We hope to see you soon at Miami Lakes Automall! Come stop by for anything automotive, we'll be happy to help! Our Chrysler, Dodge, Jeep and Ram service department is open 7 days a week for your convenience.
Previous Post Ready. Set. Hellcat Redeye! Next Post Then and Now: Dodge Charger Daytona