"The Thing" Themed Charger Represents Iconic Dodge Recognizability – Miami Lakes Automall Dodge "The Thing" Themed Charger Represents Iconic Dodge Recognizability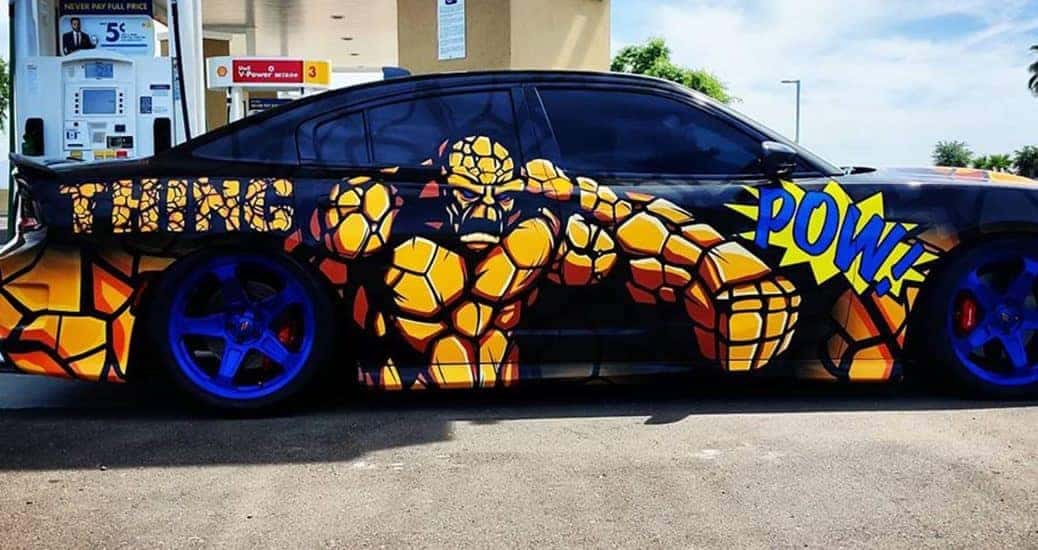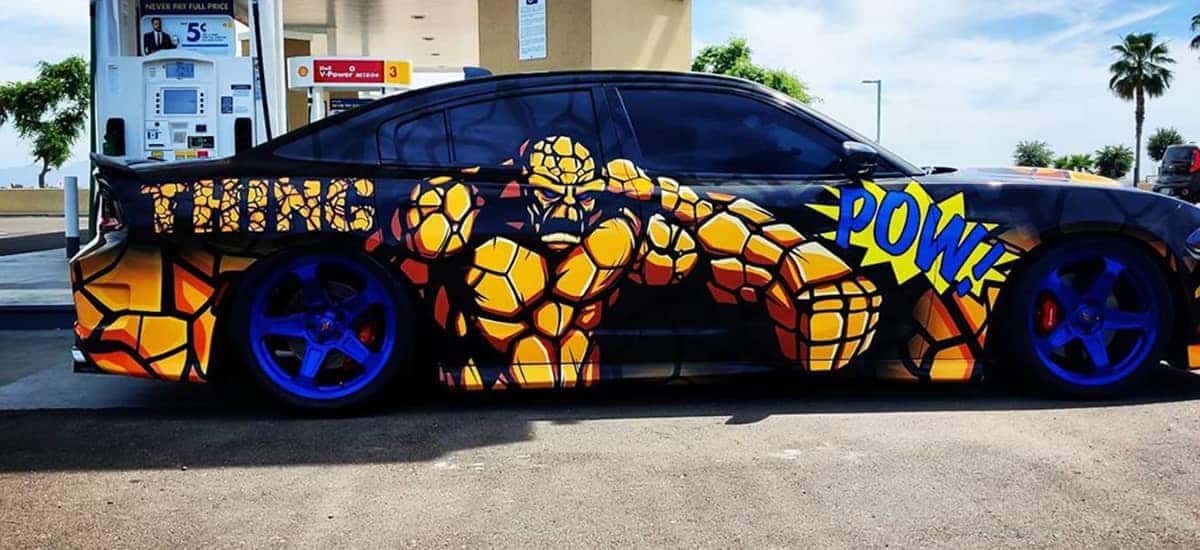 Photo credit: AutoEvolution
Dodge muscle cars have a style that remains iconic. The other well-distinguished aspect of Dodge muscle has been its strong performance under the hood. The Charger and Challenge rank among the most distinguished muscle cars in the history of automobiles. With such acclaim comes a following and fanbase where some take the production muscle cars and modify them to make a new final product. Every now and then, some come across that are a sight to be seen. The owner of a unique "The Thing" Dodge has made his 2017 Charger R/T Scat Pack carry the image of the famed Marvel character painted across the entirety of the hood. While the owner of this vehicle has certainly enjoyed the perks of its 392 HEMI engine, the design has gathered attention.
What Is This "Thing"?
For those who do not know what "The Thing" is, it's a fictional cartoon comic book character that has been around longer than the Dodge Charger actually. The first Charger debuted at a car show in 1964 and came out as a production vehicle two years later. The Thing was apart of The Fantastic Four #1 comic book, released in 1961. The Fantastic Four recently had a three movie run with films starring Chris Evans and Jessica Alba in 2004 and 2007 and most recently a reboot movie that came out in 2015. The Thing remained a larger than life, rock-hard character. Which sounds similar to the significance of the Dodge muscle brand with muscle cars like the one pictured above. Dodge has remained strong, powerful, and instantly recognizable. This owner has changed the image on his car multiple times, but one thing has stayed, its reliable power and quick getup.
"A half-century later, Dodge still leads the pack with the most powerful muscle car powertrains in the industry, ranging from the Pentastar V6 engine to the fastest, most powerful muscle car, the 797-horsepower Dodge Challenger SRT Hellcat Redeye." -Dodge statement
Upcoming Dodge Vehicles Update
Regarding the latest news on both Dodge muscle cars, we're fully expecting Dodge to have the 2021 model year come out about two months delayed due to the COVID-19 pandemic. This wasn't the only Fiat Chrysler brand that saw production pushed back. The Jeep Grand Cherokee Trackhawk was set to debut around the same time as the Dodge Durango SRT Hellcat . For those who are seeking a chance to get their hands on the current 2020 Dodge vehicles, we can help out. For those waiting on the 2021 model years, they may have to wait till late summer or beyond for a date on which the next line-up change will happen for the Charger, Challenger, Durango and other vehicles. For now, we're ready to help our customers into our current line-up of fresh Dodge muscle cars.
Drive Dodge With Our Help
Searching for the newest Dodge Challenger muscle cars ? We have them as well as a wide variety of quality pre-owned vehicles . If you're looking for pricing options to take home what you want, our auto financing team is here to help. If you want to sell or trade-in your current vehicle, we're here to help with those needs as well.
Even if you didn't buy with us, we can fix up your current ride with a simple online service appointment to see our knowledgeable service team. Miami Lakes Automall is located at 16600 NW 57th Ave in Miami Lakes, Florida. We're open seven days a week across our sales, service and parts departments to help out with any of your automotive needs!
Previous Post Looking Into the Dodge Hellcat Widebody and Scat Pack Trims Next Post 2021 Dodge Challenger To Gain Viper ACR Styling?