The Second Dodge Horsepower Challenge Question Is Revealed – Miami Lakes Automall Dodge The Second Dodge Horsepower Challenge Question Is Revealed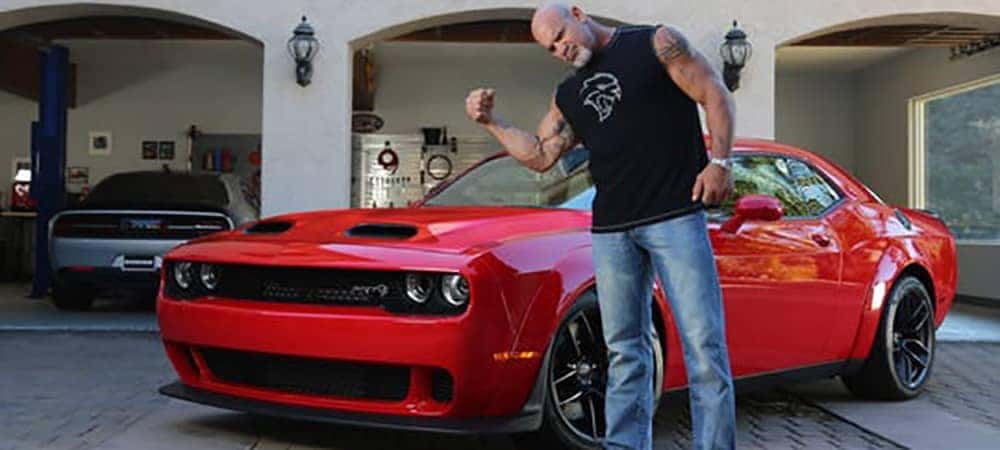 Dodge is giving away five Dodge Challenger SRT Hellcat Redeye muscle cars to select winners of their Dodge Horsepower Challenger. Each week for five weeks, Dodge will be choosing a winner among those who answer their weekly questions posed on Dodge.com and their Dodge Twitter and Facebook accounts. Learn more about how to play in this contest , and get ready for week two's question. The Mayor of Muscleville, famed wrestler and Dodge muscle car enthusiast Bill Goldberg has this week's question for contestants to answer. Let's go over the recent results, this week's question and an overview of the timeframe to answer the questions.
Recap of Recent Contest Results
Last week's question was definitely challenging (as it should be) and yet, there were quite a number of right answers. The giveaway is for the special-edition TorRed Dodge Challenger SRT Hellcat Redeye, so of course, many people will seek to win this vehicle from Dodge. Dodge is helping with clues and ways to assist contestants. Following Dodge on social media helps as they post hidden hashtags and hints for what the answer could l
"Dodge fans have inundated our social channels this past week to find hidden hashtags to help them answer the first Dodge Horsepower Challenge question. And I have to say, I'm impressed. Over 3,000 enthusiasts have answered the challenge correctly. So as we release Challenge #2, don't give up hope, we'll continue to give out clues on Twitter and Instagram to help," remarked Tim Kuniskis, Global Head of Alfa Romeo and Head of Passenger Cars – Dodge, SRT, Chrysler and FIAT, FCA – North America.
This Week's Question + Guidelines
The questions are becoming slightly more difficult as this week's question shows. Unfortunately, Dodge will not provide an easy multiple choice question. Contestants will have to really think and break out some mathematics to correctly solve each question. This week, the Dodge Horsepower Challenge question asked goes as follows: "If we wanted our cars to be quieter, we'd just have to make 'em go faster. How much horsepower would the 2019 Dodge Challenger SRT Hellcat Redeye need to get somewhere before the sound of its engine does?"
The answer will be announced next week with three more questions left before all winners have been accounted for. The time a contestant has ranges from Tuesday, November 19th at 8 am through the following Monday, November 25th at 11:59 pm. For our readers that don't want to play games, we don't when it comes to showing off our latest Dodge Vehicles .
Miami Lakes Automall Is Here For Your Business!
Step into our large store to find the Dodge inventory you've been searching for. We carry the 2019 Dodge Charger and 2019 Dodge Challenger and our helpful professional sales team will be able to help. We'll walk you through the process of any buying, leasing or trade-in offers on your way to driving with a new or pre-owned vehicle from our lot.
Not happy with your current vehicle? We'll make sure to give it world-class treatment to get it up and running strong again. With a simple online service appointment , allow us to get started on making all the adjustments and maintenance needed. We look forward to helping out our loyal customers at Miami Lakes Automall . Come to us today!
Previous Post Stolen 1,000 Horsepower Challenger Is Rescued, Debuts At SEMA Show Next Post Dodge brand's Horsepower Challenge Contest Enters Week Three