Stolen 1,000 Horsepower Challenger Is Rescued, Debuts At SEMA Show – Miami Lakes Automall Dodge Stolen 1,000 Horsepower Challenger Is Rescued, Debuts At SEMA Show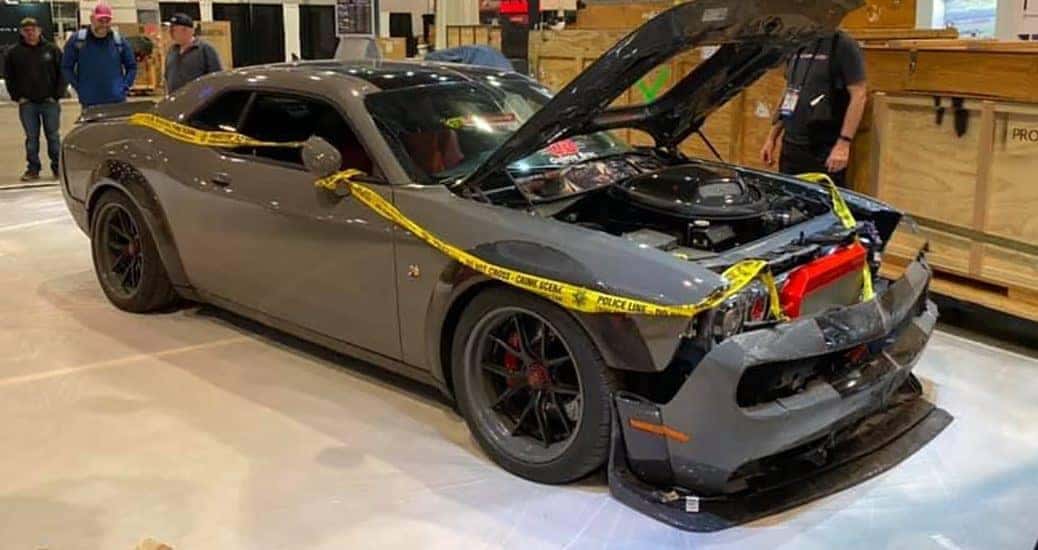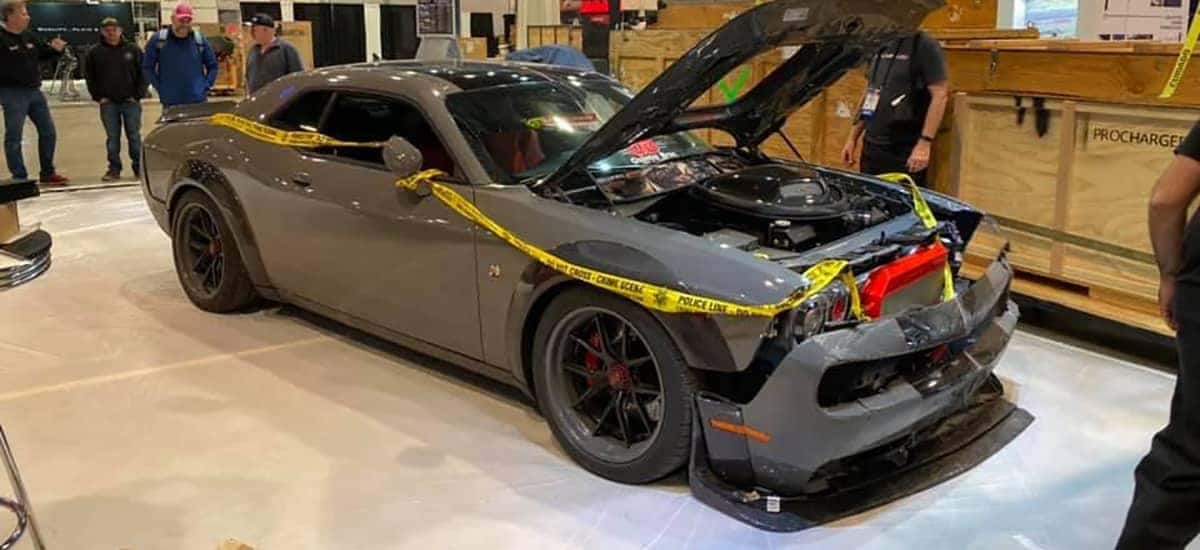 Photo credit: RoadandTrack
Nothing could stop the 1,000 horsepower Dodge Challenger SRT Hellcat Redeye from reaching its destination point of the SEMA car show. The muscle car concept was stolen by a burglar who wound up crashing into a police car during a high-speed chase. Over 14 patrol cars went on a massive car hunt that lasted 11 hours. At various points in the chase, the stolen Challenger was hitting speeds of up to 150 mph! In the end, they decided to showcase this remarkable vehicle on display. Complete with its police crime scene tape wrapped around the vehicle with the front bumper hanging off, this Dodge Challenger shows off the enhanced and modified powertrain and other under the hood advancements. A beautiful Challenger complete with custom carbon fiber body parts, new aftermarket wheels, and enhanced brakes will need some repairs now. Let's share the facts on this wicked fast and recovered Challenger.
Details On the 1,000 Horsepower Challenger
Built by the Quintin Brother Auto and Performance from Williston, Vermont as a show car for the ProCharger showcase, the Dodge Challenger had been upgraded to fit its nearly unimaginable 4-digit horsepower engine. This won't be the first 1,000 horsepower Dodge Challenger, as one was made just last year with a 5.8-Liter supercharged HEMI V8 powertrain. This vehicle was made to be a hit even before the high-speed chase, but today there is perhaps even more fanfare regarded this vehicle. The vehicle still works and can run, though heavy detailed work will be required to make the vehicle look brand new again.
More on the Capture and Eventual Trip To Sema
The Nevada State Trooper, Adam Whitmarsh, responsible for helping stop the criminal who stole the vehicle was invited to join the SEMA showcase with the Quentin Brothers at their display. The 1,000 horsepower Challenger almost didn't make it to the SEMA show, if it were not for the on-going coverage and headline news that went on. The local media is partly to thank for having this remarkable Dodge Challenger shown off at one of the premier auto shows in the country. Thinking about getting a new Dodge muscle car lately? We can help make that happen.
Step Into a New Dodge With Our Help
Come to Miami Lakes Automall , we're more than excited to provide our customers with an incredible automotive experience. For those searching for a new option to buy or lease, we have plenty of new Dodge vehicles. Take a look at our newest vehicles or our quality pre-owned vehicles . We can help sell your current vehicle or bring it back to life like new with an online appointment to our service center. Allow our trusted techs to get started on any repairs or maintenance work.
We're here to help with any financial help, needs or suggestions to help make paying for a vehicle easier. Stop by today and see what we can do for you right now at Miami Lakes Automall today and say hello on social media !
Previous Post Dodge Celebrates 500 Million Horsepower Milestone With Challenger Giveaway Next Post The Second Dodge Horsepower Challenge Question Is Revealed