SRT Past, Present and Future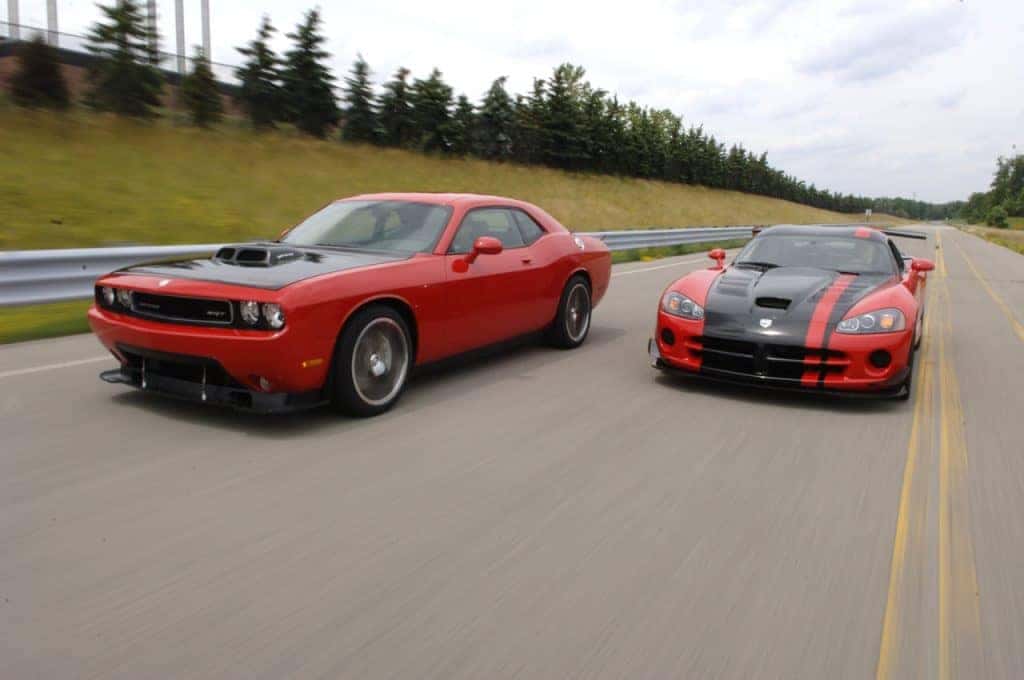 With Dodge coming out with the Dodge Challenger SRT Demon next month, we thought it was time to brush up on our SRT knowledge. We also thought our readers would like to know what's so special about SRT vehicles anyways. Heck, what does "SRT" even stand for? Well, SRT has some pretty interesting history, and if all goes well, it'll also have a pretty interesting future.
SRT Origins
Believe it or not, "SRT" wasn't always called SRT, nor was it always a part of Fiat Chrysler Automobiles (FCA). Not a huge surprise, businesses and project teams go through changes, and that's how SRT started – a high-performance automobile group, now working within FCA. The team was known as "Team Viper," and wouldn't you know they were in charge of designing and developing the legendary Dodge Viper. After a merge with "Team Prowler," the developers of the Plymouth Prowler, they became known as Specialty Vehicle Engineering (SVE), then renamed as "Performance Vehicle Operations" (PVO), and then the group finally settled on the acronym "SRT" for "Street & Racing Technology".
This acronym is usually in the title of a car that has an SRT engine, as well as in the name of the engine itself – usually. For instance, the Dodge Challenger T/A Plus comes with the SRT 392 engine, but "SRT" is missing from both, the title of the car and the name of the engine. Since its conception, SRT has made many vehicles with the SRT name, and some of them are still around today.
Past
SRT doesn't just belong to Dodge, although the brand has most likely made it famous. Back when SRT just started, vehicles like the Dodge Neon SRT-4 were around, run by a 2.4-liter Inline 4 Turbocharged Chrysler Neon engine. Did you catch that? "SRT" is the prefix, and the number that follows is how many cylinders the engine has. Henceforth, vehicles would have SRT-X at the end of it to denote the kind of engine it had, i.e. the 2006 Jeep Grand Cherokee SRT-8, powered by a 420-hp 6.1L Chrysler V8 Hemi engine. This style continued until the Dodge Viper SRT-10 came out in 2008, soon renamed the SRT Viper for 2013 – 2014, and then the Dodge Viper from 2012 – 2017, the end of the Viper as we know it.
Present
Aside from the Viper which is being discontinued after the 2017 model year, there are several other SRT vehicles. Most notably, Dodge Chargers and Dodge Challengers, such as the Dodge Challenger SRT 392 and the Dodge Charger SRT Hellcat. The former is run by a 6.4L HEMI V8 engine that generates 485-horsepower. It was soon usurped by the SRT Hellcat engine, a 707-hp supercharged 6.2L HEMI V8. Aside from Dodge, Jeep has had a model powered by an STR engine, the Grand Cherokee SRT-8, since 2012, and Jeep keeps throwing around the idea of a SRT Hellcat spin-off.
Future
In case you haven't caught up with our coverage of the Dodge Challenger SRT Demon, here's Dodge Demon recap one and Dodge Demon recap two . With the Demon being released and debuted in April, we've taken a backseat on the recaps and are waiting for it at the 2017 New York Auto Show. There are two other SRT vehicles in the works though.
There have been rumors about a Dodge Dart revival as a SRT vehicle (please, oh please!), but we're very doubtful seeing as how the model was discontinued last year. There is also a SRT Tomahawk, a fictional concept by the SRT team that has been deemed impossible to make with our current technology, and the fact that humans would have to wear G-suits just to drive the thing. So yeah, we don't see either of these happening any time soon.
* The SRT name has been around for awhile, and it's had a good amount of success thus far. Now we wait for the Dodge Demon, the only SRT street-legal drag race car of 2017. *
Photo Source/Copyright: Pinterest/TheTorqueReport.com
Previous Post Get to Towing Your Toys to the Water with a Dodge SUV or Ram Truck Next Post New Scat Pack Dynamics Package for Dodge Charger and Challenger