Look Out Florida Drivers, FHP Has New Dodge Muscle – Miami Lakes Automall Dodge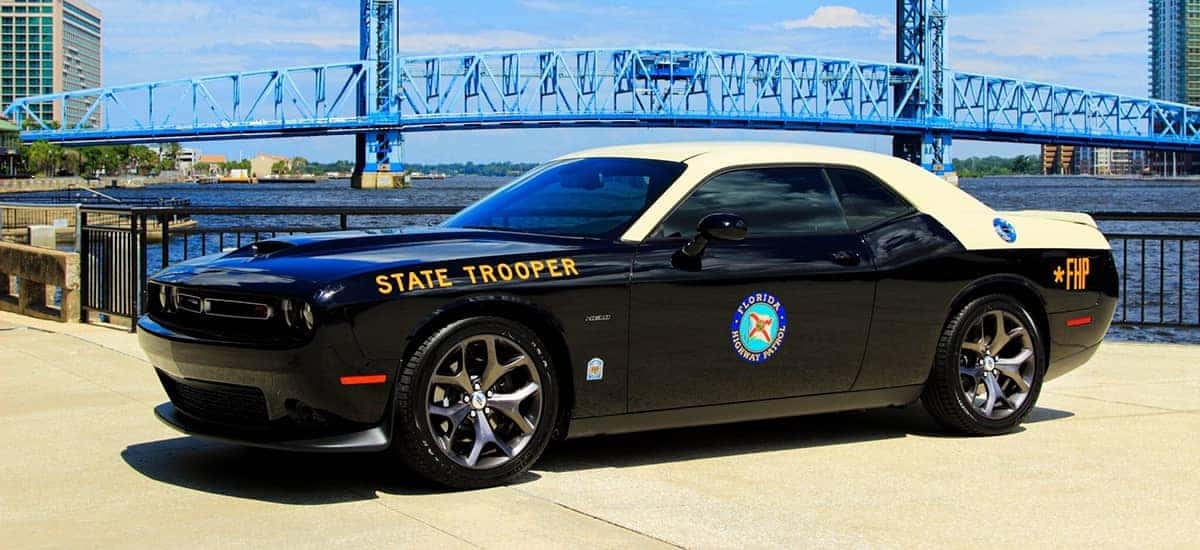 Photo credit: FHP
Florida Highway Patrol has taken the approach that to capture criminals and stop would-be assailants on the highways, they should saddle up their fleet with the latest Dodge muscle cars. Details regarding the FHP Dodge Challenger are limited but, upon closer inspection of the solitary photo tweeted out by FHP Troop G in Jacksonville, Florida as it appears the Challenger is the R/T trim. We believe this might be true as it is listed as having the 5.7-liter Hemi V8 powertrain, which is beneficial for 372 horsepower and 410 lb-ft of torque. Let's look into the latest Challenger made for the Florida Highway Patrol.
More Details From FHP
Taking a look at the FHP's 2019 Dodge Challenger is unquestionably awesome, it's not the only police vehicle that looks remarkably sleek. Around the world, Fiat Chrysler Automobiles (FCA) has supplied their vehicles to those in authority. In Italy, the Italian police departments have a passion for Jeeps. Italy's Carabinieri police use the Jeep Wrangler and Italy's Polizia di Stato police drive a Jeep Renegade. As far as the United States goes, we know a thing or two about the Dodge muscle cars here. For drivers that are interested in the 2019 Dodge Challenger R/T trim, they will gain standard 20″ black aluminum wheels, Panasonic 360-degree HD cameras, and driver and front passenger heated seats and seatbacks. The FHP Challenger will have some features that are not included, like a "new lighting package," which means the car has LED red-and-blue police lights. The 2019 Dodge Challenger offers 7 trims to choose from. The SXT trim is the base trim, the GT follows and the RT trim follows that. For those looking for the highest trim, step into the SRT Hellcat trims.
Dodge Challenger Models State Side
In the United States, police cars have developed dramatically since the Ford Crown Vic, and Chevy Caprice was patrolling the streets. In a lone tweet from the FHP, they declared the streets and highways will be seen by their eyes and gave a stern warning to the masses.
"As you can see, we take aggressive driving seriously! Please slow down, buckle up, reduce distractions. We are watching." – FHP.
The 2019 Dodge Challenger ready to handle the extremes of highway chases. To the criminals who think they can beat out a Dodge Challenger. Good luck to them! For our readers interested in finding the latest Dodge muscle cars, there is a place to check out and test-drive them with us. We're waiting at Miami Lakes Automall .
Come Drive the Latest Dodge Vehicles With Us
Whether you're looking for a new 2019 Dodge Charger of your own or the sleek two-door option of the new 2019 Dodge Challenger . Visit us to find, buy, lease or sell your current vehicle. We also can address any trade-in offers and can assist with any finance needs with help from our financing department . We hope you come by for test-drive with us today.
If you need service or any repairs on your vehicle, now or in the future, we'll be here to help. With a simple online appointment , we can get started soon. Stop by Miami Lakes Automall for a total automotive experience!
Previous Post A Look Into Dodge From Within Next Post Dodge Charger Funny Car Hits Over 11,000 Horsepower!