First Dodge Challenger SRT Demon Produced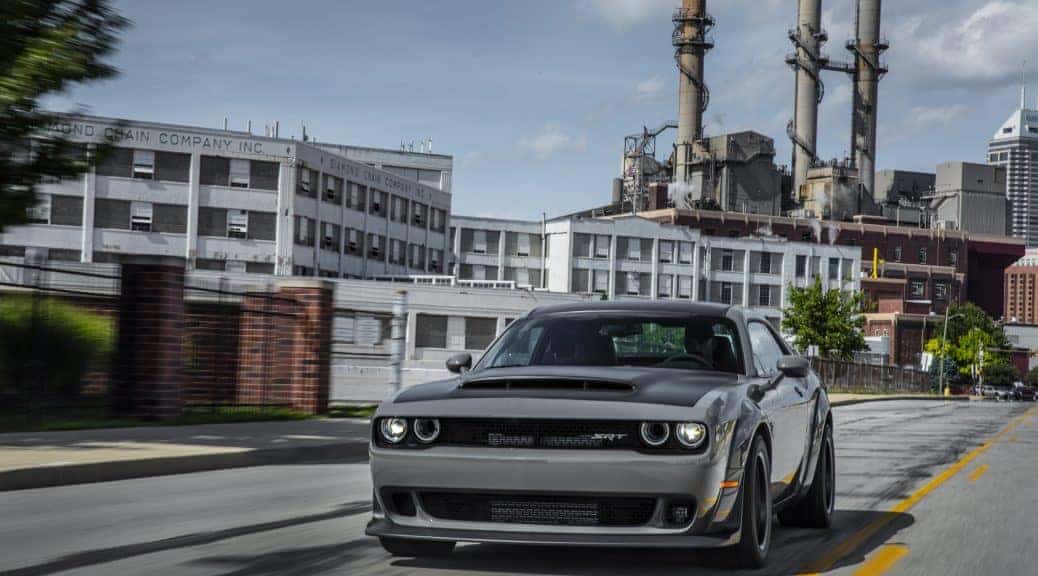 After the 2018 Dodge Challenger SRT Demon debuted back in April, there was constant news about its power, price, and the legal issues surrounding driving one, let alone owning one. Remember that bit about signing a waiver to drive the Dodge SRT Demon ? The news surrounding this demonic beast sort of just, vanished … until now. The first 2018 Dodge Challenger SRT Demon has finally been produced and rolled off the assembly line. No word on howling screeches or flaming tread marks yet.
Just think about it though. Those looking to get your hands on a Dodge Challenger SRT Demon are closer than ever to the most highest-performing factory-production car ever. How close? The SRT Demon came off the assembly line in mid-September. However, although produced, this first Dodge Demon is pretty under wraps. Perhaps customers who have ordered their own Dodge Challenger SRT Demon like a little privacy, because the chosen features for this first vehicle are unknown.
What we do know is the body color isn't B5 Blue due to its late availability, and it's one of the more basic builds. In the article linked above, we mentioned how Dodge is giving priority to orders sold at or below the starting MSRP of $84,995 for the Dodge SRT Demon. Customers who have already made their order can expect to receive their 2018 Dodge Challenger SRT Demon in the coming weeks.
The last bit before delivery following production is a vague and eerie statement from FCA. It has been stated that customer deliveries will begin "following containment at the plant." Sounds more like a line for the Hellcat busting out of the zoo, but now that we know production is successful so far, we may soon see some Dodge Challenger SRT Demons on the streets. Best to take a canister of salt with you during that next morning commute.
* Interested in putting in an order? Call us to find out more. *
Photo Source/Copyright: Motor Authority
Previous Post WardsAuto Names 2018 Dodge Durango SRT For Best UX Next Post Traffic Tips for the Recent Bad Traffic